The Guardian
British national daily newspaper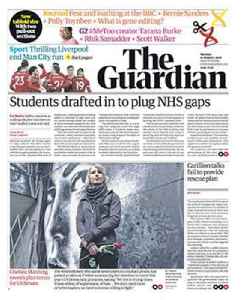 The Guardian is a British daily newspaper. It was founded in 1821 as The Manchester Guardian, and changed its name in 1959. Along with its sister papers The Observer and The Guardian Weekly, The Guardian is part of the Guardian Media Group, owned by the Scott Trust. The trust was created in 1936 to "secure the financial and editorial independence of The Guardian in perpetuity and to safeguard the journalistic freedom and liberal values of The Guardian free from commercial or political interference". The trust was converted into a limited company in 2008, with a constitution written so as to maintain for The Guardian the same protections as were built into the structure of the Scott Trust by its creators. Profits are reinvested in journalism rather than distributed to owners or shareholders.


You Might Like
WHO's Kluge warns against further lifting of lockdown in England: Guardian
The coronavirus induced lockdown in England should not be further lifted until the government's contact-tracing system proves to be "robust and effective", the World Health Organization's regional..
Reuters - Published
UK PM Johnson's office says Mirror, Guardian reporting inaccurately on Cummings
British Prime Minister Boris Johnson's office said on Saturday that it would not waste time answering the "inaccurate" stories from the Mirror and Guardian newspapers on senior adviser Dominic..
Reuters - Published
UK PM Johnson's close aide Cummings broke lockdown rules: newspapers
British Prime Minister Boris Johnson's closest adviser, Dominic Cummings, travelled more than 400 km from his London home after showing symptoms of coronavirus, breaking the government's lockdown..
Reuters - Published
UK PM Johnson's aide Cummings attended coronavirus experts' meeting: Guardian
British Prime Minister Boris Johnson's most senior aide, Dominic Cummings, took part in meetings of a scientific panel that has shaped the UK's response to the coronavirus outbreak, the Guardian..
Reuters - Published
UP govt's crackdown on anti-CAA activists 'unprecedented': The Guardian
IndiaTimes - Published
Keir Starmer 'seriously considering' running for UK Labour leadership: Guardian
British Labour Party's Keir Starmer is "seriously considering" running to succeed Jeremy Corbyn as the party's leader, the Guardian reported http://bit.ly/2M8B1cS on Tuesday.
Reuters - Published
YouGov poll to show UK's Johnson set for significant majority: Guardian journalist
A widely anticipated YouGov poll due on Wednesday will show Prime Minister Boris Johnson is on course to secure a "significant majority", a Guardian journalist said on Wednesday, citing a source who..
Reuters - Published
UK opposition leader Corbyn asks to meet queen over Brexit: Guardian
British opposition Labour Party leader Jeremy Corbyn has asked to meet Queen Elizabeth to raise his concerns about Prime Minister Boris Johnson's plans to suspend parliament for longer than normal..
Reuters - Published
UK's Johnson to meet Macron, Merkel next week: Guardian
British leader Boris Johnson will travel to meet his French and German counterparts on Tuesday and Wednesday next week, in his first foreign engagements since becoming prime minister last month, a..
Reuters - Published
Brexit Party's Farage ridicules Harry and Meghan with jibe at UK royals: Guardian
Nigel Farage, the leader of Britain's Brexit Party, has lambasted Prince Harry and his American wife Meghan along with other members of the royal family in a speech in Australia, the Guardian newspaper..
Reuters - Published
No deal Brexit is UK PM Johnson's central scenario, EU diplomats say: Guardian
British Prime Minister Boris Johnson's central scenario is a no-deal Brexit and he has no intention of renegotiating the Withdrawal Agreement, European diplomats were quoted as telling The Guardian..
Reuters - Published
EU plans to offer Boris Johnson no-deal Brexit extension: The Guardian
The European Union is preparing to offer Boris Johnson, the favorite to be Britain's next prime minister, a no-deal Brexit extension beyond Oct. 31, the Guardian newspaper reported on Friday.
Reuters - Published
BBC and ITV Join Forces to Take On Netflix
by Adam Yardley - Anyone used to watching traditional UK television will likely already be aware that two of the biggest names in broadcasting, BBC and ITV, have been competing against each other for..
One News Page Staff - Published