Donald Trump Jr.
Son of Donald Trump; American businessman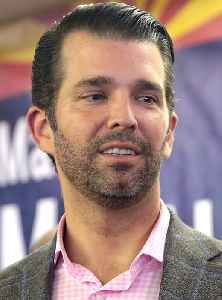 Donald John Trump Jr. is an American businessman and former reality television personality. He is the eldest child of US president Donald Trump and his first wife Ivana.


Donald Trump Jr.'s Girlfriend, Trump Campaign Rainmaker Tests Positive For COVID-19

Top Trump campaign official and girlfriend of Donald Trump Jr. Kimberly Guilfoyle has tested positive for coronavirus. Guilfoyle tested positive in South Dakota before she was set to attend President..
Credit: Wochit News Duration: 00:41
Published
Trump says he may attend SpaceX launch

U.S. President Donald Trump said on Thursday he was "thinking about going" to next week's manned launch of the SpaceX Crew Dragon rocket in Cape Canaveral, Florida.
Credit: Reuters Studio Duration: 00:34
Published
Eric Trump Says CoronaVirus Is A Democratic Hoax

On Saturday, Eric Trump appeared on Fox News and said that the CoronaVirus pandemic was a hoax. Eric claimed that the coronavirus will "magically all of a sudden go away and disappear" after the..
Credit: Wochit News Duration: 00:25
Published
You Might Like
Search this site and the web: