Aligarh
City in Uttar Pradesh, India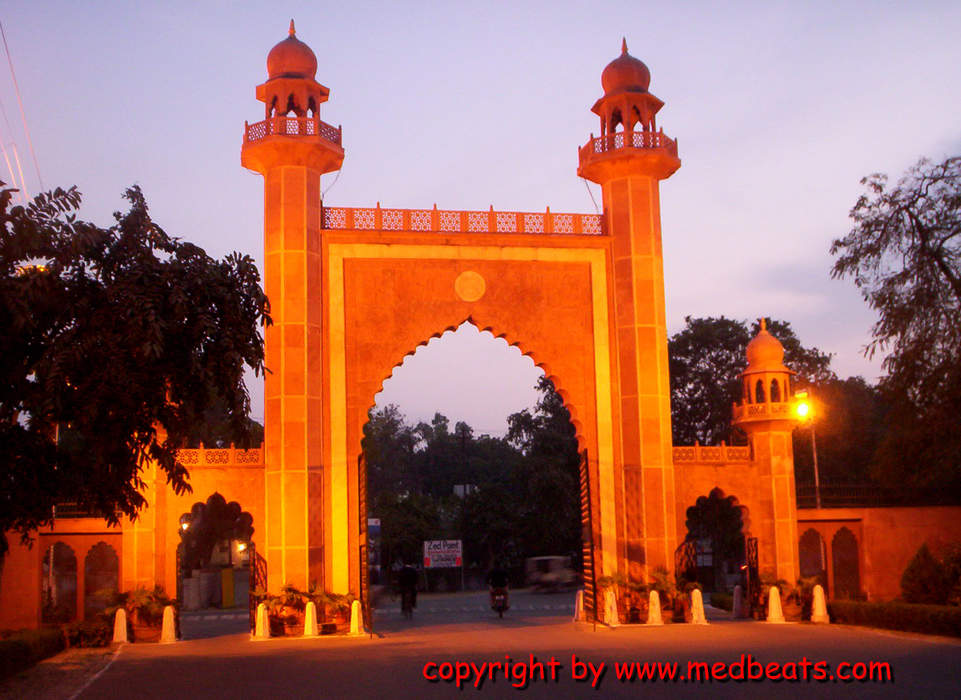 Aligarh is a city in the state of Uttar Pradesh in India. It is the administrative headquarters of Aligarh district, and lies 307 kilometres (191 mi) northwest of Kanpur and approximately 130 kilometres (81 mi) southeast of the capital, New Delhi. The districts which adjoin Aligarh are Gautam Buddha Nagar, Bulandshahr, Sambhal, Badaun, Kasganj, Hathras and Mathura. As of 2011, Aligarh is the 53rd most populous city in India.


Gram Panchayat elections result: Man arrested for firing during celebrations

In a viral video, a man was seen firing a gun after the results of Gram Panchayat elections in Uttar Pradesh's Aligarh. The incident took place during the celebrations of the result declared. The..
Credit: ANI Duration: 01:28
Published
Closed ATMs, shortage of cash in Aligarh amid stretched weekend curfew

As weekend curfew continues in Uttar Pradesh, people in the city are facing difficulties in getting cash from ATMs. "I needed cash for my daughter's marriage but most of the ATMs have run out of cash..
Credit: ANI Duration: 01:34
Published
Sanitisation work conducted in Aligarh market

To curb the COVID spread, sanitisation work was conducted in a market area in Uttar Pradesh's Aligarh on April 25. Fire Department workers conducted sanitisation in several parts of the city. Weekend..
Credit: ANI Duration: 00:59
Published
Man beaten to death in UP's Aligarh

A man was allegedly beaten to death by a factory owner where he used to work in Uttar Pradesh's Aligarh. Family members held protest on April 24 and demanded strict action against the perpetrators...
Credit: ANI Duration: 02:13
Published
You Might Like



Uttar Pradesh chief minister Yogi Adityanath visits Aligarh Muslim University after several faculty deaths

Uttar Pradesh chief minister Yogi Adityanath on Thursday visited AMU's Jawaharlal Nehru Medical College to review the prevailing Covid-19 situation in the varsity where deaths of several staff..




IndiaTimes - Published





Akhilesh to join anti-farm laws chorus with mahapanchayat

Joining the 'panchayat bandwagon' against the three farm laws introduced by the Centre, Samajwadi Party chief Akhilesh Yadav will hold a 'mahapanchayat' in West UP's Aligarh.




IndiaTimes - Published





Hathras rerun? 12 detained in Aligarh




IndiaTimes - Published





Ahead of talks with govt, protesting farmers to take out tractor march today

One batch of tractor rally will go from Dasna to Aligarh route, while the other group will go from Noida to Palwal route.




DNA - Published





Development should not be seen through political prism: PM Modi at AMU event

ALIGARH: Prime Minister Narendra Modi on Tuesday said politics can wait but development cannot, and asserted that development should not be seen through the political prism. This is the first time in..




IndiaTimes - Published




PM Modi to address centenary celebrations of AMU

The university has a campus spread over 467.6 hectares of land in the city of Aligarh, Uttar Pradesh.




DNA - Published





Hathras: In another shocking incident, 6-year-old girl raped by cousin dies in Delhi

In another shocking incident, a 6-year-old girl died in Delhi's Safdarjung on Monday, 15 days after being allegedly raped by her maternal cousin in Aligarh. The victim belonged to Hathras.




DNA - Published





Gang-raped & tortured, Dalit teen dies after 15-day battle

At 6.55am on Tuesday, the 19-year-old Dalit girl from Hathras who had been allegedly gang-raped by four upper caste men in her village died after a 15-day battle for life. She had been referred to..




IndiaTimes - Published





19-year-old Dalit teen, gang-raped in UP's Hathras, passes away

The 19-year-old Dalit woman who was gang-raped by four men in Hathras in Uttar Pradesh four days passed away on Tuesday morning. She was struggling for her life under ventilator in an Aligarh hospital..




DNA - Published





UP: Gang-raped in Hathras, 19-year-old Dalit teen fights for life in ICU; four arrested

A 19-year-old Dalit woman who was allegedly gang-raped by four men in Hathras in Uttar Pradesh is struggling for her life in an Aligarh hospital where she has been put on a ventilator, officials said..




DNA - Published





97 new coronavirus cases reported in UP; total mounts to 2,742

There are 1,939 active cases in the state, principal secretary, health, Amit Mohan Prasad said. Coronavirus cases have so far been reported in 64 of the 75 districts in the state. The highest 14 deaths..




IndiaTimes - Published





Uttar Pradesh: Clashes break out between police and locals amidst lockdown in Aligarh

The incident took place in the Bhojpura area in Kotwali police circle.




DNA - Published





Lockdown in 15 UP districts till Wednesday

Chief minister Yogi Adityanath has announced that 15 districts in Uttar Pradesh would be under lockdown in the first phase till Wednesday. ​​The districts where the lockdown has been enforced in..




IndiaTimes - Published





Agra DM wants FIR against Bengaluru techie's wife, family

A day after a Bengaluru-based techie's wife tested positive for Covid-19 at Aligarh medical college and was put in an isolation ward while her family members were quarantined, Agra district..




IndiaTimes - Published





Internet suspended in Aligarh after clashes between police, anti-CAA protesters

Aligarh DM Chandra Bhushan Singh said police fired teargas shells to disperse the mob after they indulged in vandalisation of property and threw stones at security personnel in upper Kot area of the..




DNA - Published





Four days after he got bail, Kafeel Khan held under NSA

The UP police late on Thursday night slapped NSA on Gorakhpur paediatrician Kafeel Khan, hours before he was expected to walk free from jail, four days after he was granted bail by an Aligarh court...




IndiaTimes - Published





BJP MP tells poet Munawwar Rana's daughter Sumaiya to go to Pakistan

Sumaiya Rana, visited Aligarh on Saturday and addressed anti-CAA protestors of Aligarh Muslim University (AMU) and accused the police of using "coercive measures" to crush protests against the amended..




IndiaTimes - Published





Delhi Court extends Sharjeel Imam's police custody by three more days

Imam was arrested from Bihar's Jehanabad on January 28 for allegedly making inflammatory speeches at the Jamia Millia Islamia University here and in Aligarh.




DNA - Published





UP STF arrests Gorakhpur doctor Kafeel Khan from Mumbai for 'inflammatory speech' at AMU

The UP Police had filed an FIR at Aligarh's Civil Line police station against Khan under Section 153-A of the IPC for allegedly hurting religious sentiments.




DNA - Published





Police carry out raids in Bihar to nab JNU's Sharjeel

Former Jawaharlal Nehru University (JNU) student Sharjeel Imam has been booked for delivering inflammatory speeches in opposition to Citizenship Amendment Act (CAA) and National Register for Citizens..




IndiaTimes - Published





Anti-CAA protests: Police complaint against 1,000 AMU students for violence

Aligarh's SSP Aakash Kulahari said an FIR in this regard was filed on December 23 by RAF commandant Punit Kumar.




DNA - Published





CAA protests: Internet suspended in 21 UP districts

The districts where internet has been blocked include: Lucknow, Hapur, Ghaziabad, Bulandshahr, Meerut, Kanpur, Ferozabad, Bareilly, Saharanpur, Bijnor, Rampur, Amroha, Bahraich, Muzaffarnagar, Sambhal,..




IndiaTimes - Published





Internet suspended for 45 hrs in major cities of UP; services impacted in few areas of West Bengal

Internet access over mobile phones was suspended in major towns in Uttar Pradesh, including Lucknow, Kanpur, Allahabad, Agra, Aligarh, Ghaziabad, Varanasi, Mathura, Meerut, Moradabad, Muzaffarnagar,..




IndiaTimes - Published





Violence spreads to new areas in Uttar Pradesh

Violence spread to more parts of Uttar Pradesh as anti-citizenship law protesters pelted stones at police in Firozabad, Gorakhpur, Bhadohi, Bahraich and Sambhal when they were stopped from taking out..




IndiaTimes - Published





21 held after clashes between AMU students, police; hostels vacated

21 people have been arrested in connection with the clashes between AMU students and police over the CAA and orders issued to completely vacate all hostels of the university, officials said on Monday...




IndiaTimes - Published





AMU authorities praise SSP, DM for apt handling of anti-CAB protest at campus

A video clip showing the Aligarh senior senior superintendent of police precariously clambering over a barricade and successfully persuading a highly charged crowd of about 5,000 protestors at the..




IndiaTimes - Published





UP: 9 prisoners released from Aligarh jail on Gandhi Jayanti

The nine prisoners had completed their jail term but could not get out as they failed to pay the cash fine imposed on them.




DNA - Published





UP: Man held while trying to abduct boy in Aligarh

The man was captured and handed over to the police by the family of the 8-year-old boy, police said.




DNA - Published





Aligarh: Trainer aircraft with six on board crashes at Dhanipur airstrip, no injuries reported

All passengers in the aircraft were rescued safely following the crash, according to City Magistrate, Aligarh, Vinit Kumar Singh.




DNA - Published





'Namaz at public places to be banned across UP', says DGP Om Prakash Singh

According to the DGP, such directives are already in place in Aligarh and Meerut and the same will be extended to all cities and towns in the state.




DNA - Published





300 special telephone booths being established for communication in J&K

The J&K administration on Sunday said 300 special telephone booths are being established to help people communicate with their loved ones. In an advisory, it said that liaison officers have also been..




IndiaTimes - Published





Aligarh: Husband of BJP minority wing leader beaten over wife's participation in party's membership drive

"A woman named Farheen Mohin has filed a complaint that some people threatened her over her participation in BJP membership drive and used violence. A case has been registered and the required action..




DNA - Published





Muslims in Aligarh move Friday namaz to rooftops

The Bu Ali Shah mosque on Friday was packed with hundreds of devotees, waiting to offer the regular Friday namaz. Just one difference though: Unlike every week where they offered namaz on the streets,..




DNA - Published





Aligarh administration bans religious functions on roads

The decision came after some Hindutva groups planned the recital of Hanuman Chalisa to protest the offering of namaz on roads.




DNA - Published





Assailant loots petrol pump staff at gunpoint in Aligarh

A case has been registered under the relevant section of the law.




DNA - Published





Cleric arrested for sexually harassing nine-year-old girl in Aligarh

According to police, the cleric, identified as Mohammad Ahmad, was a tuition teacher of the victim hired to impart Quran teachings.




DNA - Published





Do not pay heed to communal reports, attempts being made to initiate tensions: UP Police asks people

Uttar Pradesh Director General of Police (DGP), OP Singh informed that recently a person who used to study at a Madrasa in Bareilly claimed in Aligarh that his cap was removed and he was allegedly..




DNA - Published





Aligarh: Landlord asks Muslim woman to evict home for joining BJP

The woman, Gulistan, was reportedly forced to vacate the property by the landlord after she praised various schemes of the central government from which she had benefited




DNA - Published





Aligarh woman asked to leave rented home after she joined BJP

She was also misbehaved with over her joining of the political party.




DNA - Published





Muslim man allegedly beaten for reading 'Ramayana' in Aligarh

An FIR against accused persons has been registered by police in this matter.




DNA - Published





1st batch of Haj pilgrims leaves for Saudi Arabia

The first batch of Haj pilgrims was flagged off on Wednesday by minority affairs minister Mukhtar Abbas Naqvi from the Indira Gandhi International Airport. A total of 419 Haj pilgrims, including 202..




IndiaTimes - Published





Aligarh: Tax notice to kachori seller with turnover of Rs 1.50 crore

The shop, named 'Mukesh Kachori', does brisk business every day and despite having limited options on the menu, has been a hot favourite among locals here




DNA - Published





Aligarh: Tax authorities take note of kachori seller earning over Rs 60 lakh annually

The shop named 'Mukesh Kachori Bhandar', which is located near Seema cinema hall, has come under the scanner of the commercial tax department.




DNA - Published





Kathua, Unnao, Aligarh... how bad is India's rape problem?

Every hour, two girls below the age of 18 years were raped in India in 2016. That figure in 2005 was one girl raped every two hours, according to data from the National Crime Records Bureau.




IndiaTimes - Published





Congress demands compensation and protection to family of the Aligarh toddler

The body of the two year old girl was found in a garbage dump on June 2, three days after she was reported missing.The girl's father had alleged she was killed because he failed to repay a Rs 10,000..




IndiaTimes - Published





Govt turns angry Aligarh into fortress

Ten companies of Rapid Action Force and Provincial Armed Constabulary along with police were pressed into action on Sunday




DNA - Published





Aligarh murder case: Father of victim refuses to meet CM Yogi Adityanath

Banwari Lal Sharma, the father of the two-and-a-half-year-old girl who was brutally murdered has refused to meet Chief Minister Yogi Adityanath.




DNA - Published





Beaten for 8 hours: Horrific details of 2-year-old's murder in Aligarh will make you question humanity

The two and half-year-old girl was allegedly abducted by two men who had an argument with her grandfather as they owed Rs 10,000 to him.




DNA - Published





UP: People take to streets demanding justice for 2-year-old brutally killed in Aligarh

A large number of people including children protested in Aligarh, seeking justice for the deceased. They demanded nothing less than capital punishment for the accused of the murder.




DNA - Published

Also reported by •IndiaTimes


No lawyer to represent Aligarh murder accused

One of the men was charged with rape of daughter




DNA - Published