Aligarh
City in Uttar Pradesh, India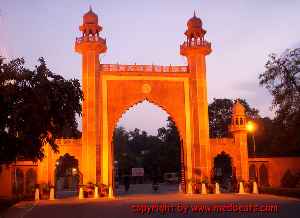 Aligarh is a city in the Indian state of Uttar Pradesh that is famous for its lock industries. It is the administrative headquarters of the Aligarh district. It lies 307 kilometres (191 mi) northwest of Kanpur and is approximately 145 kilometres (90 mi) southeast of the capital, New Delhi. Notable as the seat of Aligarh Muslim University, Aligarh is the 8th largest city in Uttar Pradesh and 55th largest city in India.


Stakes high for all but it's Maya who'll gain or lose most
Muslims comprise more than 20% of the electorate in five of the eight constituencies, while four seats are reserved for scheduled castes. Agra is known as the Dalit capital of North India. Muslim and..
IndiaTimes - Published
Lok Sabha Election 2019: Caste, infighting star in Aligarh
In this hotbed of student politics, caste equations decide the winning candidate as the area has a sizeable population of Jats, and minorities.
DNA - Published
Search this site and the web:
You Might Like