Arctic
Polar region of the Earth's northern hemisphere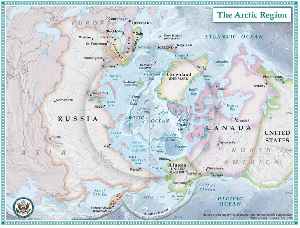 The Arctic is a polar region located at the northernmost part of Earth. The Arctic consists of the Arctic Ocean, adjacent seas, and parts of Alaska, Canada, Finland, Greenland (Denmark), Iceland, Norway, Russia, and Sweden. Land within the Arctic region has seasonally varying snow and ice cover, with predominantly treeless permafrost containing tundra. Arctic seas contain seasonal sea ice in many places.


Russia's nuclear icebreaker on its Arctic voyage

A nuclear-powered ice breaker Russia says is the world's largest and most powerful set off on Tuesday on a two-week journey to the Arctic as part of Moscow's efforts to tap the region's commercial..
Credit: Reuters Studio Duration: 00:59
Published
Drone footage shows extent of Arctic ice loss

Stunning drone footage shows the extent of ice loss in the Arctic Circle where climate change has driven up temperatures. This report produced by Yahaira Jacquez.
Credit: Reuters Studio Duration: 02:23
Published
Do The Arctic A Favor: Stop Washing Your Jeans

When a team of scientists was collecting microplastic samples from the Canadian Arctic archipelago and the Great Lakes, they noticed something odd. They saw that the samples were littered with tiny..
Credit: Wochit News Duration: 00:44
Published
Woolly mammoth skeleton found in Russia's Arctic

Russian scientists are poring over the stunningly well-preserved bones of an adult wooly mammoth that roamed the earth at least 10,000 years ago, after local inhabitants discovered its remains in the..
Credit: Reuters Studio Duration: 01:13
Published
You Might Like



Giant Iceberg Flips Over on Explorers Trying to Climb It

They say don't go chasing waterfalls ... advice that should extend to icebergs, as this adventurous duo learned the hard, and very cold, way in Arctic waters. A group of explorers were sailing the open..




TMZ.com - Published





Arctic tents being set up in Ladakh

India is looking to restart the stalled troop disengagement process in eastern Ladakh with China, but is clearly taking no chances by also constructing insulated shelters and procuring foreign and..




IndiaTimes - Published





Fuel from Russian Arctic spill reaches large lake, says governor

Diesel fuel from a major spill in Russia's Arctic has reached a pristine lake which is the basin for a river flowing into the Arctic Ocean, a regional official said on Tuesday, but the mining giant..




Reuters - Published





Putin chides Nornickel, orders law change after Arctic fuel spill

Russian President Vladimir Putin chided the billionaire boss of Norilsk Nickel on Friday over a huge Arctic fuel spill and ordered changes to the law to try to prevent such a disaster from happening..




Reuters - Published





Russia's Nornickel says it will pay for clean-up after fuel spill

Russian mining giant Norilsk Nickel will fully finance the clean-up operation after a major fuel spill in the Arctic and sees it costing around 10 billion roubles ($145 million), the company's..




Reuters - Published





Kremlin dismisses talk of ousting Nornickel President after fuel spill

The Kremlin dismissed on Friday the idea of ousting Norilsk Nickel President Vladimir Potanin after a Russian lawmaker said he should go following an Arctic fuel spill late last month.




Reuters - Published





Kremlin shrugs off speculation of Nornickel nationalisation after fuel spill

The idea of forcing out Norilsk Nickel president Vladimir Potanin, raised by one Russian lawmaker after an Arctic fuel spill, is unacceptable, Kremlin spokesman Dmitry Peskov told reporters on Friday.




Reuters - Published





Fuel leak risk at Arctic mining site flagged by Russia years before spill: RBC

A Russian safety watchdog warned a subsidiary of mining giant Norilsk Nickel in 2017-2018 about dozens of violations at a fuel site in the Arctic where a huge leak of diesel fuel occurred last week,..




Reuters - Published





Putin backs state of emergency in Arctic region over fuel spill in river

Russian President Vladimir Putin approved a state of emergency in the Arctic city of Norilsk on Wednesday after a huge leak of fuel into a river and upbraided a senior official on television over what..




Reuters - Published





Russian village building LNG supply plant to get new hospital after COVID-19 outbreak

Russia's Arctic region of Murmansk plans to build a new temporary hospital in a village where a vital liquefied natural gas supply plant is being built after an outbreak of the new coronavirus.




Reuters - Published





Russian envoy to Denmark says U.S. provokes Arctic peace

Russia's ambassador to Denmark has accused Washington of provoking confrontation in the Arctic in order to achieve dominance in a region where Moscow has invested heavily.




Reuters - Published





US extends economic aid to Greenland to counter China, Russia in Arctic

The United States announced a $12.1 million economic aid package for Greenland on Thursday aimed at strengthening mutual ties and boosting a renewed U.S. push for a greater military presence in the..




Reuters - Published




U.S. economic aid to Greenland draws criticism in Denmark

An economic aid package being prepared by the U.S. government to Greenland is drawing criticism in Denmark less than a year after it rebuffed U.S. President Donald Trump's offer to buy the vast Arctic..




Reuters - Published





Russia protests after Norway detains trawler near Svalbard

Russia on Friday said it had filed a protest to Oslo after Norwegian coastguards detained a Russian trawler near a remote chain of islands in the Arctic earlier this month.




Reuters - Published




French chess team quarantined in Russia plan next move

When a group of French chess players traveled to the Russian Arctic city of Murmansk for a tournament this month, they didn't expect to end up in quarantine and face delays in getting home.




Reuters - Published





Arctic 'doomsday' food vault welcomes millionth seed variety

A vault in the Arctic built to preserve seeds for rice, wheat and other food staples contains one million varieties with the addition on Tuesday of specimens grown by Cherokee Indians and the estate of..




Reuters - Published




Norway rejects Moscow's claim it violated Svalbard Treaty

Norway has rejected Russian accusations of violating the terms of an international treaty regulating activities on the Arctic archipelago of Svalbard, as a diplomatic spat over Russian operations there..




Reuters - Published





Avalanche on Svalbard Arctic archipelago kills two Germans

Two Germans were killed on Thursday when an avalanche hit a glacier in the western part of the Arctic archipelago of Svalbard, Norwegian news agency NTB said.




Reuters - Published





Russia alarmed by U.S. Air Force visit to Norwegian island

Russia said on Thursday it was alarmed by a trip to a Norwegian outpost in the Arctic by a U.S. Air Force unit and urged Oslo to refrain from what it said were de-stabilizing moves in the strategic..




Reuters - Published





Russia accuses Norway of restricting its activities on Arctic islands

Russia on Tuesday accused Norway of restricting its activities on a remote chain of islands in the Arctic and said it wanted talks with Oslo to have the issue resolved.




Reuters - Published





Anti-Kremlin activist forcibly conscripted to Arctic was kidnapped, say allies

Russian opposition politician Alexei Navalny said on Wednesday that the forcible military conscription of one of his allies to a remote air base in the Arctic amounted to kidnapping and illegal..




Reuters - Published





Norway picks wind power sceptic as oil minister amid Arctic drilling debate

Norway made an outspoken right-wing lawmaker who once called wind turbines "white monsters" its oil and energy minister on Wednesday, as the government debates updating rules for petroleum industry..




Reuters - Published




Two soldiers injured as Russia's only aircraft carrier catches fire

Russia's only aircraft carrier, the Admiral Kuznetsov, caught fire on Thursday during maintenance work in Russia's Arctic port in Murmansk, and two soldiers were injured, Russian news agencies cited..




Reuters - Published





Russia's only aircraft carrier catches fire in northern port: news agencies

Russia's only aircraft carrier, the Admiral Kuznetsov, caught fire on Thursday during maintenance work in Russia's Arctic port in Murmansk, with three people unaccounted for, Russian news agencies..




Reuters - Published





Russia plans to set up Arctic air defense 'dome' with S-400 missiles

Russia plans to establish an air defense "dome" across its polar region by arming all of its Northern Fleet's Arctic divisions with S-400 missile batteries, a Russian naval commander said on Monday.




Reuters - Published





Russia tests hypersonic missile in Arctic - TASS cites sources

Russia's MiG-31K interceptor jet carried out a test of the Kinjal (Dagger) hypersonic missile in Russia's part of Arctic earlier this month, TASS new agency reported on Saturday, citing two military..




Reuters - Published





China mixing military and science in Arctic push: Denmark

China's military is increasingly using scientific research in the Arctic as a way into the region, a Danish intelligence service said on Friday, as it warned of intensifying geopolitical rivalry in the..




Reuters - Published





U.S.-China-Russia power play raising tensions in Arctic, says Denmark

A growing geopolitical rivalry in the Arctic between the United States, China and Russia is increasing tensions in the area, Denmark's Defence Intelligence Service said on Friday.




Reuters - Published





Jailed Ukrainian filmmaker brought to Moscow amid prisoner swap talks: Russian media

Russia has transferred jailed Ukrainian filmmaker Oleg Sentsov from a remote Arctic prison to custody in Moscow amid talks with Kiev on a possible prisoner swap, news agencies TASS and Interfax cited..




Reuters - Published




In spotlight after Trump offer, Greenland sees chance for an economic win

Greenland's leaders want to use global interest in the Arctic island aroused by President Donald Trump's eye-catching offer of a sale to stimulate investment and earn more from U.S. military activity..




Reuters - Published





'Punch in the gut' as scientists find micro plastic in Arctic ice

Tiny pieces of plastic have been found in ice cores drilled in the Arctic by a U.S.-led team of scientists, underscoring the threat the growing form of pollution poses to marine life in even the..




Reuters - Published





Fourteen Russian sailors killed in submarine fire: ministry

Fourteen Russian sailors were killed when a fire broke out while their deep-water research submarine was carrying out a survey of the sea floor near the Arctic, the Russian defense ministry said on..




Reuters - Published