Kamal Haasan
Indian actor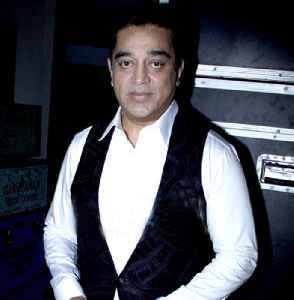 Kamal Haasan, is an Indian film actor, dancer, film director, screenwriter, producer, playback singer, lyricist and politician who works primarily in Tamil cinema. Kamal has won awards including four National Film Awards, the second-most by any Indian actor, and nineteen Filmfare Awards. His production company, Raaj Kamal Films International, has produced several of his films.


Word 'Hindu' not native to India, given by Mughals and endorsed by British: Kamal Haasan
Taking to Twitter, Makkal Needhi Maiam (MNM) founder Haasan shared a poem on Friday in Telugu saying "the name Hindu was given by foreign rulers".
DNA - Published
Lok Sabha Election 2019: Actor Kamal Haasan who kick-started the row stands his ground
Haasan says, People are getting angry for what I said at Aravakurichi. What I have said is the historical truth. I am not trying to pick a fight with anybody
DNA - Published
Every religion has its own terrorist: Kamal Haasan
The MNM founder, Kamal Haasan, said the remarks made during the Aravakurichi assembly segment bypoll campaign meet on Sunday were not made for the first time, even as he asserted that "every religion..
IndiaTimes - Published
Also reported by •DNA
Who emboldened Kamal Haasan to rake up Gandhi's killing, asks BJP
BJP continues to keep heat on the actor turned politician.
DNA - Published
Hindu terror: Kamal Haasan says he never called anyone a terrorist and what he spoke was 'historical fact'
After his 'Hindu terror' speech in Aravakurichi created a political storm, Makkal Needhi Maiam president Kamal Haasan on Wednesday broke his silence and said he only spoke about a historical fact.
IndiaTimes - Published
Delhi HC refuses to entertain PIL against Kamal Haasan over Godse remark
The court, however, asked the EC to expeditiously decide Upadhyay's representation against Haasan's remark.
DNA - Published
FIR against Kamal Haasan for ' Hindu extremist' remark
An FIR was registered against Makkal Needhi Maiam (MNM) President Kamal Haasan here Tuesday for his "free India's first extremist was a Hindu" statement, police said.
DNA - Published
MNM seeks TN minister's ouster after 'cut-Haasan's tongue' remark
IndiaTimes - Published
Kamal Haasan sets cat among pigeons after calling Godse free India's 'first terrorist'
Actor-politician Kamal Haasan has said independent India's first "extremist was a Hindu"-- Nathuram Godse who killed Mahatma Gandhi, stoking a controversy with the BJP on Monday asserting that an..
DNA - Published
India's first terrorist was Hindu, says Kamal Haasan
Haasan said he had come in Aravakurichi "seeking answers for that murder," referring to Gandhi's assassination in 1948.
DNA - Published
Kamal Haasan slammed for 'first terrorist was Hindu' remark
President of Tamil Nadu BJP unit Tamilisai Soundararajan on Monday slammed Kamal Haasan for saying that the first terrorist of independent India was a Hindu. "Standing amidst minorities in TN..
IndiaTimes - Published
You Might Like