Kim Jong-un
Current General Secretary of the Workers' Party of Korea and supreme leader of North Korea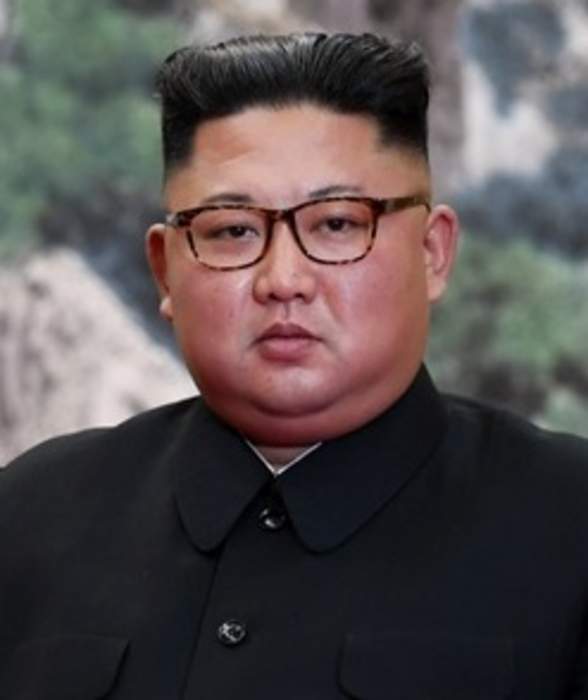 Kim Jong-un is a North Korean politician serving as Supreme Leader of North Korea since 2011 and the leader of the Workers' Party of Korea (WPK) since 2012. He is the second child of Kim Jong-il, who was North Korea's second supreme leader from 1994 to 2011, and Ko Yong-hui. He is the grandson of Kim Il-sung, who was the founder and first supreme leader of North Korea from its establishment in 1948 until his death in 1994.


Kim Jong Un's sister slams South Korea's president

North Korean state media reported that leader Kim Jong Un's sister slammed South Korea's president Moon Jae-in over his remarks after Pyongyang's missile tests last week. Jayson Albano reports.
Credit: Reuters - Politics Duration: 00:50
Published
Mamata following Kim Jong-Un's style: Giriraj Singh on alleged attack on Suvendu Adhikari's brother

Union Minister for Fisheries, Animal Husbandry and Dairying Giriraj Singh reacted on alleged attack on BJP leader and Suvendu Adhikari's brother, Soumendu Adhikari. He said that the attack shows that..
Credit: ANI Duration: 01:25
Published
North Korean missile launch tests Biden, Olympics

North Korea launched two ballistic missiles into the sea near Japan on Thursday, Japan's prime minister said, fuelling tension ahead of the Tokyo Olympics and ramping up pressure on the Biden..
Credit: Reuters - Politics Duration: 01:28
Published
Kim Jong-un Attends EPIC Ceremony in North Korea

Kim Jong-un was cheered by crowds in North Korea during a ground-breaking ceremony of a new construction project. The project aims to build 50,000 new apartments for the capital Pyongyang, state..
Credit: ODN Duration: 00:59
Published
Blinken warns China against 'coercion and aggression'

U.S. Secretary of State Antony Blinken warned China on Tuesday against using "coercion and aggression" as he sought to use his first trip abroad to shore up Asian alliances in the face of growing..
Credit: Reuters - Politics Duration: 02:14
Published
You Might Like



Kim Jong Un says North Korea is facing its 'worst-ever situation'

North Korean leader Kim Jong Un has said the country is facing its "worst-ever situation" - as its economy struggles from the impact of the coronavirus pandemic.




Sky News - Published




Kim Jong Un's sister warns US to scrap military exercises if 'it wants a good night's sleep'

Kim Jong Un's sister has warned the US to scrap future military exercises with South Korea if "it wants a good night's sleep for the next four years".




Sky News - Published




North Korean leader's wife seen in public for the first time in more than a year

The wife of North Korean leader Kim Jong Un has been seen in public for the first time in more than a year.




Sky News - Published




Kim Jong Un calls for more nuclear weapons to combat 'US hostility'

Kim Jong Un has threatened to expand North Korea's arsenal of nuclear weapons and develop more sophisticated atomic weapons systems unless the US ends what he calls its "hostility" to his regime.




Sky News - Published




Kim Jong Un admits his economic plan for North Korea has failed

North Korean leader Kim Jong Un has admitted his economic development plans for the country are a failure.




Sky News - Published




5 hoax/rumours of 2020: Myths around coronavirus to Kim Jong-Un's death, read all here

Yearender 2020: We bring to you the 5 rumours of 2020. From PM Modi to launch coronavirus vaccine on August 15, to rumours around Covid-19, read here.




DNA - Published





Kim Jong-Un Takes Experimental Coronavirus Vaccine from China

Kim Jong-Un is more like Donald Trump than we think, in that he's reportedly willing to take experimental coronavirus treatments ... including an unproven vaccine. A new report citing Japanese..




TMZ.com - Published





Kim Jong-un's Wife Hasn't Been Seen in Public Since January

Sure, North Korean dictator Kim Jong-un is alive and well, but the same can't be said right now for his wife ... who hasn't been seen in public since January. Ri Sol-ju was last with Kim for a public..




TMZ.com - Published





North Korean leader Kim Jong-un apologises for 'unsavoury' killing of South Korean national

The North said the "unidentified" man, who crossed the western sea border without authorization, did not respond sincerely to its verbal security checks aboard a floating material about 80 metres away.




DNA - Published





Kim Jong-un issued shoot-to-kill orders to prevent COVID-19 from entering North Korea: Report

It is to be noted that North Korea has sealed its border with China in January in order to prevent the spread of COVID-19




DNA - Published




Kim Jong-un Visits Cornfield Following Reports of Coma

North Korea's leader, Kim Jong-un, is out and about visiting cornfields and assessing damage from storms ... just days after reports claiming he's on his death bed. The dictator held and ear of corn..




TMZ.com - Published





North Korean Leader Kim Jong-Un Reportedly in a Coma

North Korean dictator Kim Jong-un is once again on his death bed ... that is, if you buy what some South Korean officials are saying about his mysterious health status. Chang Song-min -- a former aide..




TMZ.com - Published





Kim Jong-un ends rumours about ill health, attends ceremony to mark 26th death anniversary of his grandfather

Interestingly, no North Korean leader has ever missed Kim Il Sung's death anniversary.




DNA - Published





North Korea says little reason to maintain Kim-Trump ties - KCNA

North Korea sees little use maintaining a personal relationship between leader Kim Jong Un and U.S. President Donald Trump if Washington sticks to hostile policies, state media reported on Friday - the..




Reuters India - Published

Also reported by •Reuters


North Korean leader's sister emerges as policymaker in spat with South Korea

The sister of North Korean leader Kim Jong Un is taking a leading role in a new, more hard-line pressure campaign against South Korea, highlighting what analysts say is a substantive policy role that..




Reuters India - Published

Also reported by •Reuters


North Korea's Kim stresses self-sufficient economy as tensions with South Korea rise

North Korean leader Kim Jong Un focused on domestic economic issues at a meeting of the politburo of the country's ruling Workers Party, state media said on Monday, as the North ramped up pressure on..




Reuters - Published

Also reported by •Reuters India


North Korea's Kim, in first appearance in weeks, vows to bolster nuclear 'deterrence'

North Korean leader Kim Jong Un hosted a meeting to discuss the country's nuclear capabilities, state media said on Sunday, marking his first appearance in three weeks after a previous absence sparked..




Reuters - Published





Kim Jong Un vows to further bolster nuclear war deterrence

North Korean leader Kim Jong Un hosted a military meeting to discuss new policies to bolster the country's nuclear capabilities amid stalled denuclearisation talks with the United States, state media..




Reuters - Published




North Korea's Kim keeps low public profile in May: analysts

North Korean leader Kim Jong Un has made an unusually small number of public appearances in the past two months, once again going three weeks without state media reporting his attendance at a public..




Reuters - Published





China says willing to help North Korea in fight against virus

China is willing to offer support to North Korea within its ability against the coronavirus epidemic, state television said on Saturday, quoting President Xi Jinping as saying in a letter to North..




Reuters - Published





North Korea lashes out at South Korean military drills, sends greetings to China

North Korea lashed out at South Korea over recent military drills, while leader Kim Jong Un sent a personal message to China's Xi Jinping to congratulate him on that country's success in controlling..




Reuters - Published

Also reported by •Reuters India


North Korea says recent South Korean military drills are grave provocation that demands a reaction: KCNA

North Korea lashed out at South Korea over recent military drills while Kim Jong Un sent a personal message to China's Xi Jinping to congratulate him over that country's success in controlling the..




Reuters - Published





South Korea spy agency says no signs North Korea's Kim received heart surgery

There are no signs North Korean leader Kim Jong Un received heart surgery when he disappeared from state media for three weeks, but he reduced public activity due to coronavirus concerns, South Korean..




Reuters - Published

Also reported by •Reuters India


North Korea defectors criticised over speculation Kim was ill or dead

A former senior North Korean diplomat apologised on Monday after saying leader Kim Jong Un was likely so ill he could not stand, days before he emerged in state media chain smoking and walking briskly..




Reuters - Published





Shots fired by North Korea 'accidental': Pompeo

Shots fired by North Korea across its border with South Korea were likely "accidental," U.S. Secretary of State Mike Pompeo said on Sunday as speculation continues to swirl about the health of North..




Reuters - Published

Also reported by •Reuters India


North Korea's Kim did not have surgery, South says, as shots fired at DMZ

North Korean leader Kim Jong Un did not undergo surgery during almost three weeks of absence from public life, a South Korean official said on Sunday, as the two Koreas exchanged gunfire at the..




Reuters - Published

Also reported by •Reuters India


South Korea says Kim Jong Un did not have surgery, as two Koreas exchange gunfire

North Korean leader Kim Jong Un did not undergo surgery during his almost three week absence from public life, South Korean news outlet Yonhap said citing a senior government official, as the two..




Reuters - Published

Also reported by •Reuters India


South Korea Blue House's assessment is Kim Jong Un did not have surgery: Yonhap

South Korea's assessment is that North Korean leader Kim Jong Un did not have a surgery, local news outlet Yonhap said, citing an unidentified senior official at presidential Blue House.




Reuters - Published





North and South Korea exchange gunfire across border at guard post

North and South Korea exchanged gunfire around the South's guard post early on Sunday, raising tension a day after North Korean leader Kim Jong Un ended an almost three-week absence from public life..




Reuters India - Published

Also reported by •Reuters


Trump hails Kim reappearance, but North Korea denuclearization prospects bleak

U.S. President Donald Trump on Saturday welcomed the reemergence of North Korea's Kim Jong Un after weeks of speculation about his health, but prospects for the U.S. efforts to persuade Pyongyang to..




Reuters India - Published