Riyadh
Capital of Saudi Arabia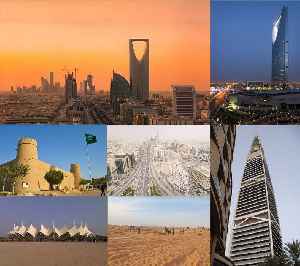 Riyadh is the capital of Saudi Arabia and the largest city on the Arabian Peninsula. Located in the center of the an-Nafud desert, on the eastern part of the Najd plateau, the city sits at an average of 600 metres (2,000 ft) above sea level, and receives more than 16 million tourists each year, making it the 2nd most visited city in the Arab world. Riyadh had a population of 7.6 million people in 2019, making it the most populous city in Saudi Arabia, 2nd most populous in the Arab world, and 38th most populous in Asia.


Honeymoon over? Biden win would reset Saudi ties

Saudi Arabia's de facto ruler, Mohammed bin Salman, has enjoyed close ties, some would say a free pass, with Donald Trump in the White House. Joe Biden has promised that if he becomes U.S. president,..
Credit: Reuters - Politics Duration: 01:44
Published
Introducing: Saudi Arabia's female bodybuilders

Some Saudi women are hitting above their weight-class in this gym in the heart of the capital Riyadh, lifting weights and throwing punches with the aim of competing.
Credit: Reuters Studio Duration: 01:32
Published
You Might Like



Two terror suspects arriving from Riyadh held in joint NIA/RAW operation




IndiaTimes - Published





Second batch of Indian deportees from Saudi Arabia to arrive on September 24th

The second batch of Indian deportees from Saudi Arabia will reach India on September 24 via the Riyadh-Chennai flight.




DNA - Published





Vande Bharat Mission flight with 148 Indians departs from Riyadh

"Air India AI 1936 bound for Hyderabad has departed from King Khalid International Airport Riyadh with 148 passengers, including 3 infants on board," Indian Embassy in Saudi Arabia tweeted. India had..




IndiaTimes - Published





Indian from Hyderabad dies under suspicious circumstances in hospital in Riyadh

A 27-year-old man from Hyderabad, Shaik Ghouse, died under suspicious circumstances in the bathroom of a hospital he was working at in Riyadh in Saudi Arabia on Saturday.




IndiaTimes - Published





Saudi coalition calls for end to escalation in Yemen, immediate return to Riyadh agreement

A Saudi Arabia-led coalition said on Monday all parties need to return to the status that existed before the Southern Transitional Council (STC) in Yemen declared an emergency in Aden, according to a..




Reuters - Published





U.N. says Saudi deportations of Ethiopian migrants risks spreading coronavirus

The United Nations said on Monday that deportations of illegal migrant workers by Saudi Arabia to Ethiopia risked spreading the coronavirus and it urged Riyadh to suspend the practice for the time..




Reuters - Published





Canada lifting a freeze on arms exports to Saudi Arabia, opposition wants big deal scrapped

Canada is lifting a freeze on weapons exports to Saudi Arabia and has renegotiated a much-criticized $14 billion contract to sell General Dynamics Corp armored vehicles to Riyadh, Ottawa said on..




Reuters - Published





Saudi capital, cities get 24-hour curfew, Kuwait isolates two districts over coronavirus

Saudi Arabia placed its capital Riyadh and other big cities under a 24-hour curfew on Monday, locking down much of the population as the largest Gulf Arab country expanded efforts to stem the spread of..




Reuters - Published





Saudi Arabia imposes 24-hour curfew in Riyadh and other cities

Saudi Arabia imposed on Monday a 24-hour curfew in the capital Riyadh and a number of cities effective immediately and until further notice, as a precautionary measure against coronavirus spread, state..




Reuters - Published





Saudi intercepts missiles in attacks claimed by Yemen's Houthis

Saudi Arabia said its air defenses intercepted two ballistic missiles on Saturday night in an attack that Yemen's Iran-aligned Houthi group on Sunday said they had launched towards the capital Riyadh..




Reuters - Published




Yemen's Houthis claim rocket, drone attacks on Saudi's Riyadh, Jazan and Asir

A military spokesman for Yemen's Houthis on Sunday said the group's forces had launched rockets and drones at "sensitive" sites in the Saudi capital Riyadh and at economic and military sites in Jazan..




Reuters - Published





Saudi-led coalition intercepts missiles fired by Yemen's Houthis: spokesman

The Saudi-led coalition fighting in Yemen said early on Sunday that the kingdom's air defenses intercepted two ballistic missiles on Saturday night launched by Yemen's Iran-aligned Houthi group toward..




Reuters - Published





Missiles intercepted above Saudi capital and city of Jazan -state media

Ballistic missiles were intercepted on Saturday in the sky above Saudi Arabia's capital Riyadh and the southern city of Jazan, state media reported, citing its own sources and the Saudi-led coalition..




Reuters - Published





Saudis tighten anti-virus curfew, UAE closures leave travellers stranded

Saudi Arabia reported its second coronavirus death and tightened a nationwide curfew on Wednesday, barring entry to and exit from the capital Riyadh and the holy cities of Mecca and Medina as well as..




Reuters - Published




Saudi tightens coronavirus curfew; travelers stranded in UAE

Saudi Arabia reported its second coronavirus death and tightened a nationwide curfew, barring entry to and exit from the capital Riyadh and the holy cities of Mecca and Medina as well as movement..




Reuters - Published




Saudi Arabia tightens curfew to contain coronavirus

Saudi Arabia tightened a nationwide curfew to contain the spread of the coronavirus, barring entry to and exit from the capital Riyadh and the holy cities of Mecca and Medina as well as movement..




Reuters - Published




Saudi Arabia closes Riyadh boulevard, winter wonderland over coronavirus fears

The Saudi entertainment authority announced early on Monday the closure of Riyadh boulevard and winter wonderland due to concerns about the new coronavirus, state TV reported.




Reuters - Published





IMF chief, Argentina flag path to new debt deal after G20 meet in Riyadh

Argentina on Saturday agreed to start consultations with the International Monetary Fund that could lead to a new financing program, days after the global lender said the country's debt situation had..




Reuters - Published





Saudi Arabia says it intercepts Yemen missiles ahead of G20 meeting

Saudi Arabia said it had intercepted several ballistic missiles fired by Yemeni Houthi forces towards Saudi cities on Friday ahead of a gathering of finance ministers and central bankers from the Group..




Reuters - Published





Saudi Arabia intercepts missiles fired from Yemen as G20 ministers gather

Saudi Arabia said it had intercepted several ballistic missiles fired from Yemen towards Saudi cities on Friday as finance ministers and central bankers from the Group of 20 major economies gathered..




Reuters - Published





Qatar accuses Saudi Arabia of hampering its access to Gulf meet on coronavirus

Qatar has accused Saudi Arabia of allowing a protracted dispute to hinder Gulf Arab coordination over the coronavirus outbreak by denying the Qatari health minister timely access to a meeting of..




Reuters - Published





China won't send officials to G20 meeting amid virus outbreak: sources

China's central bank and its finance ministry will not send any officials to a G20 meeting of finance ministers and central bank governors in Riyadh due to virus outbreak, officials said.




Reuters - Published





Despite Yemen violence spike, Saudi says talks with Houthis progressing

Saudi Arabia's foreign minister said on Saturday that Riyadh was still committed to back-channel peace talks with Yemen's Houthi rebels, despite a recent increase in violence in the five-year conflict.




Reuters - Published





Yemen's southern separatists pull out of Riyadh agreement committees

Southern separatists in Yemen have pulled out of committees implementing a November agreement to end a power struggle in the south that had opened a new front in the country's multifaceted war.




Reuters - Published





Saudi Arabia sentences Riyadh concert stabber to death: state TV

A Saudi Arabian court sentenced on Sunday a man accused of stabbing three performers at a live show in the capital Riyadh in November to death, state television said.




Reuters - Published





Riyadh signs deal with Raytheon Saudi Arabia to localize Patriot maintenance

Saudi Arabia signed a deal with the local unit of U.S. weapons maker Raytheon on Saturday to localize maintenance of its Patriot missile defense system, as part of efforts to boost Saudi's defense..




Reuters - Published





Saudi concert stabbing suspect took orders from al Qaeda in Yemen: state TV

A man arrested for stabbing three performers at a live show in Saudi Arabia's capital Riyadh last month was operating under orders from al Qaeda in Yemen, state television said on Thursday without..




Reuters - Published




Amid flurry of Saudi reforms, mocktails on order in execution square

For decades, criminals in Saudi Arabia were lined up after Friday prayers at a central Riyadh plaza and beheaded by sword in a gruesome public spectacle overseen by the religious police.




Reuters - Published





Qatar state minister for foreign affairs arrives in Riyadh: QNA

Qatar's minister of state for foreign affairs arrived in Saudi Arabia on Monday, state news agency QNA said, for a preparatory meeting ahead of an annual summit of Gulf Cooperation Council leaders that..




Reuters - Published





Qatari foreign minister's Saudi visit seen easing Gulf rift

Qatar's foreign minister has made an unannounced visit to Riyadh, two sources told Reuters, amid signs that a 2-1/2-year rift among U.S.-allied Gulf Arab states could soon subside.




Reuters - Published





Saudi crown prince invites UAE to Riyadh G20 summit: state TV

Saudi Crown Prince Mohammed bin Salman on Wednesday invited the UAE to attend the G20 summit in Riyadh in November 2020, according to state TV.




Reuters - Published





Saudi king blames Iran for "chaos", says strikes failed to hurt kingdom's development

Saudi Arabia's King Salman struck a defiant note against the kingdom's enemies, saying on Wednesday that missile and drone strikes it blames on Iran had not halted development and reiterating that..




Reuters - Published





Saudi king says kingdom seeks political settlement in Yemen

Saudi Arabia's King Salman said on Wednesday the kingdom sought a political settlement in Yemen and hoped a recent agreement signed in Riyadh would open the door to broader peace talks.




Reuters - Published





Saudi Arabia appoints property executive to head Riyadh royal commission

Saudi Arabia on Tuesday named Fahad Al-Rasheed as head of a royal commission to develop the capital Riyadh where the government has said it would spend 86 billion riyals ($23 billion) to boost the..




Reuters - Published





Saudi king receives CIA chief in Riyadh: state media

Saudi Arabia's King Salman received the director of the U.S. Central Intelligence Agency in Riyadh, the Saudi state news agency SPA reported on Thursday.




Reuters - Published





India, Saudi summit level meet every two years, says Indian envoy to Saudi Arabia

Speaking exclusively to our principal diplomatic correspondent Sidhant Sibal in Riyadh, Sayeed said Indian foreign minister and trade minister will be meeting annually as part of the council.




DNA - Published





India's brand image all-time high, says Martin Sorrell, founder of world's largest advertisement company

Speaking to our principal diplomatic correspondent Sidhant Sibal in Riyadh, Sorrell expressed confidence in the Indian economy saying any fall in growth is just "fluctuation"




DNA - Published





Cooperation on security issues between India, Saudi Arabia progressing well: PM Narendra Modi

India and Saudi Arabia share security concerns in their neighbourhood and their cooperation on security issues, said PM Narendra Modi. The PM is in Riyadh to attend a key financial conference. He is..




IndiaTimes - Published





PM Modi to hold talks with Saudi king today

Prime Minister Narendra Modi, who is in Riyadh for a two-day visit, is scheduled to hold bilateral talks with King of Saudi Arabia, Salman bin Abdulaziz Al Saud, on Tuesday. Prime Minister Modi arrived..




IndiaTimes - Published





PM Modi reaches Saudi Arabia; to hold important talks, deliver keynote address at 'Davos of Desert'

India and Saudi Arabia have enjoyed traditionally close and friendly relations, PM Modi said before leaving for Riyadh.




DNA - Published





PM arrives in Saudi Arabia; to attend key economic forum, hold bilateral talks with King Salman

PM Modi arrived in Riyadh late on Monday night on a two-day visit, during which he will attend the third edition of Saudi Arabia's high-profile annual financial conference and hold bilateral talks with..




IndiaTimes - Published





Pak no to AI One: ICAO seeks info from Pakistan, 'acknowledges' India's letter

International Civil Aviation Organisation (ICAO), has sought information from Pakistan on the issue of repeated denial of giving overflying clearance to Air India One flying the Indian President or..




IndiaTimes - Published





Saudi Arabia, U.S. to cooperate on security of global energy supply: Saudi press

Saudi Energy Minister Prince Abdulaziz bin Salman and U.S. Energy Secretary Rick Perry met in Riyadh on Monday and will work together to ensure the security of global energy supply, Saudi state news..




Reuters - Published





PM Modi to attend key financial conference in Saudi Arabia; to meet King Salman

Prime Minister Modi, who will arrive in Riyadh late Monday night on a two-day visit, will deliver the keynote address under the title 'What's next for India?' at the forum, which is dubbed as 'Davos in..




IndiaTimes - Published





PM to take longer route to Saudi as Pakistan again denies airspace use

Prime Minister Narendra Modi's Air India One will take the longer route to Saudi Arabi on Monday as the Boeing 747 will not overfly Pakistan. The aircraft will now fly from Delhi to near Mumbai from..




IndiaTimes - Published





PM's visit to Riyadh: India to sign energy deals with Saudi Arabia

Potential deals might see Saudi Arabia's Aramco declare an intent to pick up the government-owned BPCL, while another might see Saudi companies entering the fuel retail business in India. The two..




IndiaTimes - Published





Pentagon chief arrives in Riyadh as Iran tensions simmer and Russia makes moves

U.S. Defense Secretary Mark Esper arrived in Saudi Arabia on Monday, his first trip to the key Middle East ally since taking the job this summer, as tensions simmer between Washington and Tehran, and..




Reuters - Published





Exclusive: U.S. carried out secret cyber strike on Iran in wake of Saudi oil attack: officials

The United States carried out a secret cyber operation against Iran in the wake of the Sept. 14 attacks on Saudi Arabia's oil facilities, which Washington and Riyadh blame on Tehran, two U.S. officials..




Reuters - Published




Saudi visit signals Putin's growing Middle East influence

President Vladimir Putin signaled Moscow's growing Middle East clout on Monday on his first visit to Saudi Arabia in over a decade, buoyed by Russian military gains in Syria, strong ties with Riyadh's..




Reuters - Published