Andhra Pradesh
State in southern India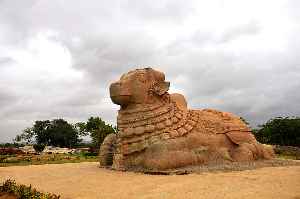 Andhra Pradesh is one of the 29 states of India. Situated in the south-east of the country, it is the seventh-largest state in India, covering an area of 162,970 km2 (62,920 sq mi). As per the 2011 census, it is the tenth most populous state, with 49,386,799 inhabitants. The largest city in Andhra Pradesh is Visakhapatnam. Telugu, one of the classical languages of India, is the major and official language of Andhra Pradesh.


BJP announces candidates for Arunachal Pradesh, Andhra Pradesh assembly polls
IndiaTimes - Published
YSR Congress releases full list of candidates for Lok Sabha, Assembly polls in Andhra Pradesh
YSRC chief YS Jaganmohan Reddy released the list after paying homage to his late father and former chief minister YS Rajasekhara Reddy at their family estate in Idupulapaya of Kadapa district.
DNA - Published
Also reported by •IndiaTimes
Nothing will be left of Rahul speeches if fake issues taken out: Jaitley
"Fake issues raised in Rafale, Balakot, Judge Loya's death, bank loan waiver, JNU issues, EVM, GST, demonetisation or Nirav Modi and Mallya, or be it special status for Andhra Pradesh, or the..
IndiaTimes - Published
AP CM Naidu launches election campaign from Tirupati
Addressing a well-attended gathering of the Telugu Desam Party's associated 'seva mithras' and booth conveners of his native Chittoor district at Sri Venkateswara University stadium here, Naidu claimed..
IndiaTimes - Published
Andhra Pradesh: TDP leader injured in clash with YSR Congress workers in Kurnool, shots fired into the air
P Thikka Reddy, TDP's candidate from Mantralayam Assembly seat, and a policeman was injured in the clash.
DNA - Published
Lok Sabha Election 2019: Pallam Raju, JD Seelam among Congress candidates from Andhra Pradesh
Senior Congress leaders Pallam Raju, JD Seelam, Rajya Sabha MPs T Subbarami Reddy and Sirivella Prasad, Mastan Vali, Chinta Mohan are some of the people who will contest the Lok Sabha elections from..
DNA - Published
Battle for Andhra Pradesh 2019: A battle to rouse and douse regional passions
As Andhra Pradesh heads for simultaneous elections to the state Assembly and Parliament on April 11 ET provides a snapshot of the poll strategies of various parties.
IndiaTimes - Published
US, India strengthen nuclear bond, to build 6 power plants
Pittsburgh-based Westinghouse was supposed to build six AP 1000 nuclear reactors in Andhra Pradesh. The plan first ran into rough weather with India's nuclear liability law, which scared away foreign..
IndiaTimes - Published
Lok Sabha Elections: 22 state-UTs including Andhra to have single-phase polling, UP among 3 states with 7 phases
Polling will be spread across seven phases in Uttar Pradesh, Bihar and West Bengal, the Election Commission announced on Sunday.
DNA - Published
4 states to have Assembly polls too, but J&K skipped
While Andhra Pradesh, Arunachal and Sikkim will go to the polls for all seats in their respectively assemblies as well as the Lok Sabha in the first phase on April 11
DNA - Published
EC announces simultaneous assembly polls in Andhra, Arunachal, Odisha & Sikkim
IndiaTimes - Published
You Might Like