Andhra Pradesh
State in southern India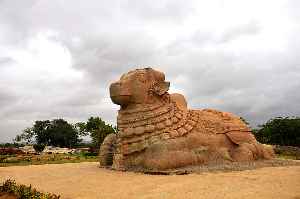 Andhra Pradesh is one of the 29 states of India. Situated in the south-east of the country, it is the seventh-largest state in India, covering an area of 160,205 km2 (61,855 sq mi). As per the 2011 census, it is the tenth-most populous state, with 49,386,799 inhabitants. The largest city in Andhra Pradesh is Visakhapatnam. Telugu, one of the classical languages of India, is the major and official language of Andhra Pradesh.


Ahead of launch, Indians pray for success of Chandrayaan-2 mission
Chandrayaan-2, India's indigenous moon mission is set to launch from the Satish Dhawan Space Centre at Sriharikota in Nellore district of Andhra Pradesh at 2.43 pm today.
DNA - Published
World Bank says it 'dropped' Amaravati project due to Centre withdrawing finance request
The World Bank has said it 'dropped' the $300-million loan proposal for the Amaravati development project as the central government withdrew the financing request, triggering a blame game between the..
IndiaTimes - Published
Bengaluru most digitised city: Report
Bengaluru has topped the list of "most digitised cities" accounting for highest card payments, followed by Hyderabad, Mumbai, Pune and Delhi. The study was conducted by payments solution company..
IndiaTimes - Published
B B Harichandan, Anusaiya Uikey appointed Governors of AP, Chhattisgarh
BJP veteran and former Odisha minister Biswa Bhusan Harichandan and former BJP MP from Madhya Pradesh Anusuiya Uikey were on Tuesday appointed Governors of Andhra Pradesh and Chhattisgarh respectively.
DNA - Published
Also reported by •IndiaTimes
Ahead of launch, B-town extends wishes to ISRO for Chandrayaan 2
The country's second lunar spacecraft will be launched onboard a Geosynchronous Satellite Launch Vehicle (GSLV) Mk-III from Satish Dhawan Space Centre at Sriharikota in Nellore district of Andhra..
DNA - Published
Don't cancel deals with renewable energy generators, Centre tells Andhra Pradesh
The state was also on its way to achieve the targeted capacity addition of 5,000 MW of solar and 4,150MW of wind power by 2020 and achieve 18,000 MW renewable energy.
DNA - Published
You Might Like