Andhra Pradesh
State in southern India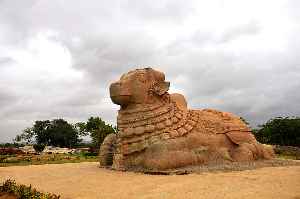 Andhra Pradesh is a state in the south-eastern coastal region of India. It is the seventh-largest state by area covering an area of 162,975 km2 (62,925 sq mi) and tenth-most populous state with 49,386,799 inhabitants. It is bordered by Telangana to the north-west, Chhattisgarh to the north, Odisha to the north-east, Tamil Nadu to the south, Karnataka to the west and the Bay of Bengal to the east. It has the second longest coastline in India after Gujarat, of about 974 km. Andhra Pradesh is the first state to be formed on a linguistic basis in India on 1 October 1953. Andhra Pradesh was once a major Buddhist pilgrimage site in India and a Buddhist learning center which can be seen in many sites in the state in the form of ruins, chaityas and stupas Andhra Pradesh is also known as the land of the world-famous diamond Koh-i-Noor and many other global known diamonds due to their presence in its Kollur Mine once. It is also known as the "rice bowl of India" for being a major producer of rice in India. Its official language is Telugu; one of the classical languages of India, the fourth most spoken language in India and the 11th-most spoken language in the world.


Andhra BJP vice president arrested, section 144 imposed ahead of 'Chalo Amalapuram'

Andhra Pradesh Bharatiya Janata Party's (BJP) vice president S Vishnu Vardhan Reddy has been arrested last night in Amalapuram. His arrest took place ahead of state BJP's call for 'Chalo Amalapuram' on..
Credit: ANI Duration: 01:35
Published
Watch: Road, bridge washed away due to heavy rain in AP's Guntur

A road was washed away at Vennadevi area of Andhra Pradesh's Guntur. A bridge was also damaged in the same area following heavy rainfall. Heavy rainfall has hampered the transport system from Guntur to..
Credit: ANI Duration: 01:04
Published
India limits COVID cases, deaths to 3,328 and 55 deaths per million population respectively: Harsh Vardhan

While addressing in the Lok Sabha during 1st day of monsoon session, Health Minister Dr Harsh Vardhan spoke on COVID-19 pandemic. He said, "Maximum cases and deaths primarily reported from Maharashtra,..
Credit: ANI Duration: 01:34
Published
First 'Kisan Rail' from Ananthapuramu carrying 332 tonnes of vegetables, fruits reaches Delhi

The first 'Kisan Rail' from South India arrived in Delhi's Adarsh Nagar Railway Station on September 11. The train started from Andhra Pradesh's Ananthapuramu on September 09 carrying 322 tonnes of..
Credit: ANI Duration: 01:10
Published
COVID-19: Maharashtra reports over 23,000 new cases

Maharashtra continued to worst hit state in coronavirus chart across the country. On September 09, Maharashtra reported 23,446 new COVID19 cases and 448 deaths. The total cases in the state rose to..
Credit: ANI Duration: 01:57
Published
Watch: Locals carry pregnant woman for atleast 10 kms due to lack of proper facility in AP

Locals carried a pregnant woman on a makeshift palanquin for over 10-km due to absence of proper roads in Daraparti panchayat of S Kota Mandal in Andhra Pradesh's Vizianagaram district.
Credit: ANI Duration: 01:05
Published
Social distancing norms flouted during protest by YSR Congress Party in AP's Krishna district

The norms of social distancing were flouted during a protest by ruling YSR Congress Party in Krishna district. They staged protest against Telugu Desam Party (TDP). Protesters even burnt effigy to..
Credit: ANI Duration: 01:34
Published
COVID-19: Delhi records highest single-day spike with over 4,000 new cases

The national capital on September 09 crossed 2-lakh mark with highest single-day spike of 4,039 fresh cases in the last 24 hours. The total tally rose to 2,01,174, including 4,638 deaths. Karnataka..
Credit: ANI Duration: 01:26
Published
Andhra Pradesh CM inaugurates Kisan Train from Anantapur to New Delhi

Andhra Pradesh CM YS Jaganmohan Reddy inaugurated the service of a Kisan Train from Anantapur to New Delhi. Union Minister of State for Railways Suresh Angadi and Union Minister of Agriculture Narendra..
Credit: ANI Duration: 01:10
Published
COVID-19 makes comeback in Delhi, over 3,000 new cases reported in 24 hrs

COVID-19 infections appear to give a comeback in the national capital. Delhi records 3,609 new COVID-19 cases, 1,756 cases that were recovered and 19 deaths. Active cases stand at 22,377 in the state...
Credit: ANI Duration: 01:24
Published
COVID-19: Maha, AP, Karnataka, UP, TN contribute 62% to active cases, says Health Ministry

Health Ministry Secretary Rajesh Bhushan during the Health Ministry briefing on September 08 informed about the contribution of states to the COVID-19 statistics. Rajesh Bhushan said, "Maharashtra,..
Credit: ANI Duration: 02:06
Published
Fatality rate, Covid recoveries, 5 states with most cases & deaths: Govt briefs

Union Health Ministry briefs on India's Covid-19 situation. Union health secretary Rajesh Bhushan said India's COVID-19 cases per million population is 3,102, which is among the lowest in the world...
Credit: HT Digital Content Duration: 12:16
Published
CPI(M) workers swim in potholes to demonstrate anguish against Andhra Pradesh govt

Communist Party of India (Marxist) workers held unique protest in Vizianagaram's Gumada Village on September 08. The protest was against the potholes on the district roads. Protestors demonstrated that..
Credit: ANI Duration: 01:11
Published
COVID-19: India may soon overtake Brazil as second-most affected country

With the number of COVID-19 cases breaching the 41-lakh mark on September 06, India is expected to overtake Brazil as the second-most affected country in the world. The total number of coronavirus..
Credit: ANI Duration: 02:54
Published
Chariot at temple catches fire in AP's East Godavari

A chariot at Sri Lakshmi Narasimha Swamy Temple caught fire in Andhra Pradesh's East Godavari district on September 06. The incident took place in Antarvedi village of East Godavari district. Cause of..
Credit: ANI Duration: 01:04
Published
FDI amid pandemic; top state for ease of business: FM Nirmala briefs media

Finance Minister Nirmala Sitharaman briefs media over FDI amid pandemic, ease of doing business 2019 ranking for states. Sitharaman said India's commitment to reform is being taken seriously by foreign..
Credit: HT Digital Content Duration: 08:04
Published
You Might Like



PM Modi expresses grief at YSRCP MP's death

Expressing grief at the death of Lok Sabha MP Balli Durga Prasad Rao, Prime Minister Narendra Modi on Wednesday said he was an experienced leader who made effective contributions towards the progress..




IndiaTimes - Published





Islamic State most active Kerala, Karnataka, Andhra Pradesh, Telangana, Maharashtra: Govt




IndiaTimes - Published





Widespread heavy rainfall over Andhra Pradesh, Telangana, Maharashtra, Karnataka, Kerala during next 3 days: IMD

According to the Indian Meteorological department, the monsoon trough lies to the north of its normal position. Western end of the Monsoon Trough is likely to remain close to foothills of Himalayas..




DNA - Published





Centre asks Karnataka, Andhra Pradesh, Maharashtra and Delhi to ramp up testing

The Centre has asked Karnataka, Andhra Pradesh, Maharashtra and Delhi to ramp up testing as the positivity rate in these states continues to be significantly higher than the national average of 8.4% .




IndiaTimes - Published





Over 60% active cases in 5 states; recovery rate touches 78%: Centre

More than 60 per cent of the active coronavirus cases are concentrated in the five states of Maharashtra, Karnataka, Andhra Pradesh, Uttar Pradesh and Tamil Nadu, the health ministry said on Monday,..




IndiaTimes - Published





Centre asks seven states to ensure proper oxygen supply in healthcare facilities

The Union Health Ministry on Sunday advised Maharashtra, Andhra Pradesh, Karnataka, Telangana, Gujarat, Rajasthan, and Madhya Pradesh to ensure adequate Oxygen availability in all healthcare facilities..




DNA - Published





India's COVID-19 recovery rate climbs to 77.88%

The Ministry further informed that 58 per cent of the new recovered patients are being reported from five states -- Maharashtra, Tamil Nadu, Andhra Pradesh, Karnataka and Uttar Pradesh.




DNA - Published





Covid-19: 58% of recovered cases coming from five states

A total of 37,02,595 people have recuperated from Covid-19 in the country so far, with 58 per cent of the recovered cases being reported from Maharashtra, Tamil Nadu, Andhra Pradesh, Karnataka and..




IndiaTimes - Published





South India's first 'Kisan Rail' carrying vegetables and fruits from Andhra Pradesh reaches Delhi

With an aim to help farmers to sell their produce, South India's first 'Kisan Rail', carrying 332 tonnes of vegetables and fruits from Andhra Pradesh's Anantapur reached Adarsh Nagar railway station on..




IndiaTimes - Published





Petitioner's interpretation challenging Andhra govt's move to have 3 capitals for state 'shallow': Centre




IndiaTimes - Published





Second Kisan train to transport Agri products from Andhra Pradesh to New Delhi, linking farmers directly to markets

Agriculture and Farmers' Welfare Minister Narendra Singh Tomar, Minister of State for Railways Suresh C. Angadi, and Chief Minister of Andhra Pradesh Jaganmohan Reddy flagged off the train through..




DNA - Published





Five states account for 70% of Covid-19 deaths, 62% of active cases: Health Ministry

Five states - Maharashtra, Andhra Pradesh, Karnataka, Uttar Pradesh and Tamil Nadu - account for nearly 70 per cent of deaths due to Covid-19 in the country, Union Health Ministry said on Tuesday.




IndiaTimes - Published




International Literacy Day 2020: Kerala tops India's literacy chart at 96.2%, Andhra Pradesh worst performer

International Literacy Day is observed on September 8 every year to highlight the importance of literacy. According to a report based on National Statistical Office (NSO) survey, Kerala has once again..




DNA - Published





At 66%, Andhra's literacy rate worst, Delhi's 2nd best at 89%




IndiaTimes - Published





Andhra Pradesh: Wooden chariot at Lakshmi Narasimha temple destroyed in fire

No casualties were reported from the incident.




DNA - Published





Centre nudges Maharashtra, Andhra Pradesh & Karnataka to curb Covid spread




IndiaTimes - Published





Maharashtra, Andhra, Karnataka told to focus on aggressive measures to check mortality rate, Covid-19 spread




IndiaTimes - Published





Coronavirus: With over 86,000 cases, India's count breaches 40-lakh mark

The active cases in Maharashtra have reached 2,11,325 followed by Andhra Pradesh at 1,02,067.




DNA - Published





Curb chain of transmission, bring COVID mortality below 1%: Centre to states

Health Secretary Rajesh Bhushan held a Coronavirus review meeting through video conference with the health secretaries of 15 districts across five states of Andhra Pradesh, Punjab, Karnataka, Tamil..




DNA - Published





Maharashtra, Andhra Pradesh, Karnataka, Delhi and Tamil Nadu account for 70% of total Covid-19 deaths: Health ministry

Maharashtra, Andhra Pradesh, Karnataka, Delhi and Tamil Nadu account for 70 per cent of the total Covid-19 deaths in the country, the Health ministry said on Thursday.




IndiaTimes - Published





Andhra Pradesh government bans online games like Rummy, Poker to protect youth

The Andhra Pradesh government on Thursday took a decision to ban online games like poker and rummy that were pushing the youth on a wrong path.




DNA - Published





Andhra govt moves SC against HC order on scrapping English medium in schools

The Andhra Pradesh High Court had quashed the government orders to introduce English as a medium of instruction for state-run schools in the state.




DNA - Published





SC issues notice on Andhra Pradesh's plea to make English as medium of education in its schools




IndiaTimes - Published





Covid-19: Five states account for 56% of India's new case burden

Five states — Maharashtra, Andhra Pradesh, Karnataka, UP and Tamil Nadu — are leading the Covid-19 burden in the country accounting for 56% of the fresh 69,921 confirmed cases and 65.4% of 819 new..




IndiaTimes - Published





56% of new Covid-19 cases in 24 hours from Maharashtra, Andhra Pradesh, Karnataka, Tamil Nadu, Uttar Pradesh: Centre

Five states -- Maharashtra, Andhra Pradesh, Karnataka, Tamil Nadu and Uttar Pradesh -- have accounted for over half of the total Covid-19 cases and close to 60 per cent of the recoveries reported in..




IndiaTimes - Published





Coronavirus India: These states report maximum new COVID-19 cases in last 24 hours

The Union Health Ministry on Tuesday said that five states have recorded the highest number of COVID-19 cases in the country in the last 24 hours. These are Maharashtra, Andhra Pradesh, Karnataka,..




DNA - Published

Also reported by •IndiaTimes


India's Covid-19 cases, fatalities per million among the lowest in world; 81% deaths from 7 states

For every million population, India's coronavirus cases and fatalities are one of the lowest compared to the global averages, the high-level Group of Ministers (GoM) on Covid-19 was informed on..




IndiaTimes - Published





Positivity rate down for three fortnights in a row

Holding out hope amid rising Covid-19 cases, the all-India positivity rate, total confirmed cases per 100 tests, measured over a 14-day period, showed a declining trend for three consecutive fortnights..




IndiaTimes - Published





Cabinet Secretary reviews 10 states/UT contributing 89 per cent COVID fatalities

Gauba held a video conference with the chief secretaries and health secretaries of Maharashtra, Tamil Nadu, Karnataka, Telangana, Gujarat, West Bengal, Uttar Pradesh, Punjab, Andhra Pradesh and Jammu..




DNA - Published





SC refuses to entertain AP govt's plea against HC status quo order on three capital cities

The Supreme Court on Wednesday refused to entertain the Andhra Pradesh government's plea challenging the state high court's decision ordering status quo on two new laws enabling the formation of three..




IndiaTimes - Published





Andhra Pradesh: CID raids raids house of ex-APCO chief; Rs 1 crore cash, 3 kg gold, silver, property documents seized

The teams carried out raids at Srinivasulu's residence, his Dhamkhana Palle-based office, the residence of his employees after taking the court's permission.




DNA - Published





20 women hospitalised after Ammonia gas leakage at milk dairy unit in Andhra's Chittoor

Twenty women were hospitalised after an ammonia gas leak at a milk dairy unit in Andhra Pradesh's Chittoor.




DNA - Published





Andhra Pradesh: Chandrababu Naidu accuses YSRCP govt of phone-tapping; writes to PM Modi demanding probe

In a letter addressed to Prime Minister Narendra Modi, the former Andhra Pradesh chief minister said that Andhra Pradesh faces a "grave threat" in the form of tapping phones of political leaders and..




DNA - Published





Ex-Andhra CM Chandrababu Naidu alleges phone tapping; urges PM to order inquiry

Alleging that the ruling YSR Congress in Andhra Pradesh was resorting to illegal tapping of phones to further its political gains, Telugu Desam party president N Chandrababu Naidu on Monday wrote to..




IndiaTimes - Published





Andhra Pradesh: Godavari continues to remain in spate, second flood warning issued

The water level in the Godavari river at Bhadrachalam in Telangana rose close to the danger mark on Sunday as heavy rains continued to lash parts of the state, creating a flood-like situation in some..




DNA - Published





Health ministry's joint secretary Lav Agarwal tests positive for Covid

Joint Secretary in the health ministry Lav Agarwal, who addressed daily media briefings on the Covid-19 outbreak when it was picking up pace in the country, has tested positive for coronavirus..




IndiaTimes - Published





With highest single-day spike of 66,999 cases, India's Covid-19 tally reaches 23,96,638

The country's coronavirus tally touched 23,96,638 including 6,53,622 active cases, 16,95,982 discharged and 47,033 deaths. Active coronavirus cases in Maharashtra stand at 1,47,820, the highest in the..




IndiaTimes - Published





Andhra Pradesh: After being beaten in police custody, SC youth seeks President's permission to join naxals

The police said that the SC youth's move was motivated by "political forces".




DNA - Published





Southern states continue reporting high Covid-19 caseloads

Southern states continued reporting high Covid-19 caseloads on Wednesday, the numbers being close to 25,000, as Prime Minister Narendra Modi took stock of the situation with four of the most affected..




IndiaTimes - Published





Fire at Vijayawada Covid-19 facility: Amit Shah condoles loss of lives

Union Home Minister Amit Shah on Sunday assured the Andhra Pradesh government of all help to deal with the fire incident at a Covid-19 facility in Vijayawada​




IndiaTimes - Published





PM condoles loss of lives in fire incident at Vijaywada Covid facility

Prime Minister Narendra Modi has expressed anguish at the death of patients in a fire incident at a COVID facility in Andhra Pradesh's Vijaywada on Sunday.




IndiaTimes - Published




Andhra Pradesh: At least 10 dead, 10 injured after fire breaks out in COVID-19 care centre in Vijaywada

A fire broke out in a COVID-19 facility in Andhra Pradesh's Vijaywada on Sunday (August 9) morning killing seven, and injuring 10.




DNA - Published




Andhra government gears up to open colleges from October 15

Schools, colleges, and other educational institutions have remained closed since March to contain the spread of COVID-19.




DNA - Published





Nine dead in Andhra Pradesh after consuming hand sanitiser instead of liquor

The deceased allegedly died after they consumed hand sanitiser, police said on Friday.




DNA - Published





Positivity rate: Karnataka, Bihar, Bengal and Andhra emerge as new hotspots

Maharashtra continues to top the positivity rate chart but new states have emerged as hotspots over the 14-day period from July 15 to July 28 even as the national rate of total confirmed cases per 100..




IndiaTimes - Published





52,000 new cases in India, 10,000+ spike in Andhra Pradesh

With 52,898 new cases on Wednesday, India's caseload stood at 15,83,483 and nearly 10 lakh of these were recorded in the 29 days of this month alone. July has turned out to be the worst month for the..




IndiaTimes - Published





At 10,000 cases, Andhra Pradesh reports highest single-day Covid-19 cases, southern states' daily tally at 25k infections

Andhra Pradesh witnessed its worst single day spike of coronavirus on Wednesday, 10,000 plus cases, as the other southern states, including Tamil Nadu and Karnataka also reported high daily numbers,..




IndiaTimes - Published





Andhra Pradesh govt likely to reopen schools from Sept 5

Education Minister Adimulapu Suresh told reporters after the review meeting on education that while the government has set September 5 as the date, the final decision will be taken based on the..




DNA - Published





Covid-19: After facing flak, UP now ahead of Maharashtra, Delhi in conducting tests

Uttar Pradesh has moved ahead of Maharashtra and Delhi — states with high caseloads — in conducting more tests for the novel coronavirus in the last two weeks. The top seven states that conducted..




IndiaTimes - Published





Covid death toll crosses 28,000 mark; biggest spurt in July cases in Karnataka, Andhra Pradesh

Fresh Covid-19 cases and deaths in the country dipped slightly from the previous day's count, with 37,009 new infections emerging on Monday while 593 deaths were reported, taking the total toll past..




IndiaTimes - Published