Paris Saint-Germain F.C.
French professional football club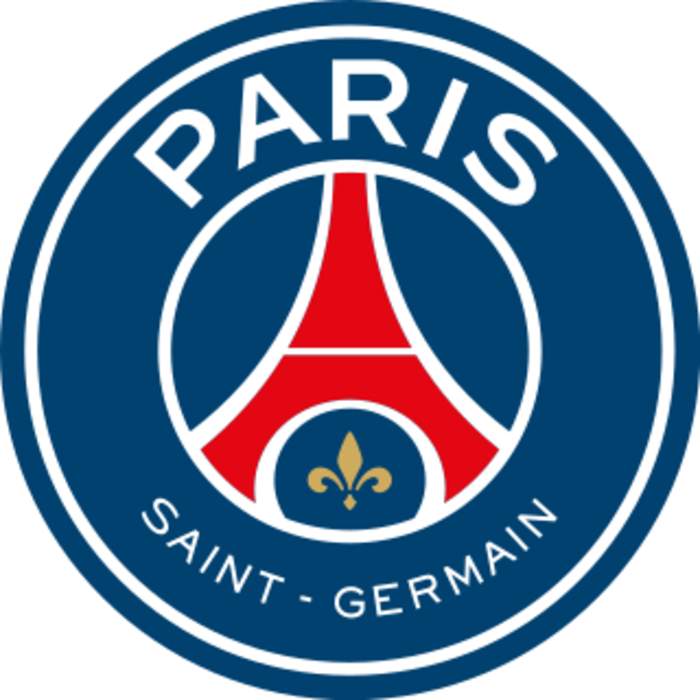 Paris Saint-Germain Football Club, commonly referred to as Paris Saint-Germain, Paris SG, or simply Paris or PSG, is a professional football club based in Paris, France. They compete in Ligue 1, the top division of French football. PSG is France's most successful club, having won more than 40 official honours, including nine league titles and one major European trophy. Their home ground is the Parc des Princes.


Sergio Ramos signs for Paris St Germain

Sergio Ramos has completed his much-anticipated switch to Paris St Germain after ending his 16-year stay with Real Madrid last month.Ramos has been at the forefront of Real's success in recent years,..
Credit: PA - Press Association STUDIO Duration: 01:00
Published
Nadia Nadim's journey from a refugee camp to PSG stardom

After leaving war-torn Afghanistan as a child, Nadia Nadim ended up in a refugee camp in Denmark. It was in that camp that she learned the game of football which has now led her to Paris Saint-Germain,..
Credit: Bleacher Report AOL Duration: 04:18
Published
You Might Like



Transfer rumours: Pogba, Messi, Locatelli, Haaland, Gil, Trippier, Ronaldo

Paris St-Germain target Paul Pogba, Barcelona seek to raise Lionel Messi funds, Tottenham close to Bryan Gil deal, plus more.




BBC Sport - Published





Sergio Ramos: Former Real Madrid defender joins Paris St-Germain on two-year deal

Paris St-Germain sign Sergio Ramos following the defender's departure from Real Madrid.




BBC Sport - Published





Transfer rumours: Ramos, Rice, Kane, Coady, Calvert-Lewin, Rice, Bissouma

PSG are in talks with Ramos, Man United target Calvert-Lewin, Rice rejects West Ham contracts, Liverpool eye Bissouma, plus more.




BBC Sport - Published





Transfer rumours: Pogba, Sancho, Varane, Silva, Kante, Correa, Calhanoglu

Man Utd to offer Pogba huge new deal, Borussia Dortmund name Sancho price, PSG make contact over Varane, plus more.




BBC Sport - Published




Transfer rumours: Kane, Sancho, Trippier, James, Tierney, Loftus-Cheek, Hakimi

Man City to make final Kane offer, Man Utd to make new Sancho bid, PSG join Man Utd in Trippier race, plus more.




BBC Sport - Published





Transfer rumours: Kane, Pogba, Aouar, Ramos, Tierney, Varane, Lingard, Ramsey, Jorginho

Kane happy to move abroad, PSG to renew Pogba attempts, Arsenal to try to sign Aouar, plus more.




BBC Sport - Published





Transfer rumours: Ramos, White, Odegaard, Lamptey, Welbeck, Trippier

PSG, Man City, Man United and Sevilla are four possible destinations for outgoing Real Madrid captain Sergio Ramos, plus more transfer gossip




BBC Sport - Published





Georginio Wijnaldum: Midfielder joins Paris St-Germain after leaving Liverpool

Georginio Wijnaldum signs a three-year deal with Paris St-Germain after leaving Liverpool on a free transfer.




BBC Sport - Published




Transfer rumours: Mbappe, Haaland, Ward-Prowse, Odegaard, Neves, Laporte, Giroud

Paris St-Germain will "never sell" Kylian Mbappe, Dortmund set Erling Braut Haaland price, Villa to make James Ward-Prowse bid, plus more.




BBC Sport - Published





Thomas Tuchel's career path: From Krumbach to Chelsea and the Champions League final

BBC Sport charts the career of Thomas Tuchel, from a talented youth prospect to an intensely driven and highly rated coach at Mainz, Borussia Dortmund, Paris St-Germain and Chelsea.




BBC Sport - Published





Mauricio Pochettino: PSG have no intentions of letting Argentine boss leave

PSG have no intention of letting boss Mauricio Pochettino leave for a return to Tottenham, says football journalist Guillem Balague.




BBC Sport - Published





Ligue 1: How Lille pulled off a shock title triumph - to leave PSG searching for answers

As Lille win the Ligue 1 title to end Paris St-Germain's recent dominance, BBC Sport takes a closer look at how the shock success was achieved.




BBC Sport - Published





Lionel Messi: Paris St-Germain 'looking closely' at Barcelona contract situation - Guillem Balague

Barcelona have not begun contract renewal negotiations with Lionel Messi and PSG are "looking closely" at the situation, says Guillem Balague.




BBC Sport - Published





French Cup: Kylian Mbappe scores and assists as PSG beat Monaco to win fourteenth title

Watch highlights as striker Kylian Mbappe scores and assists teammate Mauro Icardi to help Paris Saint Germain beat Monaco 2-0 to win the French Cup for the sixth time in seven years.




BBC Sport - Published





Transfer rumours: Salah, Mbappe, Draxler, Borre, Bissouma, Fernandes, Larin

Paris St-Germain still keen on Salah, Draxler to extend PSG stay, Bissouma set for Brighton departure, plus more.




BBC Sport - Published





Neymar signs new Paris St-Germain contract

Neymar signs a contract extension with Paris St-Germain, keeping the Brazil forward at the French giants until 30 June, 2025.




BBC Sport - Published





Transfer rumours: Lewandowski, Neymar, Salah, Hazard, Kane, Van de Beek, Wijnaldum

Chelsea and Man City keen on Lewandowski, Neymar to sign new PSG deal, Everton target Liverpool legend's son, plus more.




BBC Sport - Published





Pep Guardiola thanks Manchester City legends after beating PSG in Champions League

Manchester City boss Pep Guardiola praises former players Vincent Kompany, Joe Hart and David Silva after beating Paris St-Germain to reach the Champions League final.




BBC Sport - Published





Man City v PSG - rate the players in Champions League semi-final second leg.

Rate the players as Manchester City meet Paris St-Germain in the second leg of their Champions League semi-final.




BBC Sport - Published





Quiz: How do Manchester City and Paris St-Germain players compare?

Manchester City host Paris St-Germain in the Champions League semi-final second leg on Tuesday - but how do the squads compare?




BBC Sport - Published





Man City v Paris St-Germain: PSG face anxious wait over Kylian Mbappe fitness

Paris St-Germain face an anxious wait to see if Kylian Mbappe will be fit to face Manchester City in Tuesday's Champions League semi-final second leg.




BBC Sport - Published





Transfer rumours: Neymar, Abraham, Kane, Grealish, Keita, Alaba

PSG sporting director Leonardo does not appear to be convinced about Neymar deal, AC Milan freeze contract renewal talks with players, Tottenham keen on Varanda, plus more.




BBC Sport - Published





Women's Champions League: Barcelona beat PSG to reach final

Two goals from Lieke Martens give Barcelona victory over Paris St-Germain and sends them through to the Women's Champions League final.




BBC Sport - Published





MOTDx: Timbsy plays five-a-side against Neymar

MOTDx's Michael Timbs travels to Salzburg in Austria to take on one of the world's best footballers, Paris St-Germain and Brazil forward Neymar, in a game of five-a-side.




BBC Sport - Published





Champions League: Manchester City boss Pep Guardiola tells team not to be 'shy'

Pep Guardiola says Manchester City could face elimination if they are "shy" in the second leg of their Champions League semi-final against Paris St-Germain.




BBC Sport - Published





PSG v Man City: Why Raheem Sterling is man for the big moment - Micah Richards

BBC pundit Micah Richards says Manchester City forward Raheem Sterling has returned to form at exactly the right time before their Champions League semi-final against Paris St-Germain.




BBC Sport - Published





Paris St-Germain v Man City: Champions League tie not a personal battle - Mauricio Pochettino

PSG boss Mauricio Pochettino says Wednesday's Champions League semi-final first leg with Manchester City will not be a personal battle with Pep Guardiola.




BBC Sport - Published





Neymar: Paris St-Germain striker his happiest this season amid transfer speculation

Forward Neymar says the current season is his happiest at Paris St-Germain amid speculation over his future.




BBC Sport - Published





Transfer rumours: Ronaldo, Sima, Varane, Nagelsmann, Shaqiri

PSG lead Ronaldo chase, Man Utd monitor Sima, Spurs eye Ajax boss Ten Hag, plus more.




BBC Sport - Published





Paris St-Germain v Man City: Who would make your combined XI?

As Manchester City gear up to face Paris St-Germain in the Champions League semi-final, we are asking you to create your combined XI.




BBC Sport - Published





Transfer rumours: Mourinho, Mbappe, Kane, Bailly, Lingard, Aguero, Johnstone

Jose Mourinho is linked with Celtic and Valencia while Paris St-Germain's Kylian Mbappe is house hunting in Madrid amid links with Real, plus more.




BBC Sport - Published





Transfer rumours: Messi, Mbappe, Ibrahimovic, Kean, Palmieri, Szczesny

Barcelona yet to offer contract to Messi, Pochettino hopeful Mbappe will sign new PSG deal, AC Milan expect Ibrahimovic to sign new deal, plus more.




BBC Sport - Published





PSG beat Bayern in Champions League: A landmark moment for Pochettino - but the end for Flick?

Wednesday's Champions League result in Paris feels like a launchpad for one manager's tenure, but has all the hallmarks of an ending for the other.




BBC Sport - Published





Paris St-Germain 0-1 Bayern Munich (3-3 on agg): PSG beaten on night but into Champions League last four

Paris St-Germain are beaten on the night but hold on to claim an away-goals victory over holders Bayern Munich that takes them through to the last four of the Champions League.




BBC Sport - Published





Bayern Munich 2-3 Paris St-Germain: Kylian Mbappe scores twice as PSG win thriller

Kylian Mbappe scores twice as Paris St-Germain win at title holders Bayern Munich in a thrilling Champions League quarter-final first leg.




BBC Sport - Published




Transfer rumours: Neymar, Mbappe, Haaland, Messi, Rice, Soucek

Neymar agrees a new deal at PSG, Messi choosing between Barcelona, PSG and Man City, plus more.




BBC Sport - Published





Transfer rumours: Aguero, Sabitzer, Alaba, Sturridge, Wijnaldum, Vlahovic

Paris St-Germain and Barcelona are among the clubs lining up to sign Sergio Aguero, while Daniel Sturridge is set for a move to the US, plus more.




BBC Sport - Published





PSG players Angel di Maria and Marquinhos have homes burgled during match

The homes of Paris St-Germain players Angel di Maria and Marquinhos were burgled while the French champions played Nantes on Sunday.




BBC Sport - Published





Transfer rumours: Ronaldo, Messi, Haaland, Coman, Donnarumma, Jorginho

Paris St-Germain monitor Cristiano Ronaldo's situation at Juventus and Chelsea eye France winger Kingsley Coman, plus more.




BBC Sport - Published





Paris St-Germain v Barcelona (5-2 on aggregate)

Paris St-Germain held off a spirited Barcelona side to reach the quarter-finals of the Champions League with a 5-2 win on aggregate.




BBC Sport - Published





Mauricio Pochettino: How is Argentine getting on with PSG's superstars?

Mauricio Pochettino must win trophies at PSG - but to do so he will need the club's superstars on board. So how is that dynamic working out?




BBC Sport - Published





PSG v Istanbul Basaksehir: Official suspended until end of season for 'inappropriate behaviour'

Fourth official Sebastian Coltescu is suspended until the end of the season for "inappropriate behaviour" during the game between Paris St-Germain and Istanbul Basaksehir.




BBC Sport - Published





Transfer rumours: Kane, Rodgers, Mourinho, Haaland, Toney

PSG consider Kane, Spurs target Rodgers to replace Mourinho, plus more.




BBC Sport - Published





Transfer rumours: Coman, Ceballos, Cavani, Mbappe, Messi, Torres, Lacazette

Bayern fear losing Coman to Manchester United, Arsenal want Ceballos and Ryan on permanent deals, PSG put £173m price tag on Mbappe, plus more.




BBC Sport - Published





Kylian Mbappe hat-trick for PSG upstages Lionel Messi on his own turf

Kylian Mbappe nets a sublime Champions League hat-trick for Paris St-Germain to upstage Barcelona's Lionel Messi on his own turf and draw comparisons with Brazilian Ronaldo.




BBC Sport - Published





Barcelona 1-4 Paris St-Germain: Kylian Mbappe hat-trick after Lionel Messi opener

Kylian Mbappe scores a stunning hat-trick as Paris St-Germain rip Barcelona apart in the first leg of their Champions League last-16 tie at the Nou Camp.




BBC Sport - Published





Transfer rumours: Konsa, Mbappe, Gundogan, Lingard, Aarons, Medina

Liverpool are linked with Aston Villa's Ezri Konsa, Kylian Mbappe will honour his PSG contract, Palace eye new boss, plus more.




BBC Sport - Published





PSG v Istanbul Basaksehir: Uefa opens proceedings against officials after racism allegations

Uefa opens disciplinary proceedings against two match officials following allegations of racism in the game between Paris St-Germain and Istanbul Basaksehir.




BBC Sport - Published





Transfer rumours: Mbappe, Grealish, Barkley, Raphinha, Musa, Shawcross

Kylian Mbappe could sign new PSG deal as he waits on Real Madrid, Aston Villa ready to offer Jack Grealish new contract, plus more.




BBC Sport - Published





Transfer rumours: Messi, Neymar, Mbappe, Sancho, Alli, Hakimi

Barcelona unsure if Lionel Messi will stay, Neymar set to remain at Paris St-Germain, Kylian Mbappe yet to decide future, plus more.




BBC Sport - Published