Nord Stream 1
Natural gas pipeline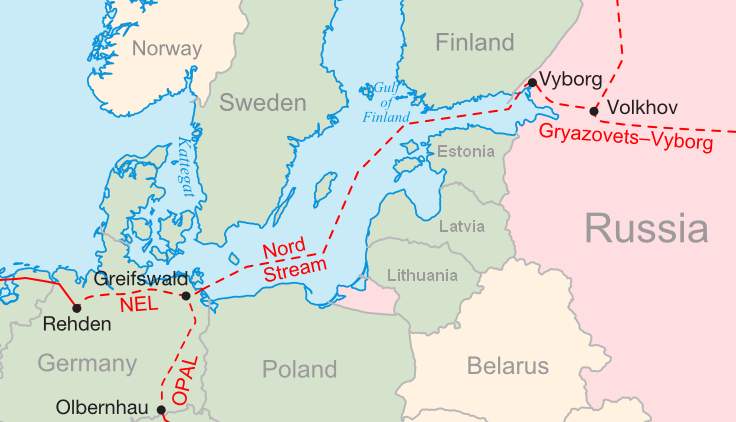 Nord Stream is a pair of offshore natural gas pipelines in Europe that run under the Baltic Sea from Russia to Germany. It comprises the Nord Stream 1 (NS1) pipeline running from Vyborg in northwestern Russia, near Finland, and the Nord Stream 2 (NS2) pipeline running from Ust-Luga in northwestern Russia near Estonia. Both pipelines run to Lubmin in the northeastern German state of Mecklenburg-Vorpommern. Each pipeline comprises two pipes, denoted A and B, each of the four pipes being approximately 1,200 kilometres (750 mi) long and with approximate diameters of 1,220 millimetres (48 in). The combined capacity of the four pipes is 110 billion cubic metres per annum of natural gas.


You Might Like
Royal Navy frigate sent to North Sea after gas pipelines sabotage
A Royal Navy frigate has been sent to the North Sea after suspected sabotage last week on the Nord Stream gas pipelines.
Sky News - Published
Truss says 'sabotage' responsible for Nord Stream leaks
Liz Truss has agreed the cause of the leaks in the Nord Stream pipelines was "sabotage", her spokesperson has said.
Sky News - Published
Nord Stream leaks leave Danish residents feeling 'vulnerable'
In the Baltic Sea, we're heading to a crime scene.
Sky News - Published
UK energy firms reassess security of North Sea oil and gas infrastructure after Nord Stream leaks
North Sea energy firms and British authorities are reassessing the security of oil and gas rigs against interference after damaged Nord Stream pipelines began spewing gas into the sea
Sky News - Published
Fourth leak reportedly found on Nord Stream pipeline
The Swedish Coast Guard has reportedly found a fourth leak on the Nord Stream pipeline.
Sky News - Published
Leaks to Nord Stream pipelines were 'likely premeditated attack using remote explosives'
A suspected act of sabotage - possibly by Russia - against gas pipelines in the Baltic Sea was likely a premeditated attack using underwater explosive devices detonated remotely, according to a British..
Sky News - Published
'Sabotage': What we know about the Nord Stream gas leaks and who was behind them
The EU has declared three leaks in two Russia-Germany gas pipelines to be the work of sabotage and suspicion has fallen on Russia.
Sky News - Published
Damage to Russia-Germany gas pipelines was 'sabotage', as EU warns of retaliation
The European Union's top diplomat suspects that damage to two underwater Nord Stream natural gas pipelines was sabotage and warned of retaliation for any attack on Europe's energy networks.
Sky News - Published
Kremlin says it can't rule out sabotage after mysterious damage to Russia-Germany gas pipelines prompts warnings
The Nord Stream pipeline network, part of which supplies Germany with gas from Russia, has been damaged in three places, its operator has said.
Sky News - Published
Russia 'burning off millions in gas a day' as Europe grapples with energy crisis
Russia is burning off large amounts of natural gas that it previously would have exported to Germany through the Nord Stream 1 pipeline, analysis suggests.
Sky News - Published
Europe's natural gas flow hit as Gazprom to cut Nord Stream 1 capacity again
Gazprom plans to cut the flow of natural gas to Europe - reducing the Nord Stream 1 pipeline to just 20% of capacity from Wednesday.
Sky News - Published
Ukraine insists Nord Stream 2 pipeline linking Germany and Russia should never open
Nord Stream 2, the controversial pipeline linking Germany and Russia, should never open, according to one of Ukraine's most senior diplomats.
Sky News - Published
US and Germany agree Nord Stream 2 pipeline deal and vow to counter Russian 'aggression'
The United States and Germany have announced a deal to allow the completion of a controversial Russian gas pipeline to Europe without further sanctions.
Sky News - Published