Gram panchayat
Local self-government organisation in India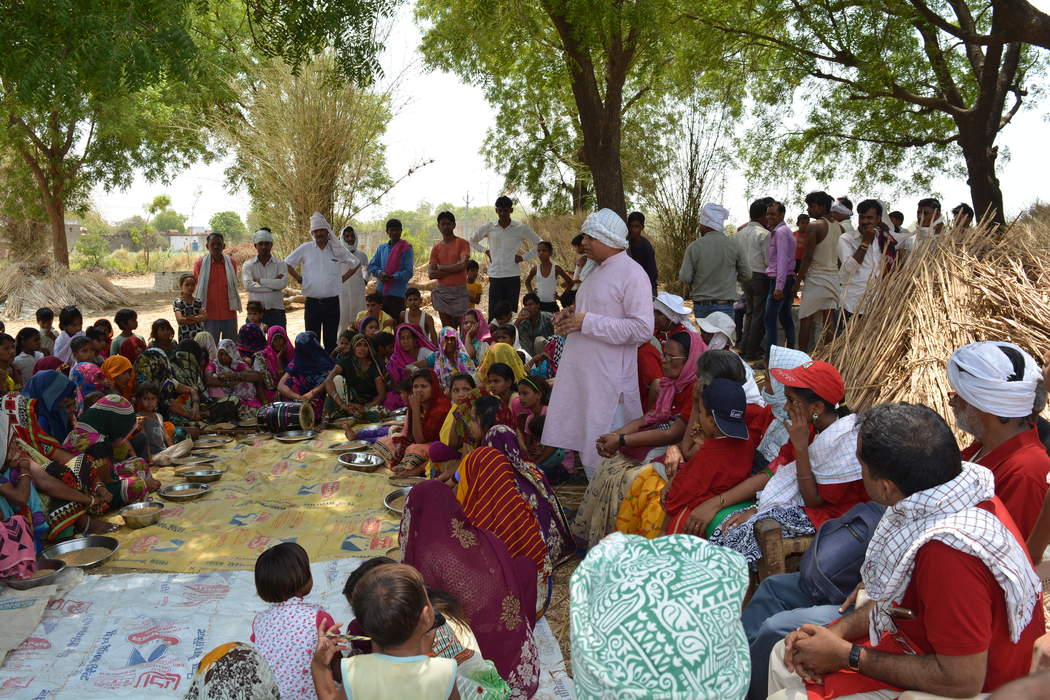 Gram Panchayat is a basic village-governing institute in Indian villages. It is a democratic structure at the grass-roots level in India. It is a political institute, acting as cabinet of the village. The Gram Sabha work as the general body of the Gram Panchayat. The members of the Gram Panchayat are elected by the Gram Sabha.


You Might Like
National Panchayati Raj Day 2022: History, significance and more
Panchayati Raj consists of Gram Panchayat at village level, Block Panchayat at intermediate level and Zila Panchayat at the district level.
DNA - Published
Meet Aeshra Patel, supermodel from Mumbai who decided to contest Gram Panchayat elections
A supermodel from Mumbai has decided to leave the world of glamour behind and make a difference by contesting the panchayat elections.
DNA - Published
PM Modi to interact today with Gram panchayats, Pani Samiti on Jal Jeevan mission
Prime Minister Narendra Modi will interact with Gram Panchayats and Village Water and Sanitation Committees (VWSC) on the Jal Jeevan mission today
DNA - Published
Shocking! Over 100 dogs poisoned, buried in Karnataka's Shivamogga
In the initial investigation of the police, it was revealed that the dogs were poisoned only on the orders of the Gram Panchayat.
DNA - Published
Bihar Panchayat election 2021: 11 phase voting dates announced - all details here
Elections will be held for six posts of Gram Panchayat and Gram Kachari - Mukhiya, Samiti member, Zilla Parishad member, ward member, Sarpanch, panch.
DNA - Published
Uttar Pradesh Gram Panchayat Election Results 2021: BJP, SP in close contest, check full list of winners here
BJP and Samajwadi Party are in close contest as results for UP Gram Panchayat Election Results started coming in.
DNA - Published
Andhra goes to 4th phase of Gram panchayat polls today
Fourth phase of polling is scheduled in 16 revenue divisions, 61 mandals of 13 districts. Approximately 67,75,226 voters are going to cast their vote.
DNA - Published
Karnataka local body polls 2020: Results of 36,781 gram panchayat seats to be declared today
Karnataka state election commission on Wednesday said it has announced results for 54,041 seats of 5,728 Gram Panchayats.
DNA - Published
Rajasthan: Gram panchayat elections conducted amid COVID-19 threat, strict protocols in place
Polling is underway for the first phase of Panchayat elections at the Kishangarh Renwal Panchayat Samiti in the Jaipur district of Rajasthan. In the first phase of polling, candidates are competing for..
DNA - Published
Rajasthan Gram Panchayat elections announced, polling to be held in 4 phases from September 28
The elections for the Rajasthan gram panchayats will be held in four phases on September 28, October 3, October 6 and October 10 for the posts of Panch and Sarpanch. Panchayat Samiti and Zila Parishad..
DNA - Published
National Panchayati Raj Day: PM Modi to interact with gram panchayats across the country on Apr 24 via video conference
Prime Minister Narendra Modi will on address various Gram Panchayats across the country on Friday via video conference on the occasion of National Panchayati Raj Day.
DNA - Published
Top News of the Day | Feb 13, 2020: Panchayat by-election announced in J&K, govt tribute to Sushma Swaraj and more
In top news of the day on February 13, the Election Commission has announced the schedule of the by-election for vacant panchayat seats in the Union Territory of Jammu and Kashmir. This and other top..
DNA - Published