Nadhim Zahawi
British politician (born 1967)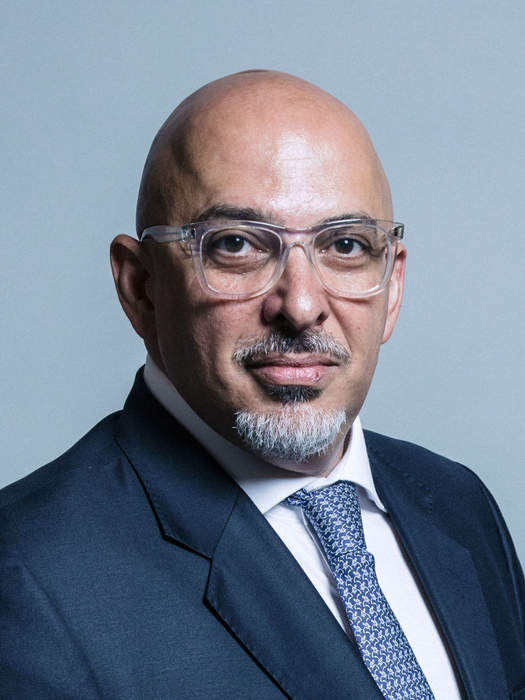 Nadhim Zahawi is an Iraqi-born British politician serving as Chancellor of the Duchy of Lancaster, Minister for Intergovernmental Relations and Minister for Equalities since 2022. A member of the Conservative Party, he has been Member of Parliament (MP) for Stratford-on-Avon since 2010. He previously served in the Second Johnson ministry as Vaccines Minister from 2020 to 2021, Secretary of State for Education from 2021 to 2022 and Chancellor of the Exchequer from July to September 2022.


Nadhim Zahawi welcomed with applause at Whitehall

Nadhim Zahawi, the new Chancellor of the Duchy of Lancaster, arrives at the Cabinet Office along with other ministers. Report by Cullenl. Like us on Facebook at http://www.facebook.com/itn and follow..
Credit: ODN Duration: 00:53
Published
Chancellor responds to energy price cap rise

Nadhim Zahawi says that his aim is to make sure vulnerable households are "resilient through next year". The Chancellor gave no specifics about what a package of funding might look like, but insists..
Credit: ODN Duration: 01:24
Published
Nadhim Zahawi defends Liz Truss over lazy Brits comment

Nadhim Zahawi says Liz Truss was talking about "improving productivity" after she was heard saying British workers needed "more graft" in a leaked audio clip. Report by Jonesia. Like us on Facebook at..
Credit: ODN Duration: 00:27
Published
Chancellor admits 'these are challenging times' as GDP falls

Nadhim Zahawi has said "there is no doubt these are challenging times", as new figures showed the UK's GDP fell by 0.1 per cent between April and June. Amid the shrinking economy and warnings of a..
Credit: ODN Duration: 01:10
Published
Chancellor considering 'all options' for winter support

Chancellor Nadhim Zahawi has said his team are "looking at all the options" for how they can provide more support for families over the winter as the cost-of-living crisis looks set to bite. Report by..
Credit: ODN Duration: 00:47
Published
You Might Like



Zahawi prepares multibillion-pound tax cuts for businesses weathering energy crisis

The chancellor is preparing a multibillion-pound package of tax cuts to help businesses struggling with soaring energy costs.




Sky News - Published





'No one should be cut off because they can't afford energy bills'

Chancellor Nadhim Zahawi has told Sky News that nobody should be cut off this winter because they can't pay their energy bills.




Sky News - Published





Chancellor to visit US seeking joint solutions to cost of living crisis

Chancellor Nadhim Zahawi will travel to the United States this week to meet top bankers and US government officials to try and seek joint solutions to the cost of living crisis.




Sky News - Published





PM vows 'extra cash' to help with bills - as Zahawi suggests people should cut back on energy use

Boris Johnson has pledged the government will announce "extra cash" in September to support households further with energy bills - after Chancellor Nadhim Zahawi suggested people should cut back on..




Sky News - Published





Soaring energy price cap will cause 'stress and anxiety' - but chancellor insists help on the way

Chancellor Nadhim Zahawi has admitted that the soaring energy price cap will cause "stress and anxiety for many people" - but added that "help is coming" from the government.




Sky News - Published





Zahawi denies government has 'gone missing' as PM enjoys second holiday this summer

Nadhim Zahawi has denied the government has "gone missing" as Boris Johnson enjoys his second foreign holiday of the summer.




Sky News - Published





Options for cost of living help will be 'ready' for new PM, says chancellor

Chancellor Nadhim Zahawi has said options to provide additional help to people to ease cost of living pressures will be "ready to go" on 5 September - but said it will be up to the new prime minister..




Sky News - Published





PM and chancellor on holiday as Bank of England warns UK to be hit by recession

Both Boris Johnson and his chancellor Nadhim Zahawi are away on holiday as the Bank of England hiked interest rates for 27 years and warned of the longest recession since the financial crisis.




Sky News - Published





Zahawi backs taskforce to aid London market's global listings drive

Nadhim Zahawi, the new chancellor, will next week throw the government's support behind a new initiative designed to shore up London's position as a global destination for major company flotations.




Sky News - Published





Hunt backs Sunak after being knocked out of Tory leadership race

Jeremy Hunt has come out in support of former chancellor Rishi Sunak after he and Nadhim Zahawi were knocked out of the Conservative leadership race.




Sky News - Published





Zahawi and Hunt knocked out of Tory leadership race

Chancellor Nadhim Zahawi and Jeremy Hunt have been knocked out of the race to become the next leader of the Conservative Party - and next prime minister of the UK.




Sky News - Published





Nadhim Zahawi says he would 'certainly' offer Boris Johnson a cabinet role if elected

The Conservative leadership contender Nadhim Zahawi has said he would "certainly" offer Boris Johnson a role in his cabinet if he were to be elected the party's next leader.




Sky News - Published





Tax claims, an infamous men-only event and a leadership bid: Zahawi's first broadcast interview since becoming chancellor

Nadhim Zahawi is a man on a mission - and he isn't in the mood for taking any prisoners in his desire to become the next prime minister.




Sky News - Published





Nadhim Zahawi says he is 'clearly being smeared' over tax allegations

Nadhim Zahawi has said he is "clearly being smeared" after questions were reportedly raised about his personal finances before his appointment as chancellor.




Sky News - Published





Nadhim Zahawi tells Boris Johnson: 'You must do the right thing and go now'

Chancellor Nadhim Zahawi has written a letter to Boris Johnson, telling him he "must do the right thing and go now".




Sky News - Published





Cabinet ministers send chief whip to Number 10 to tell Boris Johnson to quit

Cabinet ministers - including the new chancellor Nadhim Zahawi - have sent the chief whip to Number 10 to tell Boris Johnson to resign.




Sky News - Published





Chancellor Nadhim Zahawi says 'nothing off the table' on tax cuts and calls for caution on public sector pay rises

Chancellor Nadhim Zahawi has said there is "nothing off the table" on tax cuts as he called for caution on public sector pay rises.




Sky News - Published





'Easy to walk, much tougher to deliver': New chancellor backs PM on first day in new job

New Chancellor Nadhim Zahawi says it is "easy to walk away, but it is much tougher to deliver for the country" as he replaces Rishi Sunak in the Treasury.




Sky News - Published





Nadhim Zahawi made chancellor after Rishi Sunak resigns - as Steve Barclay replaces Javid as health sec

Nadhim Zahawi has been appointed Boris Johnson's new chancellor after Rishi Sunak dramatically quit the role earlier this evening.




Sky News - Published





Job cuts of up to 40% examined at Department for Education, confirms minister

Civil Service job cuts of up to 40% are being examined as part of cost-saving plans at the Department for Education, Nadhim Zahawi has confirmed.




Sky News - Published





'No way' Sue Gray would allow herself to be influenced by anybody on partygate report, says education secretary

Education Secretary Nadhim Zahawi has said he does not know who requested a meeting between the prime minister and Sue Gray over her partygate report, but is confident there was "no way" she would..




Sky News - Published





Britain should not 'tilt the system' to increase number of state pupils admitted to elite universities, education secretary says

Britain should be "very proud" of its private school system, Education Secretary Nadhim Zahawi has said as he rejected a push for elite universities to increase state admissions.




Sky News - Published





Thousands of pupils miss out on two weeks of schooling a year due to shorter days, says Zahawi

Thousands of pupils are losing out on around two weeks of learning a year because of shorter school weeks, Education Secretary Nadhim Zahawi has warned.




Sky News - Published





Nadhim Zahawi: 'I would have been in big trouble' if I wasn't vaccinated

The education secretary has told Sky News he would have been in "big trouble" if he had not been vaccinated against COVID-19.




Sky News - Published





Omicron cases now being treated in hospital, cabinet minister tells Sky News

Cases of the Omicron variant are now being treated in hospitals, cabinet minister Nadhim Zahawi has told Sky News.




Sky News - Published





We will 'look at' extending school day, education secretary pledges

Nadhim Zahawi has told MPs he is "going to look at" lengthening the school day.




Sky News - Published





Zahawi does not deny October 'firebreak' restrictions could be brought in

Vaccines Minister Nadhim Zahawi has not denied that 'firebreak' restrictions could be implemented in October if COVID-19 hospitalisations remain high - but said it depends on the success of the booster..




Sky News - Published





PM set to hike NI to pay for social care overhaul - but minister says it would be 'arrogant' to suggest problems will be fixed

Boris Johnson is expected to raise national insurance by about 1.2% to pay for a pledge to end the "catastrophic costs" of social care - but Vaccines Minister Nadhim Zahawi says it would be "arrogant"..




Sky News - Published





Parental consent will be needed if 12 to 15-year-olds are offered COVID jabs, Nadhim Zahawi says

No decision has been made on whether to offer coronavirus jabs to all 12 to 15-year-olds, the vaccines minister has told Sky News.




Sky News - Published





'Critical workers' to be exempt from self-isolation if identified as a close contact

A number of "critical workers" will be exempt from self-isolating for work purposes if they are identified as a close contact of someone who has tested positive for coronavirus, Nadhim Zahawi has said.




Sky News - Published





Clinically vulnerable children will be offered COVID vaccines but most teenagers will not

Clinically vulnerable children and those living with at-risk adults will be offered a COVID-19 vaccine - but most teenagers will not, Nadhim Zahawi has announced.




Sky News - Published





Eight-week interval between COVID jabs 'much better' than four, says vaccines minister

An eight-week interval between vaccine doses provides "much better" protection from coronavirus, vaccines minister Nadhim Zahawi has said, as he dismissed reports that the gap is due to be reduced from..




Sky News - Published





'A little bit safer every day': COVID vaccine rollout 'has saved 14,000 lives', says minister

The UK's vaccine rollout has saved more than 14,000 lives, and prevented 44,500 hospital admissions in England alone, including 2,500 in the past two weeks, according to vaccines minister Nadhim..




Sky News - Published





Covid-19 lockdown: Football, golf and tennis to return from 29 March

Outdoor sports including football, golf and tennis will be allowed to resume in England from 29 March, according to vaccines minister Nadhim Zahawi.




BBC Sport - Published





Vaccinations top 15m - govt poised to announce mid-February target reached

More than 15 million people in the UK have received a first dose of a coronavirus jab, vaccines minister Nadhim Zahawi has said.




Sky News - Published