Amarinder Singh
Indian politician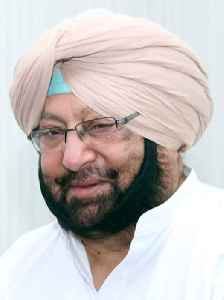 Captain Amarinder Singh is an Indian politician, who is currently the 26th Chief Minister of Punjab. An elected Member of the Legislative Assembly from Patiala, he was also the president of Punjab Pradesh Congress Committee, the state division of the Indian National Congress. He has also previously served as the Chief Minister of Punjab from 2002-2007. His father was the last Maharaja of the princely state of Patiala. He also served in the Indian Army from 1963 to 1966. In 1980, he won a seat in the Lok Sabha for the first time. He currently also serves as the chairman of the Punjab Urdu Academy.


Captain Amarinder Singh leads from front, gives Cong island of hope
IndiaTimes - Published
Amarinder congratulates Modi on 'impressive victory' in LS polls
IndiaTimes - Published
Also reported by •DNA
Punjab Lok Sabha Elections Results: Congress' Preneet Kaur wins in Patiala, Ravneet Bittu retains Ludhiana seat
Punjab chief minister Amarinder Singh's wife and Congress candidate Preneet Kaur won from Patiala while party nominee Ravneet Singh Bittu retained the Ludhiana seat.
IndiaTimes - Published
Congress has to pay for Sidhu's Pakistan visit: Punjab CM Amarinder Singh
IndiaTimes - Published
Lok Sabha results: Rahul Gandhi dithers but Amarinder Singh stands tall in Congress
Congress vote share is likely to cross the 20% mark this time but in comparison BJP's vote share has seen a higher spike to a near 40% in 2019. What we see is the utter failure of Congress against..
IndiaTimes - Published
Preneet Kaur leading from Patiala, Manish Tewari trailing from Anandpur Sahib in Punjab
SAD candidate and sitting MP Prem Singh Chandumajra is leading over his nearest rival and Congress candidate Manish Tewari from Anandpur Sahib seat in Punjab, as per initial EC trends. From Patiala..
IndiaTimes - Published
Amarinder Singh, Sidhus in no-holds barred fight
IndiaTimes - Published
Sidhu damaging Congress with his ill-timed remarks, says Captain Amarinder Singh
Punjab chief minister Captain Amarinder Singh on Sunday criticised Navjot Singh Sidhu for damaging the Congress with his ill-timed comments against him and the party leadership in the state. If he is..
IndiaTimes - Published
Sidhu probably wants to replace me as CM: Captain Amarinder Singh
The tension between the two Congressmen had also come out in the open on a few occasions in the past
DNA - Published
Lok Sabha 2019: Congress of 2019 different from 2014, says Amarinder Singh
The Congress of 2019 is different from that of 2014 as the party is giving more importance to regional leaders than it was doing earlier and has also become more aggressive, says Punjab Chief Minister..
DNA - Published
Don't think PM Modi has right to claim Balakot strike as his personal success: Amarinder Singh
Hitting out at Prime Minister Narendra Modi, Punjab Chief Minister Captain Amarinder Singh said that there has not been any Prime Minister before Modi who had termed any strike by the forces as their..
DNA - Published
Punjab CM rejects Navjot Kaur's claims, says she refused to contest from Amritsar
Earlier, Navjot Kaur had told ANI, "Captain Sahib (Amarinder Singh) and Asha Kumari think Madam Sidhu does not deserve an MP ticket. I was denied the ticket from Amritsar on the ground that I could not..
DNA - Published
You Might Like