Singapore
Country in Southeast Asia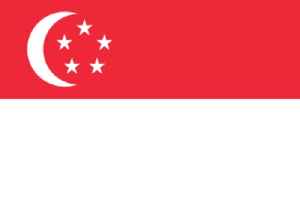 Singapore, officially the Republic of Singapore, is a sovereign island city-state in maritime Southeast Asia. It lies about one degree of latitude north of the equator, off the southern tip of the Malay Peninsula, bordering the Straits of Malacca to the west, the Riau Islands to the south, and the South China Sea to the east. The country's territory is composed of one main island, 63 satellite islands and islets, and one outlying islet, the combined area of which has increased by 25% since the country's independence as a result of extensive land reclamation projects. The country is home to 5.7 million residents, 61% (3.4 million) of whom are Singaporean citizens. There are four official languages of Singapore: English, Malay, Chinese, and Tamil; with English being the lingua franca. This reflects in its rich cultural diversity and extensive ethnic cuisine and major festivals. Multiracialism is enshrined in the constitution, and continues to shape national policies in education, housing, and politics.


UN warns of N. Korea's miniature nuclear devices

According to a confidential UN report, North Korea is pressing on with its nuclear weapons program and several countries believe it has "probably developed miniaturized nuclear devices to fit into the..
Credit: Reuters - Politics Duration: 02:01
Published
Mortal remains of Amar Singh taken to crematorium in Delhi

The mortal remains of Rajya Sabha MP and former Samajwadi Party leader Amar Singh being taken to a crematorium in Delhi. His mortal remains were taken from his Chhatarpur residence to a crematorium on..
Credit: ANI Duration: 01:06
Published
Rajnath Singh pays last respects to Amar Singh in Delhi

Union Defence Minister Rajnath Singh paid last respects to Rajya Sabha MP and former Samajwadi Party leader Amar Singh at the his residence in Delhi's Chhatarpur on August 03. Rajnath Singh also met..
Credit: ANI Duration: 01:16
Published
Last respects paid to Amar Singh at his Delhi residence

The mortal remains of Rajya Sabha MP Amar Singh have been kept at his residence in the national capital. SP leader Shivpal Singh Yadav Rajya Sabha MP Subhash Chandra paid their last respect to..
Credit: ANI Duration: 01:09
Published
Amar Singh passes away in Singapore; tributes pour in from political world

Career politician and Member of Parliament, Amar Singh, passed away on August 1, 2020. He had been hospitalised in Singapore. Singh was an active commentator of domestic issues till the very end, even..
Credit: HT Digital Content Duration: 01:35
Published
Amar Singh dies at 64

Rajya Sabha Member of Parliament and former Samajwadi Party leader Amar Singh passed away at the age of 64 on August 01. He was undergoing treatment at hospital in Singapore for several months. Amar..
Credit: ANI Duration: 01:18
Published
Singaporean Man Acted As Cutout Agent For Chinese Military, Used Americans For Intel

Prosecutors said Friday a Singaporean man living in Washington DC has pleaded guilty to being an 'illegal agent of a foreign power.' Jun Wei Yeo was also known as Dickson Yeo. According to CNN, he..
Credit: Wochit News Duration: 00:36
Published
Mozilla's VPN launches out of beta on Windows and Android

Mozilla's VPN service has been officially launched and is now available for Windows and Android in six countries worldwide, including the US, Canada, and the UK, the company announced today. According..
Credit: ANI Duration: 01:10
Published
Pandemic plunges Singapore into recession

Singapore's GDP shrank by a record 41.2% in the last quarter, putting it on course for its worst-ever slump. Gloria Tso reports.
Credit: Reuters Studio Duration: 01:12
Published
Singapore's ruling party stung by election results

Singapore's ruling party, stung by its worst ever election results, on Saturday signaled a possible delay to its meticulous succession plans, and analysts foresaw other policy changes that could affect..
Credit: Reuters - Politics Duration: 01:34
Published
Singapore's governing PAP returns to power but faces setback

Governing party comfortably wins election but opposition Workers Party increases its seats in Parliament from six to 10.
Credit: Al Jazeera STUDIO Duration: 02:24
Published
Silence on LGBT rights in Singapore election

Among a record eleven parties set to contest Singapore's election on Friday, there has been virtual silence on one of the conservative city-state's most controversial issues, gay rights. Emer McCarthy..
Credit: Reuters Studio Duration: 02:17
Published
F1 cancels Azerbaijan, Singapore and Japan races

Azerbaijan, Singapore and Japan join the list of Formula One grands prix cancelled due to the COVID-19 pandemic.
Credit: Reuters - Sports Duration: 03:22
Published
North Korea says little reason to maintain Trump ties

North Korean leader Kim Jong Un sees little use in maintaining a personal relationship with U.S. President Donald Trump if Washington sticks to hostile policies, state media reported on Friday. Libby..
Credit: Reuters - Politics Duration: 01:34
Published
You Might Like



Rajya Sabha member Amar Singh cremated in Delhi

Rajya Sabha member Amar Singh was cremated at the Chhatarpur crematorium here in the presence of family members and relatives on Monday, two days after he died in a Singapore hospital.




IndiaTimes - Published





Political leaders, relatives pay last tributes to Amar Singh

Political leaders, family members and relatives paid their last respects to Rajya Sabha member Amar Singh, who died in a Singapore hospital two days ago. Singh's body was brought to the national..




IndiaTimes - Published





'Amar Singh was like a brother to me, I've lost a pillar of support with his demise': Rajya Sabha MP Subhash Chandra

Amar Singh passed away on Saturday at the age of 64. The veteran politician had been at ill health for a while now and was undergoing treatment at a hospital in Singapore over the last couple of..




DNA - Published





Amar Singh's mortal remains reach Delhi from Singapore; taken to Chhatarpur farmhouse

Sources close to the family of the late politico said that Amar Singh will be cremated on Monday.




DNA - Published

Also reported by •IndiaTimes


Amar Singh: The wily Thakur who had friends across political spectrum

Rajya Sabha MP Amar Singh, who died in a Singapore hospital on Saturday at the age of 64, skilfully navigated the intersection of politics and corporate world and then imbued it with a dash of filmy..




IndiaTimes - Published





Rajya Sabha MP Amar Singh passes away

Rajya Sabha MP Amar Singh passed away on Saturday at the age of 64. The veteran politician had been at ill health for a while now and was undergoing treatment at a hospital in Singapore over the last..




DNA - Published





Singapore deports 10 Indians, bars their re-entry for violating circuit breaker rules




IndiaTimes - Published





PM Narendra Modi's 2018 Singapore visit enhanced India's presence in Asean: Indian diplomat




IndiaTimes - Published





Indonesia reports 1,031 new coronavirus infections; Southeast Asia's highest case total

Indonesia reported 1,031 new coronavirus infections on Wednesday taking the total to 41,431 and overtaking Singapore with the highest number of COVID-19 cases in Southeast Asia.




Reuters - Published





Singapore to remove most coronavirus restrictions from Friday

Singapore will allow small gatherings and the reopening of restaurants and shops from June 19, its health ministry said on Monday, in a major easing of the city-state's coronavirus restrictions.




Reuters - Published




AG, SG give 30L for lawyers to tide over lockdown loss

A day after TOI published a story about lukewarm response from rich lawyers to the cause of hard-pressed advocates during the lockdown, responses poured in about individual charitable work being..




IndiaTimes - Published





Malaysia PM paves way for year-end snap poll: report

Malaysian Prime Minister Muhyiddin Yassin is preparing for snap election by the end of the year, Singapore's Straits Times newspaper said, as he seeks a firm mandate amid uncertainty over how much..




Reuters - Published





Singapore's migrant workers fear financial ruin after virus ordeal

As Sharif Uddin contemplates leaving the cramped Singapore dormitory where he has spent weeks under coronavirus quarantine, fears about his future creep in.




Reuters India - Published





After leaks for days, massive fire at Oil India's gas well in Assam

The gas well at Baghjan has been leaking for 13 days and a team of experts from Singapore had reached on Monday to inspect the situation.




DNA - Published





Exclusive: Half of Singapore's new COVID-19 cases are symptomless, taskforce head says

At least half of Singapore's newly discovered coronavirus cases show no symptoms, the co-head of the government's virus taskforce told Reuters on Monday, reinforcing the city-state's decision to ease..




Reuters - Published




Singapore plans wearable virus-tracing device for all

Singapore plans to give a wearable device that will identify people who had interacted with carriers of coronavirus to each of its 5.7 million residents, in what could become one of the most..




Reuters - Published




Singapore reports 261 new coronavirus cases, smallest rise in two months

Singapore's health ministry on Friday confirmed another 261 coronavirus cases, the city-state's smallest increase in nearly two months, taking its tally to 37,183.




Reuters - Published





After US, France, South Korea, Singapore & Australia, India now looking to ink military logistics pact with Japan




IndiaTimes - Published





No discussion on RCEP during India-Australia virtual summit: MEA

The RCEP is a proposed free trade agreement in the Asia-Pacific region between the ten member states of the Association of Southeast Asian Nations (ASEAN) namely, Brunei, Cambodia, Indonesia, Laos,..




IndiaTimes - Published





Schools reopen as Singapore eases lockdown restrictions

With temperatures checked, masks fitted, and hand sanitizers at the ready, many Singapore children returned to school on Tuesday after a novel coronavirus lockdown of nearly two months.




Reuters India - Published

Also reported by •Reuters


Singapore rushes to build housing for 60,000 migrant workers after virus outbreak

The Singapore government is racing to create additional housing for about 60,000 migrant workers by the end of this year, as it seeks to reduce the density in dormitories which have seen mass outbreaks..




Reuters - Published




Singapore's health ministry confirms 408 new coronavirus cases, one death

Singapore confirmed 408 new coronavirus cases on Monday, its health ministry said, bringing the city-state's tally to 35,292.




Reuters - Published




Steamy Singapore says face shields no substitute for mandatory masks

Tropical city-state Singapore said on Monday it was curbing the use of face shields as a substitute for masks, as its residents look for ways to protect themselves from the coronavirus and avoid..




Reuters - Published





Singapore-China to open essential travel corridor in early June

Singapore and China plan to reopen essential travel for business and official purposes between the two countries early next month, they said in a joint statement on Friday.




Reuters - Published





Singapore says Malaysia wants further deferral of joint rail project

Singapore said on Friday it was reviewing a request by neighbouring Malaysia to further suspend a high speed rail project set to link the city-state to Malaysia's capital Kuala Lumpur.




Reuters - Published





Singaporean gets four months jail for COVID-19 Facebook post

Singapore jailed a taxi driver for four months on Wednesday over a Facebook post in which he falsely claimed food outlets would close and urged people to stock up due to impending COVID-19..




Reuters - Published





Death of 'Mr Big' stirs memories of Singapore's gangland past

Early one October morning in 1969, Singapore police officers found the body of a man dumped in a storm drain. He had been stabbed to death, police said, in what became one of the country's most..




Reuters India - Published

Also reported by •Reuters


Singapore's APL England loses cargo in heavy Australian seas

A Singapore-flagged cargo ship lost at least 40 containers in deep waters off the coast of Sydney when they fell overboard in heavy seas, maritime officials said on Monday.




Reuters - Published





Singaporean cooks up Eid feast for migrant workers in lockdown

As Muslims around the world celebrate Eid al-Fitr to mark the end of the fasting month, thousands of migrant workers in Singapore have had to spend the holiday in quarantine because of outbreaks of the..




Reuters India - Published

Also reported by •Reuters


How migrant worker outbreaks supercharged coronavirus spread in Singapore

Once held up as a role model for its battle against the coronavirus, Singapore has struggled to contain an infection spread centred around foreign worker dormitories, construction sites and factories.




Reuters - Published





Spandau Ballet star helps Singapore quizzer win fight for radio prize

A Singaporean quiz participant has prevailed in a battle with a radio station that denied him a cash prize over his pronunciation of Spandau Ballet singer Tony Hadley's name, after winning the unlikely..




Reuters - Published





Coronavirus cases in Singapore surpass 30,000: Reuters tally

Coronavirus cases in Singapore topped 30,000 on Friday as the city-state continues to report hundreds of new infections in cramped migrant worker dormitories each day.




Reuters - Published





Singapore to allow travellers to transit through airport from June 2

Singapore, a regional travel and tourism hub, will gradually allow travellers to transit through its Changi Airport from June 2, the city-state's aviation regulator said on Wednesday.




Reuters - Published





Man sentenced to death in Singapore on Zoom call

A judge in Singapore has sentenced a man to death via a Zoom video-call for his role in a drug deal, one of just two known cases where a capital punishment verdict has been delivered remotely.




Reuters - Published




Singapore sorry for sending positive coronavirus test results in error

Singapore has apologised to 357 COVID-19 patients who received an erroneous text message saying they had again tested positive for the novel coronavirus.




Reuters - Published