Singapore
Country in Southeast Asia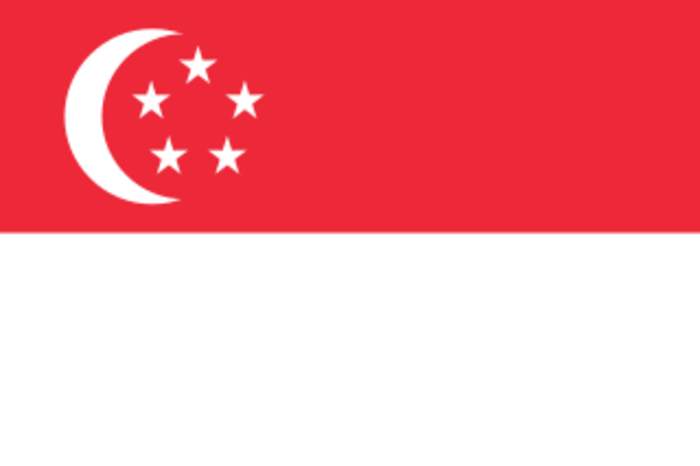 Singapore, officially the Republic of Singapore, is a sovereign island city-state in maritime Southeast Asia. It lies about one degree of latitude north of the equator, off the southern tip of the Malay Peninsula, bordering the Straits of Malacca to the west, the Riau Islands (Indonesia) to the south, and the South China Sea to the east. The country's territory is composed of one main island, 63 satellite islands and islets, and one outlying islet, the combined area of which has increased by 25% since the country's independence as a result of extensive land reclamation projects. It has the second greatest population density in the world. The country has almost 5.7 million residents, 61% (3.4 million) of whom are Singaporean citizens. There are four official languages of Singapore: English, Malay, Chinese and Tamil, with English being the lingua franca. Multiracialism is enshrined in the constitution, and continues to shape national policies in education, housing, and politics.


Huge rallies in Myanmar as backlash grows over protester killings

Facebook deletes the military's main page as the UN condemns deadly violence and Singapore warns of 'adverse consequences'.
Credit: Al Jazeera STUDIO Duration: 01:56
Published
No further delays to Singapore's Davos, WEF says

The World Economic Forum (WEF) does not plan to further delay Singapore's "Davos" meeting if it cannot go ahead in August, the organization's President Borge Brende said.
Credit: Reuters Studio Duration: 01:16
Published
Shimla blooms like Singapore in winters

One of the most visited places in the country is attracting large number of tourists in shivery winters. Fresh spell of snowfall has turned Shimla into Singapore. Tourists are enjoying the snow-poured..
Credit: ANI Duration: 01:58
Published
Gold worth over Rs 29 lakh seized at Chennai Airport

The customs officials at Chennai International Airport seized 588 gms of gold worth over Rs 29.74 lakhs. Gold has been seized from the custody of around 2 passengers. The passengers arrived from Dubai..
Credit: ANI Duration: 01:06
Published
1 in 3 adults anxious, depressed due to COVID-19: Study

A new study has discovered that one in every three adults, especially younger adults, women, and those of lower socioeconomic status experience psychological distress related to COVID-19. Researchers..
Credit: ANI Duration: 01:11
Published
This lion cub was born from artificial insemination

A wildlife park in Singapore released video footage of its first lion cub born from artificial insemination.
Credit: Reuters Studio Duration: 00:32
Published
Singapore's contact tracing technology sparks privacy concerns

Singapore's digital contact tracing program has raised concerns after the government admitted that data collected by it can be handed to police for criminal investigations. This is in contrast with..
Credit: Bleacher Report AOL Duration: 03:07
Published
100-year-old recalls fighting alongside Subhas Chandra Bose

On the 125th anniversary of Subhas Chandra Bose's birth anniversary, we speak to freedom fighter Parmanand, who is among the last surviving members of the Azad Hind Fauj or the Indian National Army...
Credit: HT Digital Content Duration: 03:37
Published
Meet the chef taking Delhi's spices to new horizons

Spices are at the heart of all Indian food and Chef Kuldeep Negi understands them better than most. In his Singapore restaurant, Negi serves up a bite of his Delhi heritage – with a kick.
Credit: Bleacher Report AOL Duration: 02:36
Published
Social media firms put profit above principle: Singapore minister

Social media firms are hampered by their commercial interests when tackling fake news, Singapore's law minister says, underlining the need for the city-state's law against online falsehoods, which..
Credit: Reuters Studio Duration: 01:20
Published
You Might Like



Briton jailed for sneaking out of Singapore quarantine hotel room

A British man has been jailed for two weeks for sneaking out of his Singapore quarantine hotel room to visit his fiancee.




Sky News - Published




UK to ask to join free trade pact including Australia, Canada and Japan

The UK will formally apply to join a huge free trade pact including Australia, Canada, Japan and Singapore, under the government's post-Brexit plans.




Sky News - Published




India slips 6 spots to 86th rank on corruption index

India's ranking on the Corruption Perception Index– 2020 slipped from 80 to 86 even as its score decreased only by one point to 40 from 41 in 2019. ​​Denmark and New Zealand topped the list..




IndiaTimes - Published





Singapore, India sign pact on cooperation between two navies

India and Singapore on Wednesday signed an agreement on submarine rescue support and cooperation between the two navies during the 5th Defence Ministers dialogue held virtually between Defence Minister..




IndiaTimes - Published





India, Singapore to further step-up defence ties, ink submarine rescue pact

India and Singapore on Wednesday decided to further boost interaction between their armed forces as well as cooperation in military technologies and industries. The two countries have also inked an..




IndiaTimes - Published





Poonawalla of Serum Institute among 6 named 'Asians of the Year' by Singapore daily




IndiaTimes - Published





Singapore-based firm offers to invest in film academy for new film city in Uttar Pradesh

The proposal was made during the interaction of Chief Minister Yogi Adityanath with a group of filmmakers and artists over the new film city that will be developed along the Yamuna Expressway near..




DNA - Published





Indian citizenship granted to 2,120 Pakistanis, 188 Afghans, 99 Bangladeshis in last 4 years

Apart from 2,120 Pakistani, 188 Afghanistan and 99 Bangladeshi nationals, as many as 60 American, 58 Sri Lankan, 31 Nepali, 20 British, 19 Malaysian, 14 Canadian and 13 Singapore nationals were also..




IndiaTimes - Published





Indian cities drop in Global Smart City Index; Singapore on top

Four Indian cities — New Delhi, Mumbai, Hyderabad, and Bengaluru — witnessed a significant drop in their rankings in the global listing of smart cities that was topped by Singapore. In the 2020..




IndiaTimes - Published





Eight of 10 imported Covid-19 cases in Singapore came from India




IndiaTimes - Published





To counter China, India inks military pact with Japan

Japan has now become the sixth country, after the US, France, Australia, South Korea and Singapore, with which India has such an agreement to enable military forces to share logistics to support each..




IndiaTimes - Published





President Ram Nath Kovind accepts letter of credence from Singapore's High Commissioner to India

President Ram Nath Kovind also thanked Singapore for its strong support to India at multi-lateral forums, including the UN Security Council.




DNA - Published





Now, SG declines nod to prosecute Swara Bhasker

Solicitor general Tushar Mehta on Wednesday refused permission to one Usha Shetty to file a petition in the Supreme Court seeking initiation of contempt of court proceedings against actor Swara Bhasker..




IndiaTimes - Published





RS bypoll on Sep 11 for seat vacated following Amar Singh's death

The Rajya Sabha bypoll to fill the seat vacated due to the death of former Samajwadi Party leader Amar Singh will be held on September 11, the Election Commission announced Friday. Singh had died in a..




IndiaTimes - Published





Chennai: Customs bust new modus operandi, British currency worth Rs 38 lakh seized from steel plates

In what is said to be a never-seen-before modus operandi, foreign currency worth Rs 38.64 lakh was seized from steel plates that were welded together. The plates were in a courier consignment that was..




DNA - Published





Rajya Sabha member Amar Singh cremated in Delhi

Rajya Sabha member Amar Singh was cremated at the Chhatarpur crematorium here in the presence of family members and relatives on Monday, two days after he died in a Singapore hospital.




IndiaTimes - Published





Political leaders, relatives pay last tributes to Amar Singh

Political leaders, family members and relatives paid their last respects to Rajya Sabha member Amar Singh, who died in a Singapore hospital two days ago. Singh's body was brought to the national..




IndiaTimes - Published





'Amar Singh was like a brother to me, I've lost a pillar of support with his demise': Rajya Sabha MP Subhash Chandra

Amar Singh passed away on Saturday at the age of 64. The veteran politician had been at ill health for a while now and was undergoing treatment at a hospital in Singapore over the last couple of..




DNA - Published





Amar Singh's mortal remains reach Delhi from Singapore; taken to Chhatarpur farmhouse

Sources close to the family of the late politico said that Amar Singh will be cremated on Monday.




DNA - Published

Also reported by •IndiaTimes


Amar Singh: The wily Thakur who had friends across political spectrum

Rajya Sabha MP Amar Singh, who died in a Singapore hospital on Saturday at the age of 64, skilfully navigated the intersection of politics and corporate world and then imbued it with a dash of filmy..




IndiaTimes - Published





Rajya Sabha MP Amar Singh passes away

Rajya Sabha MP Amar Singh passed away on Saturday at the age of 64. The veteran politician had been at ill health for a while now and was undergoing treatment at a hospital in Singapore over the last..




DNA - Published





Singapore deports 10 Indians, bars their re-entry for violating circuit breaker rules




IndiaTimes - Published





PM Narendra Modi's 2018 Singapore visit enhanced India's presence in Asean: Indian diplomat




IndiaTimes - Published





Indonesia reports 1,031 new coronavirus infections; Southeast Asia's highest case total

Indonesia reported 1,031 new coronavirus infections on Wednesday taking the total to 41,431 and overtaking Singapore with the highest number of COVID-19 cases in Southeast Asia.




Reuters - Published





Singapore to remove most coronavirus restrictions from Friday

Singapore will allow small gatherings and the reopening of restaurants and shops from June 19, its health ministry said on Monday, in a major easing of the city-state's coronavirus restrictions.




Reuters - Published




AG, SG give 30L for lawyers to tide over lockdown loss

A day after TOI published a story about lukewarm response from rich lawyers to the cause of hard-pressed advocates during the lockdown, responses poured in about individual charitable work being..




IndiaTimes - Published





Malaysia PM paves way for year-end snap poll: report

Malaysian Prime Minister Muhyiddin Yassin is preparing for snap election by the end of the year, Singapore's Straits Times newspaper said, as he seeks a firm mandate amid uncertainty over how much..




Reuters - Published





Singapore's migrant workers fear financial ruin after virus ordeal

As Sharif Uddin contemplates leaving the cramped Singapore dormitory where he has spent weeks under coronavirus quarantine, fears about his future creep in.




Reuters India - Published





After leaks for days, massive fire at Oil India's gas well in Assam

The gas well at Baghjan has been leaking for 13 days and a team of experts from Singapore had reached on Monday to inspect the situation.




DNA - Published





Exclusive: Half of Singapore's new COVID-19 cases are symptomless, taskforce head says

At least half of Singapore's newly discovered coronavirus cases show no symptoms, the co-head of the government's virus taskforce told Reuters on Monday, reinforcing the city-state's decision to ease..




Reuters - Published




Singapore plans wearable virus-tracing device for all

Singapore plans to give a wearable device that will identify people who had interacted with carriers of coronavirus to each of its 5.7 million residents, in what could become one of the most..




Reuters - Published




Singapore reports 261 new coronavirus cases, smallest rise in two months

Singapore's health ministry on Friday confirmed another 261 coronavirus cases, the city-state's smallest increase in nearly two months, taking its tally to 37,183.




Reuters - Published





After US, France, South Korea, Singapore & Australia, India now looking to ink military logistics pact with Japan




IndiaTimes - Published





No discussion on RCEP during India-Australia virtual summit: MEA

The RCEP is a proposed free trade agreement in the Asia-Pacific region between the ten member states of the Association of Southeast Asian Nations (ASEAN) namely, Brunei, Cambodia, Indonesia, Laos,..




IndiaTimes - Published





Schools reopen as Singapore eases lockdown restrictions

With temperatures checked, masks fitted, and hand sanitizers at the ready, many Singapore children returned to school on Tuesday after a novel coronavirus lockdown of nearly two months.




Reuters India - Published

Also reported by •Reuters


Singapore rushes to build housing for 60,000 migrant workers after virus outbreak

The Singapore government is racing to create additional housing for about 60,000 migrant workers by the end of this year, as it seeks to reduce the density in dormitories which have seen mass outbreaks..




Reuters - Published




Singapore's health ministry confirms 408 new coronavirus cases, one death

Singapore confirmed 408 new coronavirus cases on Monday, its health ministry said, bringing the city-state's tally to 35,292.




Reuters - Published




Steamy Singapore says face shields no substitute for mandatory masks

Tropical city-state Singapore said on Monday it was curbing the use of face shields as a substitute for masks, as its residents look for ways to protect themselves from the coronavirus and avoid..




Reuters - Published





Singapore-China to open essential travel corridor in early June

Singapore and China plan to reopen essential travel for business and official purposes between the two countries early next month, they said in a joint statement on Friday.




Reuters - Published





Singapore says Malaysia wants further deferral of joint rail project

Singapore said on Friday it was reviewing a request by neighbouring Malaysia to further suspend a high speed rail project set to link the city-state to Malaysia's capital Kuala Lumpur.




Reuters - Published