Dimple Yadav
Indian politician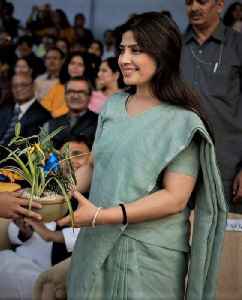 Dimple Yadav is an Indian politician from the Samajwadi Party who is a second time Member of the Indian Parliament from Kannauj. Her husband is Samajwadi Party supremo and former Chief Minister of Uttar Pradesh, Akhilesh Yadav.


Kannauj Lok Sabha Election Result 2019 UP: SP chief Akhilesh Yadav's wife Dimple loses in shock defeat
Samajwadi Party loses prestige battle.
DNA - Published
Kannauj Lok Sabha constituency: Candidates for 2019 LS poll, past results, all updates
Prestige battle for Samajwadi Party chief Akhilesh Yadav as his wife Dimple Yadav is contesting from here.
DNA - Published
May campaign for Akhilesh Yadav and Dimple Yadav: Shatrughan Sinha
IndiaTimes - Published
Akhilesh Yadav's wife Dimple Yadav files nomination for Kannauj Lok Sabha seat
Dimple Yadav, a two-time lawmaker from Kannauj, who has represented the Lok Sabha seat since 2012 when it was vacated by her husband after he became the chief minister, claimed that the victory margin..
DNA - Published
Also reported by •IndiaTimes
Lok Sabha election 2019: SP revises star campaigners' list, includes party patriarch Mulayam Singh Yadav
The revised list signed by senior SP leader Ram Gopal Yadav, besides including the party's founders name, also carried the names of party chief Akhilesh Yadav, senior party leaders Azam Khan, Dimple..
DNA - Published
Maya, Akhilesh may not contest Lok Sabha polls
The hectic campaign schedule, which will leave them with little time to canvass for themselves, is purportedly why Mayawati and Akhilesh Yadav are rethinking their candidature. Akhilesh had earlier..
IndiaTimes - Published
SP declares 2 more candidates for Lok Sabha polls 2019
Earlier, the SP had declared candidates on nine seats in the state, including party founder Mulayam Singh Yadav from Mainpuri, SP chief Akhilesh Yadav's wife Dimple Yadav from Kannauj and MPs.
DNA - Published
You Might Like