C. R. Patil
Member of Parliament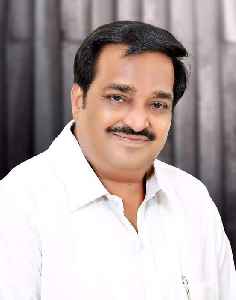 Chandrakant Raghunath Patil is a member of the 16th Lok Sabha of India. He represented the Navsari constituency of Gujarat and is a member of the Bharatiya Janata Party political party. In 2019, he won election with a record margin of 6,89,668 votes.


82 ex-MPs still to vacate official bungalows despite Lok Sabha panel warning
Over 80 former MPs are yet to vacate their official bungalows in Lutyens' Delhi despite a stern warning by a Lok Sabha panel, sources said. On August 19, the Lok Sabha Housing Committee headed by C R..
IndiaTimes - Published
Gujarat man won't have to sell kidney for son's studies
Navsari MP CR Patil gets tribal boy enrolled in Class XI
DNA - Published
Navsari MP, with Jalgaon roots, has highest vote margin in nation
Chandrakant Raghunath Patil, a BJP MP from Navsari, defeated Congress' Dharmesh Patil by a record margin of 6.89 lakh votes.
DNA - Published
BJP's C R Patil wins by 6.89 lakh votes, biggest victory margin in 2019 elections
The Bharatiya Janata Party's C R Patil came close to shattering the all-time record of victory margin in a parliamentary election when he defeated his Congress rival in the Navsari Lok Sabha seat in..
DNA - Published
Navsari Lok Sabha Election Result 2019: BJP's C.R Patil triumphs over Congress's Patel Dharmeshbhai Bhimbhai
Navsari is one of the 26 Lok Sabha Constituencies going to poll on April 23 in the state of Gujarat. BJP's C.R Patil triumps over Congress's Patel Dharmeshbhai Bhimbhai by 689668 votes
DNA - Published
Navsari Lok Sabha Election Result 2019: BJP's C.R Patil secures huge lead
Navsari is one of the 26 Lok Sabha Constituencies going to poll on April 23 in the state of Gujarat. BJP's C.R Patil secures huge lead against Congress's Patel Dharmeshbhai Bhimbhai
DNA - Published
You Might Like