Malaysia
Federal constitutional monarchy in Southeast Asia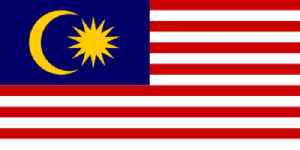 Malaysia is a country in Southeast Asia. The federal constitutional monarchy consists of 13 states and three federal territories, separated by the South China Sea into two similarly sized regions, Peninsular Malaysia and East Malaysia. Peninsular Malaysia shares a land and maritime border with Thailand and maritime borders with Singapore, Vietnam, and Indonesia. East Malaysia shares land and maritime borders with Brunei and Indonesia and a maritime border with the Philippines and Vietnam. Kuala Lumpur is the national capital and largest city while Putrajaya is the seat of federal government. With a population of over 30 million, Malaysia is the world's 44th most populous country. The southernmost point of continental Eurasia, Tanjung Piai, is in Malaysia. In the tropics, Malaysia is one of 17 megadiverse countries, with large numbers of endemic species.


Malaysia set to lodge complaint in WTO over EU's plan to phase out palm oil usage by 2030
Malaysia will lodge a complaint with the World Trade Organization over the European Union's plan to phase out the use of palm oil in biofuels, a minister said on Tuesday.
Firstpost - Published
Dutch tourist killed in Malaysia cave floods, guide missing
Local fire and rescue chief Law Poh Kiong identified the dead man as 66-year-old Peter Hans Hovenkamp from Utrecht in the central Netherlands.
DNA - Published
Money laundering charges for 'Wolf of Wall St' producer
Malaysia on Friday charged one of the "Wolf of Wall Street" film producers, and stepson of former prime minister Najib Razak, with money laundering, alleging he misappropriated $248 million linked to..
Credit: Reuters Studio Duration: 01:36Published
Malaysia seizes over 5,000 smuggled terrapins at airport
Malaysian authorities said on Wednesday they had seized more than 5,000 smuggled terrapins at Kuala Lumpur airport last week. Rough Cut (no reporter narration).
Credit: Reuters Studio Duration: 00:44Published
Sex Scandal Deepens Rifts Within Malaysia's Ruling Coalition
According to a report by Reuters, leaked sex tapes allegedly showing a potential successor to Malaysian Prime Minister Mahathit Mohamad with another man have deepened rifts within the ruling coalition..
Credit: Wochit News Duration: 00:52Published
Apple mulls moving some production from China
Apple has asked its major suppliers to assess the cost implications of moving 15-30% of their production capacity from China. Fred Katayama reports.
Credit: Reuters Studio Duration: 00:52Published
Kim Jong Un's Slain Half-Brother Was A CIA Informant
Gizmodo reports Kim Jong Un's half brother Kim Jong Nam was an informant for the Central Intelligence Agency. He apparently met more than once with unspecified "agency operatives" before he was..
Credit: Wochit News Duration: 00:38Published
Global airlines slash profit forecasts on trade war fears
Global airline profits will be around a fifth lower than forecast as trade tensions and higher oil prices take a toll. Julian Satterthwaite reports.
Credit: Reuters Studio Duration: 01:29Published
Malaysia Environment Minister To Developed World: Take Your Trash And...
Malaysia is sending more than 3,000 tons of trash to the U.K., Australia, Japan and the U.S. According to Mother Nature Network, the garbage originated in those countries in the first place. Mostly..
Credit: Wochit News Duration: 00:43Published
U.N. Tells Turkey To Free And Compensate Gulen-Linked Detainees
According to a report by Reuters, on Wednesday, a UN committee said that Turkey must release two men detained over suspected links to a cleric blamed for a 2016 coup attempt and pay them compensation..
Credit: Wochit News Duration: 00:49Published
Tonnes Of Plastic Waste To Be Returned To UK, US and Other Countries
According to CNN, Malaysia will return 450 tonnes of contaminated plastic waste to the countries that shipped it, in a refusal to become a dumping ground for the world's trash. Nine shipping containers..
Credit: Wochit News Duration: 00:42Published
With Death Of Malaysia's Last Male Sumatran Rhino, Another Species Is Almost Extinct
Malaysia's last male Sumatran rhino died Monday, marking a grim milestone for a species fast hurtling toward extinction. Tam, who'd been living in Tabin Wildlife Reserve in the state of Sabah since..
Credit: Wochit News Duration: 00:32Published
Last Male Sumatran Rhino Dies In Malaysia
According to CNN, Malaysia's last male Sumatran rhino has died, leaving behind just one female of the same rare species in the country. The animal's death was confirmed by the Borneo Rhino Alliance in..
Credit: Wochit News Duration: 00:42Published
India continues to pursue extradition request of Zakir Naik with Malaysia: MEA
IndiaTimes - Published
Four foreigners detained for militant links in Malaysia
Malaysia has detained four foreigners, including two ethnic Rohingya from Myanmar, on suspicion of being involved in militant groups, police said on Tuesday.
Reuters - Published
Search this site and the web:
You Might Like