Ethiopian Airlines
Flag-carrier airline of Ethiopia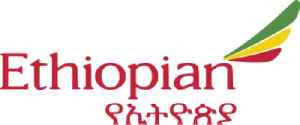 Ethiopian Airlines, formerly Ethiopian Air Lines (EAL) and often referred to as simply Ethiopian, is Ethiopia's flag carrier and is wholly owned by the country's government. EAL was founded on 21 December 1945 and commenced operations on 8 April 1946, expanding to international flights in 1951. The firm became a share company in 1965 and changed its name from Ethiopian Air Lines to Ethiopian Airlines. The airline has been a member of the International Air Transport Association since 1959 and of the African Airlines Association (AFRAA) since 1968. Ethiopian is a Star Alliance member, having joined in December 2011.


You Might Like
Families mark first anniversary of Ethiopian 737 MAX crash
Bereaved families who lost loved ones aboard Ethiopian Airlines Flight 302 converged on the crash site on Tuesday to mark the first anniversary of the tragedy, a day after an interim report focused on..
Reuters - Published
Ethiopia Airlines crash report focuses on Boeing's faulty systems
Ethiopian investigators singled out faulty systems on a Boeing 737 MAX plane in an interim report on last year's Ethiopian Airlines crash that killed 157 people, piling pressure on the U.S. jetmaker on..
Reuters - Published
Ethiopia says faulty sensor reading preceded Boeing crash
A faulty sensor reading and the activation of an anti-stall system on a Boeing 737 MAX preceded the crash of an Ethiopian Airlines flight in 2019 that killed 157 people, an interim report by the..
Reuters - Published
Ethiopian Airlines denies suspending flights to China amid coronavirus outbreak
Ethiopian Airlines late on Thursday denied reports it had suspended all flights to China, where an outbreak of coronavirus has killed at least 170 people.
Reuters - Published
After Ethiopia crash, victims' relatives say they were hounded by U.S. law firms
Days after the March 10 crash of a Kenya-bound Ethiopian Airlines' Boeing jet that killed all 157 people on board, strangers began calling or visiting bereaved families, saying they represented U.S...
Reuters - Published
Last remains of Ethiopian plane crash victims buried, families say little notice given
The last remains of 157 people killed aboard an Ethiopian Airlines plane in March were interred at the crash site this week, farmers and families told Reuters, but some relatives were upset they had..
Reuters - Published
Ethiopian Airlines flight makes emergency landing in Dakar, no casualties
An Ethiopian Airlines flight had engine trouble and made an emergency landing minutes after taking off from the airport in Senegal's capital Dakar on Tuesday, an airport spokesman said, adding nobody..
Reuters - Published
Ethiopian crash victims want 737 MAX documents from Boeing, FAA
A lawyer for victims of Ethiopian Airlines Flight 302 said on Tuesday he wants Boeing Co and the U.S. Federal Aviation Administration to hand over documents about the decision to keep the Boeing 737..
Reuters - Published
Families meet with U.S. transport chief after 737 MAX crashes
Relatives of some victims of Ethiopian Airlines Flight 302 met with U.S. Transportation Secretary Elaine Chao for about two hours on Tuesday, six months after the plane crashed into farmland outside..
Reuters - Published
All remains from Ethiopian Airlines crash site now identified: police
The identification of human remains from the crash of Ethiopian Airlines Flight 302 is complete, the head of Ethiopia's police said late on Monday, six months after the plane nosedived into farmland..
Reuters - Published
Families press for memorial at Ethiopian Airlines crash site
Four months after his younger sister Samya died in an Ethiopian Airlines crash with 156 others, Adnaan Stumo sifted soil through his fingers at the site where the plane came down.
Reuters - Published
Father whose family died in Ethiopian plane crash to brief Congress
Before flying to Washington to climb the steps of Congress and testify to a crowd of aviation experts and lawmakers this week, Paul Njoroge spent a desolate weekend packing away toys his children would..
Reuters - Published
Ethiopian crash families criticize Boeing over donation plan
The families of victims of an Ethiopian air disaster on Thursday criticized Boeing's plan to donate $100 million to unspecified charities and communities affected by two crashes, saying it was too..
Reuters - Published