Jordan
Country in the Middle East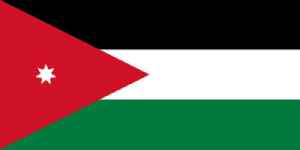 Jordan, officially the Hashemite Kingdom of Jordan, is an Arab country in the Levant region of Western Asia, on the East Bank of the Jordan River. Jordan is bordered by Saudi Arabia to the south and the east, Iraq to the north-east, Syria to the north, and Israel and Palestine to the west. The Dead Sea is located along its western borders and the country has a 26-kilometre (16 mi) coastline on the Red Sea in its extreme south-west. Jordan is strategically located at the crossroads of Asia, Africa and Europe. The capital, Amman, is Jordan's most populous city as well as the country's economic, political and cultural centre.


Might Al Harrah desert drawings reveal the Middle East's forgotten past?

In this vast plain of the Al Harrah desert, stretching from Syria across north-eastern Jordan and into Saudi Arabia, ancient drawings are carved into volcanic basalt rock.View on euronews
Credit: euronews (in English) Duration: 03:01
Published
Jordanian women transform leaves into art

A group of Jordanian woman are salvaging leaves and plant bits, normally burned by farmers after the harvest season, and converting them into unique pieces of papers.
Credit: Reuters Studio Duration: 01:47
Published
You Might Like



Many Jordanians struggling as country emerges from COVID-19 lockdown, U.N. agency says

Many people in Jordan are struggling to meet basic needs after a more than two-month lockdown to fight the coronavirus pandemic, a United Nations Development Programme (UNDP) study said on Wednesday.




Reuters - Published





Jordan's king says regional stability put at risk by Israeli annexation

Jordan's King Abdulllah warned on Tuesday that Israel's planned move to annex parts of the Israeli-occupied West Bank next month would threaten stability in the Middle East.




Reuters - Published





Jordan reopens mosques for socially distanced prayers

Mosques in Jordan opened for communal prayers for the first time in over two months on Friday, with thousands of police deployed to enforce strict social distancing rules at the usually packed places..




Reuters - Published





Jordan lifts driving ban as it eyes normality after tight lockdown

Jordanians took to the streets after a ban was lifted on driving and many businesses reopened in a rapid return to normality after the authorities relaxed a tough forty-day curfew to stem the spread of..




Reuters - Published





IMF approves $1.3 billion loan for Jordan, adjusts for coronavirus expenses

The International Monetary Fund said on Wednesday its board had approved a four-year, $1.3 billion loan program for Jordan, signaling confidence in the country's reform agenda at a time it was taking..




Reuters - Published





Jordan eases nationwide curfew and allows shops to open

Jordanian Prime Minister Omar Razzaz said on Tuesday the government would allow people to go on foot to buy groceries in neighbourhood shops to ease daily life for the nearly 10 million inhabitants..




Reuters - Published





Mary Kom breaks quarantine: Boxer attended breakfast hosted by President

Ace boxer MC Mary Kom has landed herself in a soup. It has come to fore that she broke the mandatory 14-day self-quarantine protocol after returning to India from Amman, Jordan on March 13. Mary, who..




IndiaTimes - Published





Jordanian army guards cities ahead of curfew

Jordan has announced a lockdown beginning on Wednesday, ordering all citizens to stay in their homes apart from emergencies and banning travel between provinces, to fight the coronavirus outbreak.




Reuters - Published





Jordanian army says it will deploy around cities ahead of state of emergency

The Jordanian army said on Tuesday it will deploy at entrances and exits of main cities in the kingdom in a move officials said was ahead of an imminent announcement of a state of emergency to combat..




Reuters - Published





Jordan parliament passes draft law to ban gas imports from Israel

Jordan's parliament on Sunday approved a draft law to ban imports of Israeli gas to the country just days after they started under a multibillion-dollar deal struck in 2016 which is opposed by much of..




Reuters - Published





U.S. halts sending bomb-sniffing dogs to Jordan, Egypt as seven die

The U.S. State Department said on Monday it has stopped sending explosive-detecting dogs to Jordan and Egypt over concerns of deaths of deployed dogs from causes like heat stroke and poisoning.




Reuters - Published





Thirteen Pakistanis killed in Jordan valley farm fire: civil defense statement

Thirteen Pakistanis, including eight children, died when a fire swept through their makeshift dwellings in a farming estate in the Jordan Valley, Jordan's civil defense said.




Reuters - Published





Jordan foils plot against U.S., Israeli diplomats and American soldiers: newspaper

Jordanian intelligence recently foiled a plot by two suspected militants to mount terror attacks against U.S. and Israeli diplomats alongside U.S. troops deployed at a military base in the south of the..




Reuters - Published





Jordan's king tours enclave along Israel border after end of lease deal

Jordan's King Abdullah paid his first visit on Monday to an enclave fringing its northern border with Israel a day after the expiry of a 25-year special regime that allowed Israeli farmers access to..




Reuters - Published





Two Jordanians detained by Israel return home after handover deal

Two Jordanians, whose detention without charge by Israel led Jordan to recall its ambassador, returned home on Wednesday in a handover deal that defused a diplomatic crisis, officials said.




Reuters - Published





Three Mexicans, one Swiss wounded in stabbing at Jordan tourist spot

Three Mexican tourists and one Swiss were wounded along with four locals in Jordan on Wednesday when a man went on a stabbing rampage in Jersah city, a major tourist destination near ancient Roman..




Reuters - Published




Tourists stabbed in Jordanian city near Roman ruins: police

Several Spanish-speaking tourists were injured in a stabbing on Wednesday in Jerash, a Jordanian city popular with foreign visitors, along with a local guide and a security guard, police said, adding..




Reuters - Published




Injured in Jordan stabbing were not Spanish nationals: source

The tourists stabbed Wednesday in Jerash, a Jordanian city popular with foreign visitors, were not Spanish nationals, a source from Spain's foreign ministry told Reuters.




Reuters - Published





Jordan government resigns ahead of a reshuffle: state media

Jordan's cabinet on Monday resigned ahead of a government reshuffle expected in the next few days, the state news agency said.




Reuters - Published





Jordan says two citizens held in Israel to return 'before end of week'

Israel will soon release two Jordanians whose months-long detention without charge, after crossing into the occupied West Bank, had led Jordan to recall its ambassador, the two countries said on..




Reuters - Published





House Speaker Pelosi holds talks in Jordan with King Abdullah

U.S. House Speaker Nancy Pelosi and other senior members of Congress held talks in Jordan on Saturday with King Abdullah II and other top Jordanian officials.




Reuters - Published





UK PM Johnson welcomes economic reforms in talks with Jordan's King Abdullah

British Prime Minister Boris Johnson hosted Jordan's King Abdullah for a working lunch on Wednesday to discuss ties between the two countries, Johnson's office said.




Reuters - Published





UK court sets November hearing for case of Dubai ruler and princess

A full hearing in a case that pits the ruler of Dubai Sheikh Mohammed bin Rashid al-Maktoum against his wife, a Jordanian princess, over the welfare of their two children will be heard on Nov. 11 in an..




Reuters - Published





Jordan keeps silent in case pitting princess against sheikh

Jordan is staying silent about a legal battle pitting a Jordanian princess against her estranged husband, the ruler of Dubai, as King Abdullah seeks to contain any fallout from a case involving his..




Reuters - Published





Top Turkish officials visit Jordan in move to deepen ties: officials

Top Turkish and Jordanian officials sought to deepen relations in talks on Tuesday, days after the kingdom restored full ties with Ankara's ally Qatar, in what officials say is a realignment by Jordan..




Reuters - Published





White House's Kushner to finalize Palestinian economic plan on Middle East tour - official

White House senior adviser Jared Kushner will lead a U.S. delegation on a tour of the Middle East to finalize details of his proposed $50 billion economic development plan for the Palestinians, Jordan,..




Reuters - Published





Jordan names new envoy to Qatar, two years after downgrading ties

Jordan appointed a new ambassador to Qatar on Tuesday, a step toward restoring normal relations two years after Amman withdrew its ambassador in solidarity with Gulf Arab allies who severed ties with..




Reuters - Published





Hundreds of Jordanian Islamists protest against Trump peace plan

Hundreds of Jordanian Islamists marched in the capital on Friday to denounce Washington's peace plan to end the Arab-Israeli conflict and demand their government boycott a conference in Bahrain next..




Reuters - Published





Tremors across Jordan as Trump Mideast peace plan revives old fears

Jordan's King Abdullah reacts angrily to any suggestion that he might accept a U.S. deal to end the Arab-Israeli conflict that would make his country a homeland for Palestinians.




Reuters - Published





Palestinians urge Egypt, Jordan to reconsider going to U.S.-led conference

Palestinians urged Egypt and Jordan on Wednesday to reconsider their attendance at a U.S.-led conference on June 25-26 in Bahrain, voicing concern it would weaken any Arab opposition to Washington's..




Reuters - Published





Egypt, Jordan, Morocco to attend U.S.-led Palestinian conference: officials

Egypt, Jordan and Morocco have informed the Trump administration they will attend a U.S.-led conference in Bahrain this month on proposals for boosting the Palestinian economy as part of a coming U.S...




Reuters - Published