Ladakh
Region administered by India as a union territory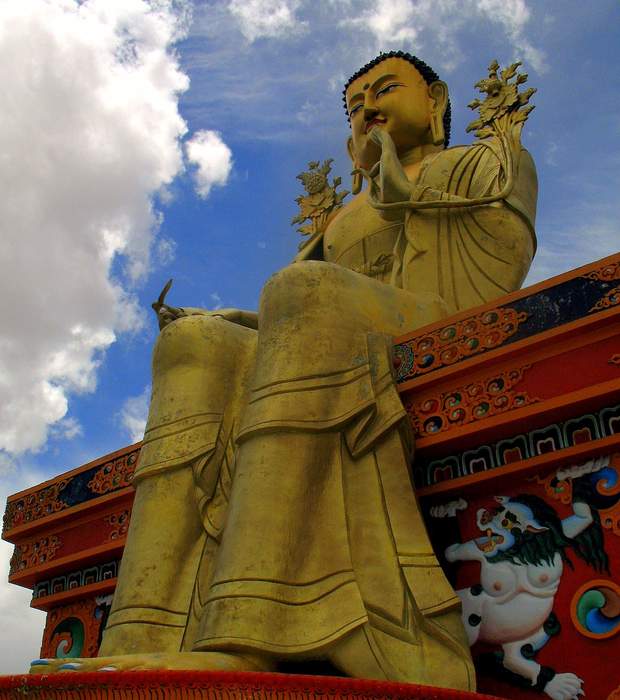 Ladakh is a region administered by India as a union territory, and constitutes a part of the larger Kashmir region, which has been the subject of dispute between India, Pakistan, and China since 1947. It was established on 31 October 2019, following the passage of the Jammu and Kashmir Reorganisation Act. Ladakh is bordered by the Tibet Autonomous Region to the east, the Indian state of Himachal Pradesh to the south, both the Indian-administered union territory of Jammu and Kashmir and the Pakistan-administered Gilgit-Baltistan to the west, and the southwest corner of Xinjiang across the Karakoram Pass in the far north. It extends from the Siachen Glacier in the Karakoram range to the north to the main Great Himalayas to the south. The eastern end, consisting of the uninhabited Aksai Chin plains, is claimed by the Indian Government as part of Ladakh, and has been under Chinese control since 1962.


Ram Nath Kovind's Kargil visit cancelled for bad weather | Kargil Vijay Diwas | Oneindia News

Today, President Ram Nath Kovind's visit to Ladakh to attend a function on the 22nd anniversary of Kargil Vijay Diwas was cancelled due to bad weather. With Ladakh trip cancelled, the President..
Credit: Oneindia Duration: 01:26
Published
Ladakh gets Central University | What is a Central University? | Oneindia news

Union Cabinet has approved the formation of a Central University in the union territory of Ladakh. This upcoming university will be constructed with a project cost of ₹750 crore. #Ladakh..
Credit: Oneindia Duration: 01:44
Published
PM Modi cut off by opposition's slogans: First day of Parliament's Monsoon Session | Oneindia News

Today, the Monsoon session of the Lok Sabha began on a chaotic note with the opposition preventing Prime Minister Narendra Modi from introducing his newly-inducted Union ministers to the House; The..
Credit: Oneindia Duration: 02:22
Published
IMA says Covid 3rd wave is inevitable; opposes tourism & religious pilgrimage | Oneindia News

Today, the Indian Medical Association appealed to the Central and state governments to not let the guard down on the Covid front; Samajwadi Party leader Akhilesh Yadav commented on the UP terrorist..
Credit: Oneindia Duration: 02:31
Published
West Bengal CM Mamata Banerjee calls Governor Dhankar 'corrupt'|Oneindia News

West Bengal Chief Minister Mamata Banerjee on Monday launched a stream of attacks on Governor Jagdeep Dhankhar and called him a "corrupt" man whose name was in the chargesheet of Jain Hawala case...
Credit: Oneindia Duration: 02:17
Published
Twitter courts controversy, shows Jammu-Kashmir and Ladakh outside India on its site| Oneindia News

Twitter has once again courted controversy with the micro-blogging platform displaying a distorted map of India, showing Jammu-Kashmir and Ladakh as a separate country. The map, which appears on the..
Credit: Oneindia Duration: 01:43
Published
Rajnath Singh met and interacted with Army veterans in Leh| Ladakh| MM Naravane| Oneindia News

Defence Minister Rajnath Singh met and interacted with Army veterans in Leh on June 27. He was accompanied by Army Chief General MM Naravane. The Raksha Mantri, army personnel and veterans chanted..
Credit: Oneindia Duration: 01:28
Published
General Bipin Rawat: Chinese Army realised it needs better training| Galwan Clash| Oneindia News

There are over 40 cases in the country of the new Delta Plus strain, which has been tagged as a 'Variant of Concern' by the government. India recorded 50,848 new Covid-19 cases and 1,358 more people..
Credit: Oneindia Duration: 03:01
Published
ITBP jawan does yoga bare-bodied at 18K feet in Ladakh on 7th International Yoga Day | Oneindia News

On the 7th year of celebration of International Yoga Day, the Indo-Tibetan Border Police have filled their Twitter account with visuals of jawans yoga. Among them, there is a video, where one ITBP..
Credit: Oneindia Duration: 02:03
Published
Mayawati's MLAs in touch with SP, may cross over to Akhilesh camp: Reports | Oneindia News

9 BSP MLAs reportedly met with Samajwadi Party chief Akhilesh Yadav this morning and are reportedly about to cross over to the rival camp, dealing a blow to Mayawati ahead of the UP Assembly election;..
Credit: Oneindia Duration: 03:49
Published
China's PLA rotates troop near Eastern Ladakh due to harsh cold in high altitude | Oneindia News

Since last year, China has deployed over 50,000 troops close to the Indian territory in eastern Ladakh. Sources told ANI that the People's Liberation Army has brought in fresh troops from the..
Credit: Oneindia Duration: 01:13
Published
You Might Like



Rahul Gandhi to govt: Ignoring China's actions can cause huge problems later

Rahul Gandhi on Monday cited a media report which claimed that in Demchok in Eastern Ladakh, China's tents are still on the Indian side and there is no date yet for talks between core commanders of the..




IndiaTimes - Published





Indian Army's counterterrorism division deployed to tackle China on Ladakh front




IndiaTimes - Published





China developing new fighter aircraft base near Ladakh




IndiaTimes - Published





Border row must not be allowed to affect India ties, says China

India has repeatedly said that LAC disengagement, and de-escalation, is essential for improvement in ties, Beijing insists that the border dispute should not be allowed to come in the way of overall..




IndiaTimes - Published





Govt weakening country: Rahul Gandhi

Rahul cited a media report that claimed that the Chinese military has again crossed the Line of Actual Control (LAC) in eastern Ladakh at several places and that there has been at least one incident of..




IndiaTimes - Published





Monitoring activities by PLA: Army on eastern Ladakh situation

There has been no attempt by the Indian or the Chinese side to occupy the areas in eastern Ladakh from where they disengaged in February and both sides are engaged in talks to resolve the remaining..




IndiaTimes - Published





S Jaishankar likely to have bilateral meet with Chinese counterpart

Official sources said Jaishankar is expected to emphasise on the need for an early, complete and sincere disengagement at the LAC in eastern Ladakh for improvement in ties that have been marred since..




IndiaTimes - Published





Planning to travel? Check COVID rules for Goa, Ladakh, Dharamshala and other tourist places

In case, you are planning for inter-state travel, read these COVID rules first.




DNA - Published





PLA troops enter Demchok, fume at Dalai Lama's birthday events

The Chinese intruders, according to reports, crossed the Indus to the Indian side to display banners and the Chinese flag. Most Buddhists in Ladakh hold the Dalai Lama in reverence and his winter..




IndiaTimes - Published





Ladakh first Union Territory to achieve 100% first dose coverage

According to official data, a total of 89,404 people from all eligible age groups, including 18-44 years, have been administered the first dose of Covid vaccine. The second dose has been administered..




IndiaTimes - Published





Early completion of disengagement could pave way for de-escalation: India on eastern Ladakh




IndiaTimes - Published





India closely watching Xi's 'intriguing move' on LAC

India is closely examining President Xi Jinping's "unusual and intriguing move" to replace the overall commander of the Western Theatre Command (WTC), which handles the border with India, barely..




IndiaTimes - Published





Newly promoted PLA General to head Chinese troops along Indian border amid eastern Ladakh standoff




IndiaTimes - Published





Hot winds from Pakistan, absence of weather system that brings rains behind high temperature in Himalayan areas

Drass in Ladakh, which is one of the coldest places in the country and where the temperature drops to below minus 20 degrees celsius, had recorded 22.6 degrees celsius. Several parts of north India are..




IndiaTimes - Published





Situation along LAC normal since Feb disengagement in Pangong areas: Army chief on Ladakh standoff




IndiaTimes - Published





Talks soon with Ladakh netas on political process: Rajnath Singh

India believes in resolving disputes through dialogue with neighbours, but is always prepared to give "a befitting reply if provoked", defence minister Rajnath Singh reiterated on Monday during a visit..




IndiaTimes - Published





Twitter again shows distorted map of India on website, depicts J&K, Ladakh as separate

Earlier as well, Twitter did not show Ladakh as a part of India, although it was corrected after strong objection from the government.




DNA - Published





Defence minister Rajnath Singh to visit Ladakh

The visit which will be more than one day visit will have BRO infrastructure programmes as the key focus.




DNA - Published





ITBP performs Yoga at 18,000ft icy heights of Ladakh

The ITBP personnel performed Yoga amid snowfall at Himalaya to mark the 7th International Yoga day.Similar to the previous years, the ITBP personnel performed Yoga on different high altitude border..




IndiaTimes - Published





Rajnath meets lieutenant governors of Jammu and Kashmir, Ladakh




IndiaTimes - Published





Ladakh records 53 fresh cases of coronavirus




IndiaTimes - Published





India cranking up border infrastructure to narrow gap with China

From construction of roads, tunnels and bridges to early opening of mountain passes despite formidable terrain and weather challenges, India has worked on a war-footing over the last year to ensure..




IndiaTimes - Published





Ladakh first frontier region to get ethanol, thanks to HPCL




IndiaTimes - Published





India remembers Galwan bravehearts on first anniversary of deadly clashes

Glowing tributes were paid to the 'bravehearts of Galwan' on Tuesday as India remembered its army personnel who laid down their lives while thwarting Chinese aggression in eastern Ladakh a year ago.




IndiaTimes - Published





LAC pullback slow as there is suspicion on both sides: CDS Rawat

Chief of defence staff General Bipin Rawat on Friday said the troop disengagement process with China in eastern Ladakh was slow since there continued to be suspicion on both sides, even as India's..




IndiaTimes - Published





Top Indian Army brass to discuss LAC situation at high-level meeting next week

Amid heightened military activities by the Chinese military opposite eastern Ladakh on its side on the Line of Actual Control, top Indian Army leadership would be briefed about the force's operational..




IndiaTimes - Published





Solar Eclipse 2021 TODAY: Date, time, live stream link to view 'Surya Grahan', Ring of Fire and other details

In India, it will be visible only to people in Ladakh and Arunachal Pradesh. It is scheduled to begin here at 1:42 pm and will end at 6:41 pm.




DNA - Published





Solar Eclipse 2021: THESE places in India will witness 'Surya Grahan' on June 10 - know how to watch online

Solar Eclipse: In India, it will be visible in Ladakh and Arunachal Pradesh. People from rest of the part of the country can watch the event online.




DNA - Published





Annular solar eclipse on June 10, to be visible in India only from Arunachal, Ladakh

An annular solar eclipse is going to occur on Thursday but it will not be visible in India except in some parts of Arunachal Pradesh and Ladakh, a prominent astrophysicist said. "In Arunachal Pradesh,..




IndiaTimes - Published





China rotates 90 per cent troops deployed along Ladakh sector on India border

It seems that Chinese troops deployed opposite the Eastern Ladakh sector have been badly affected by the extreme cold conditions in the area as the People's Liberation Army has rotated 90 per cent of..




IndiaTimes - Published





Punjab, Haryana, Himachal, J&K, Ladakh to give tap water connections to each rural household by 2022




IndiaTimes - Published





Army ready to thwart any mischief by China, while talks underway to resolve remaining 'friction points': General M M Naravane

The Army is maintaining high operational readiness to `thwart' any `unusual activity' by China all along the northern borders, said General M M Naravane on Friday, while rejecting concerns that..




IndiaTimes - Published




Army Vice Chief reviews India's military preparedness in eastern Ladakh




IndiaTimes - Published





India to shortly deploy new Israeli Heron drones in Ladakh, LAC sector

The Indian forces are set to get a major boost to their surveillance capabilities as they are shortly goingto receive their advanced Heron drones from Israel for keeping an eye on the Chinese..




IndiaTimes - Published





3.6 magnitude earthquake hits Ladakh's Kargil




IndiaTimes - Published





Earthquake of 4.2 magnitude hits Ladakh

Earthquake of 4.2 magnitude hits Ladakh




DNA - Published





Enough troops on Ladakh frontier to tackle any situation: Army chief

The Army has an adequate number of troops deployed on the eastern Ladakh frontier to tackle any contingency, Army chief General MM Naravane said on Wednesday, even as he expressed hope that the..




IndiaTimes - Published





Govt may go ahead with shorter tunnel on new link to Ladakh from Himachal




IndiaTimes - Published





India keeping eye on PLA drill near eastern Ladakh

India is keeping close tabs on the summer exercises launched by the People's Liberation Army (PLA) in its 'depth areas' facing eastern Ladakh, even as it maintains operational readiness of..




IndiaTimes - Published





Jaishankar calls for full implementation of Moscow pact on Ladakh row during call with Chinese FM




IndiaTimes - Published





India's COVID-19 crisis: Chinese premier Xi Jinping writes to PM Modi, extends sympathies

This is the first official communication from the Chinese President to PM Modi since last year's stand-off in eastern Ladakh and the Galwan incident.




DNA - Published





Naravane in Ladakh for ground review




IndiaTimes - Published





2 new oxygen plants to help Ladakh breathe easy as entry without Covid report blocked




IndiaTimes - Published





Over 14k hectares in Andaman & Nicobar Islands gets 'organic' tag, government scouts for similar stretch in Ladakh and Lakshadweep




IndiaTimes - Published





Army chief visits eastern Ladakh, Siachen to review operational readiness

General M M Naravane on Tuesday visited eastern Ladakh to review the ground situation and operational preparedness in the high-altitude region, with China having refused so far to even complete the..




IndiaTimes - Published





Army looks to buy 350 light tanks to boost warfare in hills

The Army is now exploring the possibility of procuring 350 light tanks, which can also be transported by air, to augment its firepower in high-altitude areas in the backdrop of the continuing military..




IndiaTimes - Published





Army explores procurement of 350 light tanks for mountainous terrain after border standoff with China

The Army is now exploring the possibility of procuring 350 light tanks, which can also be transported by air, to augment its firepower in high-altitude areas in the backdrop of the continuing military..




IndiaTimes - Published





Leaders' consensus to maintain peace at borders cannot be 'swept under carpet', India tells China

India has told China that the significance of the consensus reached between their leaders to maintain peace along the Line of Actual Control (LAC) cannot be "swept under the carpet" and called for the..




IndiaTimes - Published





Ladakh apricot festival draws travellers from Maharashtra, Delhi




IndiaTimes - Published





Army chief expresses hope military confrontation with China in eastern Ladakh will be resolved through negotiations




IndiaTimes - Published