Ladakh
Region administered by India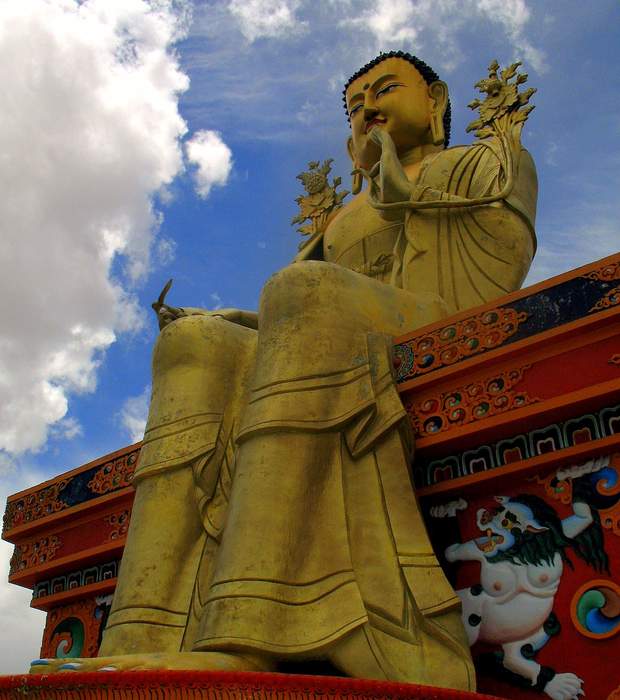 Ladakh is a region administered by India as a union territory, which constitutes a part of the larger Kashmir region and has been the subject of dispute between India, Pakistan, and China since 1947. Ladakh is bordered by the Tibet Autonomous Region to the east, the Indian state of Himachal Pradesh to the south, both the Indian-administered union territory of Jammu and Kashmir and the Pakistan-administered Gilgit-Baltistan to the west, and the southwest corner of Xinjiang across the Karakoram Pass in the far north. It extends from the Siachen Glacier in the Karakoram range to the north to the main Great Himalayas to the south. The eastern end, consisting of the uninhabited Aksai Chin plains, is claimed by the Indian Government as part of Ladakh, and has been under Chinese control since 1962.


Northern Army Commander drives Made in India Infantry Combat Vehicle in Leh | Oneindia News*News

Today, in a major boost to the Armed forces, the Indian Army inducted new Made in India Infantry Combat Vehicles into its machinery in Leh, Ladakh. #InfantryCombatVehicles #IndianArmy..
Credit: Oneindia Duration: 01:20
Published
Galwan Valley clash: 2 years anniversary | Indian Army vs Chinese PLA | Oneindia News *News

Today, June 15 marks the second anniversary of the deadly clash between the Indian troops and the Chinese PLA soldiers in Ladakh's remote Galwan Valley in which 20 Indian soldiers were killed and an..
Credit: Oneindia Duration: 02:01
Published
Ladakh: Jaipur couple fined for driving their car on sand dunes in Nubra valley | Oneindia News*News

A couple from Jaipur was fined Rs 50,000 by the Ladakh police after they drove on the sand dunes in Hunder in Nubra Valley. #Ladakh #NubraValley #Sanddunes
Credit: Oneindia Duration: 01:45
Published
US top general warns of Chinese infra build-up near Ladakh, calls it 'alarming' | Oneindia News

A top US General said that Chinese activity in Ladakh is 'eye-opening' and claimed that some of the infrastructure being created is alarming. #China #Ladakh #GeneralFlynn
Credit: Oneindia Duration: 01:42
Published
IAS officer who 'walked dog' at Delhi Stadium transferred to Ladakh; wife to Arunachal|Oneindia News

The bureaucrat who allegedly cleared a Delhi stadium to walk his dog, Sanjeev Khirwar, has been transferred to Ladakh amid outrage over his actions. His wife, Rinku Dugga, also a bureaucrat, has been..
Credit: Oneindia Duration: 01:15
Published
You Might Like



Army deploys Made in India Infantry Combat Vehicles in Ladakh

The Infantry Protected Mobility Vehicles (IPMVs) were handed over to the Indian Army in April of this year.




DNA - Published





India & Australia to crank up defence ties, even as Canberra backs Delhi on Ladakh confrontation with China

India and Australia on Wednesday resolved to further crank up their defence ties through combat exercises, intelligence-sharing, reciprocal logistics and military-industrial collaboration as well as..




IndiaTimes - Published





International Yoga Day 2022: ITBP jawans perform Surya Namaskar at an altitude of 17,000 feet, dedicate a special song

In Ladakh and Sikkim, ITBP jawans did Surya Namaskar at an altitude of 17000 feet. Yoga Day was being organised virtually for the last two years.




DNA - Published





When will bulldozers run over Chinese structures in Ladakh: Shiv Sena dig on BJP govt in UP




IndiaTimes - Published





India carefully monitors developments along its border areas: MEA

India on Thursday said it carefully monitors developments along its border areas including the construction of infrastructure by the Chinese side in the eastern Ladakh sector. The comments by external..




IndiaTimes - Published





Looking forward to next round of military talks soon: MEA on eastern Ladakh row




IndiaTimes - Published





Total pullback must to improve ties: India to China at LAC talks

With military disengagement in eastern Ladakh still incomplete, India and China held another round of diplomatic talks to review the current LAC situation and called for early meeting between senior..




IndiaTimes - Published





Eastern Ladakh row: India, China to hold next round of military talks soon

In a meeting under the India-China Working Mechanism for Consultation and Coordination, the two sides discussed eastern Ladakh situation.




DNA - Published





Seven Armymen die in Ladakh road mishap, 19 injured

At least seven Indian Army personnel died while 19 others were injured after the vehicle they were travelling in skidded off the road and fell into Shyok River in Ladakh's Tuktuk sector on Friday.A..




IndiaTimes - Published





Ladakh: 7 soldiers dead after vehicle carrying 26 skids off road, falls in river

In a tragic accident in Ladakh, seven soldiers have been reported dead after a vehicle fell inside a river after skidding off the road.




DNA - Published





7 soldiers dead, many hurt as Army vehicle falls into Shyok river in Ladakh

​​The vehicle carrying a team of 26 troops was moving from the transit camp in Partapur to a forward location in Sub Sector Hanif when it fell in the river. All of the personnel were injured. "The..




IndiaTimes - Published





7 army soldiers dead in vehicle accident in Ladakh




IndiaTimes - Published





'Why punishment posting?': Omar Abdullah after IAS officer transferred to Ladakh for walking dog

Former J&K CM Omar Abdullah slammed the Centre for transferring an IAS officer to Ladakh as a "punishment posting".




DNA - Published





IAS officer who walked dog in Delhi's Thyagraj Stadium transferred to Ladakh for 'misusing position'

The Central government transferred the IAS who walked his dog inside Thyagraj Stadium in Delhi to Ladakh over 'misuse of position'.




DNA - Published

Also reported by •IndiaTimes


China building bridges in areas occupied by it since '60s: MEA

The MEA said it had made it clear on several occasions that the Union Territories of Jammu & Kashmir and Ladakh are an integral part of India and that other countries are expected to respect India's..




IndiaTimes - Published




Second bridge on Pangong Lake being constructed by China in area under its illegal occupation since 1960s: MEA

Responding to reports of a second bridge being constructed across Pangong Lake — spanning eastern Ladakh and West Tibet — by China, the ministry of external affairs (MEA) on Friday said the..




IndiaTimes - Published





Jammu and Kashmir delimitation: India rejects Pakistan's "farcical resolution"

India reaffirmed that the Union Territories of Jammu & Kashmir and Ladakh have always been and will always be part of India.




DNA - Published





New Army chief reviews operational readiness in Ladakh amid continuing military confrontation with China

Army chief General Manoj Pande on Thursday reviewed the prevailing security situation and operational preparedness along the frontier in eastern Ladakh, even as the continuing military confrontation..




IndiaTimes - Published





To counter China, BRO must boost border infrastructure, says defence minister

With China systematically building roads, bridges and military positions along the entire 3,488-km Line of Actual Control during the continuing troop confrontation in eastern Ladakh, defence minister..




IndiaTimes - Published





Rajnath asks BRO to further crank up border infrastructure development with latest technology

With China systematically building roads, bridges and military positions along the entire 3,488-km Line of Actual Control during the continuing troop confrontation in eastern Ladakh, defence minister..




IndiaTimes - Published





56 autonomous bodies in J&K, Ladakh have not submitted accounts for audit for past many decades: CAG




IndiaTimes - Published





Need to prepare for intense, small duration operations: IAF Chief

The IAF chief VR Chaudhari on Thursday said that the current geopolitical situation necessitates the Indian Air Force to prepare for intense and small duration operations at a short notice, and be..




IndiaTimes - Published





Army, IAF induct advanced Israeli 'tank killers' amid LAC standoff

The Army and IAF have begun to induct advanced Israeli anti-tank guided missiles (ATGMs) with longer ranges and greater armour-penetration capabilities, amid the two-year-long military confrontation..




IndiaTimes - Published





China builds 3 cell towers near Hot Springs in Ladakh




IndiaTimes - Published





Army's 5-day key meet to set road map for EVs' induction

"Introduction of e-vehicles" will be discussed during the General MM Naravane-chaired Army commanders' conference from April 18 to 22, in addition to the operational situation, infrastructure..




IndiaTimes - Published





BRO to construct world's highest tunnel at Shinku La Pass to connect Himachal to Ladakh




IndiaTimes - Published





BRO to set up new RCC units, task force for development work in Ladakh: DG




IndiaTimes - Published





After Ladakh, Army cranking up its expertise in Mandarin

The Indian Army is cranking up its expertise on Mandarin and 'advanced sector specialisations' on China, which comes after additional forces and firepower were 'rebalanced' to the northern borders..




IndiaTimes - Published





India blocks cyber attacks by Chinese hackers' targeting power grid near Ladakh

As many as two attempts of cyberattack targeting the electricity distribution in the Union Territory were made by the hackers.




DNA - Published





Suspected Chinese hackers collect intelligence from India's grid

The hackers focused on at least seven "load dispatch" centers in northern India that are responsible for carrying out real-time operations for grid control and electricity dispersal in the areas..




IndiaTimes - Published





15th round of India, China talks to resolve Ladakh standoff 'positive and constructive': Chinese military




IndiaTimes - Published





As summer sets in, military reviews situation on LAC

With the onset of summer amidst no signs of de-escalation in the 22-month old troop confrontation in eastern Ladakh, top Army and IAF commanders on Tuesday kicked off a comprehensive review of the..




IndiaTimes - Published





Earthquake of 4.3 magnitude hits Ladakh, Jammu and Kashmir

The earthquake was felt at 7.29 am at 186 kilometres North of Alchi village in Leh district of Ladakh, Jammu and Kashmir.




DNA - Published





Army's Siliguri Corridor insertion drill coincided with Wang's India visit

The Army has conducted another 'airborne insertion and rapid response' exercise in the strategically-sensitive Siliguri Corridor, the narrow strip of land that connects the northeast with the rest of..




IndiaTimes - Published





India, China agree to disagree on LAC as India seeks border peace, China long-term view

India pressed China for an early and complete disengagement of troops in the remaining areas along the LAC in eastern Ladakh, as foreign minister S Jaishankar and NSA Ajit Doval met Chinese foreign..




IndiaTimes - Published





Chinese foreign minister arrives in India on unannounced visit

Chinese foreign minister Wang Yi arrived in India Thursday evening in the highest-level visit between the two countries after the ties came under severe strain following the eastern Ladakh standoff..




IndiaTimes - Published





India rejects Chinese FM Wang Yi's remarks over Kashmir, says 'China has no locus standi to comment'

Relations between the two nuclear-armed Asian powers turned chilly two years ago after a deadly border clash in the Ladakh region of Kashmir.




DNA - Published





Peace in eastern Ladakh essential for normalisation of ties with China, says India for 2nd time in 3 days




IndiaTimes - Published





Strategic Zoji La reopens ahead of schedule amid LAC tension

With Indian soldiers remaining forward-deployed in the continuing 22-month-long military confrontation with China in eastern Ladakh, the BRO on Saturday reopened the forbidding Zoji La on the..




IndiaTimes - Published





No breakthrough yet again in military talks with China on eastern Ladakh confrontation

There was no concrete breakthrough yet again in resolving the 22-month-long troop confrontation in eastern Ladakh with China in the top-level military talks on Friday, with over 50,000 troops each and..




IndiaTimes - Published





Complete stalled disengagement, India tells China at military meet

India once again asked China to complete the stalled troop disengagement at a friction point in eastern Ladakh as well as resolve the much bigger face-offs at Depsang and Demchok in a phased manner at..




IndiaTimes - Published





Will not agree to any change in status quo: Jaishankar on eastern Ladakh standoff




IndiaTimes - Published





BREAKING: Earthquake of magnitude 4.3 hits Ladakh

The earthquake occurred around 8.35 am at a depth of 10 km.




DNA - Published





After Ladakh, Indian Army now plans to deploy K-9 howitzers in central, eastern sectors of LAC with China

Having successfully deployed and tested the K-9 Vajra Howitzers in the Ladakh sector, the Indian Army is now planning to deploy K-9 Vajra howitzers in the high altitude mountains in the central and..




IndiaTimes - Published





India insisted on 'complete disengagement' in all its talks with China on eastern Ladakh row: Govt




IndiaTimes - Published





India has enhanced force-levels in areas where no troop disengagement in eastern Ladakh: MoD




IndiaTimes - Published





2021: An year of record trade amid frozen India-China ties over Ladakh chill




IndiaTimes - Published





India, China 'effectively managed, controlled' eastern Ladakh frictions: Chinese FM Wang Yi




IndiaTimes - Published





Rahul Gandhi moves adjournment motion in Lok Sabha to discuss Ladakh's statehood




IndiaTimes - Published





Ladakh gets its first-ever FM radio station




IndiaTimes - Published