Sanatan Dharma row: Hindu saints stage protest in Delhi, torch effigies of Udhayanidhi and other leaders

Monday, 25 September 2023
The protesters also raised slogans against political leaders who also made similar remarks and issued statements supporting the DMK leader.
💡 newsR Knowledge: Other News Mentions
Election Results 2023| Pol. Analyst Tehseen Poonawala Speaks as Congress Loses Three States

As Congress loses Rajasthan, MP, and Chhattisgarh, Political Analyst Tehseen Poonawala Speaks to the media on defeat. He believes it is time for Congress to introspect mistakes and avoid making blunders like abusing Sanatan Dharma. Follow Oneindia English for constant election coverage. #electionsresultlive #electionresult2023 #liveelectionresult #rajasthanelection2023 #telanganassemblyelections2023 #telanganaelections2023 #mpelection2023 #chhattisgarhelection2023 #telanganassemblyelections2023 #telanganaelections2023 #livenews #latestnews #breakingnews #electionsresult #Oneindia #Oneindianews ~ED.103~
Credit: Oneindia Duration: 01:04
Published
A temple where a dog is the deity
In Sikandrabad town of Uttar Pradesh's Bulandshahr district lies a unique temple where the deity is a dog. Surrounded by Hindu gods, there's a special grave and..
IndiaTimes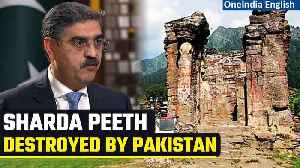 Historic Hindu temple 'Sharda Peeth' in PoK demolished by Pakistan | Oneindia News

Pakistan faces criticism for destroying an ancient Hindu temple in PoK to ere-ct a soldiers' coffee house, labeled as 'Hindophobia.' The Dara Shikoh Foundation urges UNESCO to intervene, alleging deliberate damage to 'Sharda Peeth' despite a Supreme Court order against demolition. #Pakistannews #Pakistan #Shardamandir #Shardapeeth #UNESCO #Hinduphobia #Hindus #Indianews #Worldnews #Oneindia #Oneindianews ~HT.178~ED.155~GR.121~
Credit: Oneindia Duration: 02:26
Published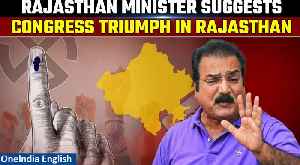 Rajasthan Election: Rajasthan Minister Pratap Khachariyawas signals Congress triumph in Rajasthan

Rajasthan Minister and Congress leader, Pratap Khachariyawas, comments on exit polls: Congress winning in Rajasthan; BJP focused on Hindu-Muslim. Congress to form govt in Rajasthan, MP, Chhattisgarh. #rajasthanassemblyelection2023 #rajasthanelection2023opinionpoll #rajasthanelection2023exitpoll #rajasthanelection2023 #rajasthanexitpoll #rajasthanassemblyelection2023 ~HT.178~ED.102~GR.124~
Credit: Oneindia Duration: 02:16
Published
You Might Like
Related videos from verified sources
Related news from verified sources