'BJP is going to win with thumping majority in Chhattisgarh, MP and Rajasthan': Pralhad Joshi

Tuesday, 14 November 2023 ()
Union Minister and BJP's Rajasthan election in charge, Pralhad Joshi, expressed confidence that the BJP will win with a large majority in the upcoming elections in Chhattisgarh, Madhya Pradesh, and Rajasthan. The BJP is set to release its manifesto for the Rajasthan Legislative Assembly elections on November 16, which is expected to include promises such as relief measures for government employees and support for the unorganized sector. The Congress won 99 seats in the 2018 assembly elections in Rajasthan, while the BJP won 73 seats.
💡 newsR Knowledge: Other News Mentions
You Might Like
Related videos from verified sources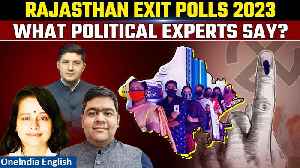 Rajasthan Exit Polls 2023: Political experts on the exit poll predictions in the state | Oneindia

The exit poll predictions are out for the states of Rajasthan, MP, Telangana, Chhattisgarh and Mizoram. The Bharatiya Janata Party (BJP) appears to retain power in Rajasthan, according to exit polls..
Credit: Oneindia Duration: 07:27
Published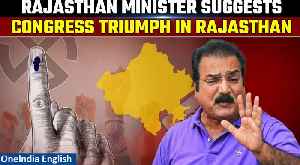 Rajasthan Election: Rajasthan Minister Pratap Khachariyawas signals Congress triumph in Rajasthan

Rajasthan Minister and Congress leader, Pratap Khachariyawas, comments on exit polls: Congress winning in Rajasthan; BJP focused on Hindu-Muslim. Congress to form govt in Rajasthan, MP,..
Credit: Oneindia Duration: 02:16
Published
Rajasthan Elections|Amit Shah blames Cong for Corruption, says Red Diary Symbolises Scandal|Oneindia

Amit Shah Labels 'Red Diary' as Congress's Corruption Symbol, Asserts BJP's Confidence in Forming Rajasthan Government, Citing Popular Dissatisfaction with Congress Administration's Failures. Shah..
Credit: Oneindia Duration: 02:47
Published
Related news from verified sources