Rajasthan Congress like a cricket team whose batsmen are trying to run out each other: PM Modi

Sunday, 19 November 2023 ()
Prime Minister Narendra Modi on Sunday said the Rajasthan Congress is like a cricket team whose batsmen spent five years trying to run out each other. Addressing a public meeting in Churu district's Taranagar, he exhorted people to vote for the BJP in the November 25 Rajasthan Assembly polls to ensure rapid development of the state. The Congress and development are enemies and will remain enemies. Due to the Congress' "misgovernance", inflation and unemployment are out of control in Rajasthan, Modi said.
You Might Like
💡 newsR Knowledge: Other News Mentions
Related videos from verified sources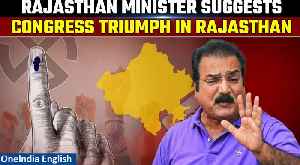 Rajasthan Election: Rajasthan Minister Pratap Khachariyawas signals Congress triumph in Rajasthan

Rajasthan Minister and Congress leader, Pratap Khachariyawas, comments on exit polls: Congress winning in Rajasthan; BJP focused on Hindu-Muslim. Congress to form govt in Rajasthan, MP,..
Credit: Oneindia Duration: 02:16
Published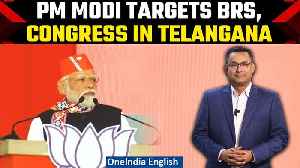 Telangana Assembly Elections | PM Modi Slams Congress and BRS in Telangana Rally| Oneindia

In a rally in Mahabubabad, Telangana, Prime Minister Narendra Modi criticized the Congress and ruling Bharat Rashtra Samithi (BRS), labeling them as "equal sinners" and blamed them for the state's..
Credit: Oneindia Duration: 08:56
Published
Rajasthan Elections|Amit Shah blames Cong for Corruption, says Red Diary Symbolises Scandal|Oneindia

Amit Shah Labels 'Red Diary' as Congress's Corruption Symbol, Asserts BJP's Confidence in Forming Rajasthan Government, Citing Popular Dissatisfaction with Congress Administration's Failures. Shah..
Credit: Oneindia Duration: 02:47
Published
Related news from verified sources