Supriya Sule
Indian politician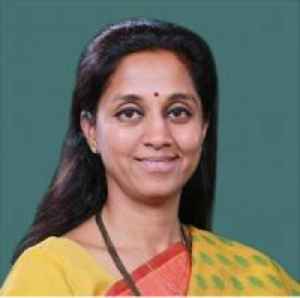 Supriya Sule is an Indian politician from the Nationalist Congress Party and currently a Member of Parliament (MP) in the 17th Lok Sabha. She is the daughter of the President of the Nationalist Congress Party, Sharad Pawar. In 2009, she contested the elections for the Baramati Lok Sabha constituency and won. This constituency was previously represented by her father. She is a Member of Parliament, representing Maharashtra in the Lok Sabha.


'Why does he look photoshopped?' Twitter questions NCP leader Supriya Sule's meeting with Rahul Gandhi
The Congress and the NCP are in an alliance in Maharashtra which goes to polls later this year.
DNA - Published
Move afoot to stop water diversion to Pawar's fief
Maharashtra Krishna Valley Development Corporation (MKVDC) on Wednesday sent a proposal to Maharashtra water resources department to stop diversion of additional water from Nira Deoghar canal to..
IndiaTimes - Published
If some people have doubts, government should rethink on EVMs: Supriya Sule
IndiaTimes - Published
Maharashtra: Next generation of dynasts taste defeat
SCION OF TIMES: Supriya Sule, Sujay Vikhe-Patil were among few who won
DNA - Published
Baramati Lok Sabha constituency: Candidates for 2019 LS poll, past results, all updates
Can BJP stop Supriya Sule?
DNA - Published
DNA EXCLUSIVE: BJP has failed to meet the promises they made, says Supriya Sule
In an interview to DNA, Sule said she is confident of her victory with a huge margin despite BJP's game plan.
DNA - Published
Congress leader Harshvardhan Patil asks workers to campaign for Supriya Sule
The Indapur Assembly segment is one of the key constituents of the Baramati seat, which was won by Sule in 2014 defeating BJP's ally Rashtriya Samaj Party leader Mahadev Jankar with a margin of 69,719..
DNA - Published
Maharashtra: It's Kanchan Kul vs Supriya Sule, Sushil Shinde vs Mahaswami
BJP has announced 22 candidates from Maharashtra and is yet to decide on 3 Lok Sabha seats including Madha, Bhandara-Gondiya and Mumbai North-East.
DNA - Published
Lok Sabha 2019: NCP struggles to tackle exodus, banks on Sharad Pawar's clout
The Nationalist Congress Party (NCP) has nominated youths and new faces in Maval, Shirur, Madha, Beed while re-nominating sitting MPs Supriya Sule in Baramati, Dhananjay Mahadik in Kolhapur, Udayanraje..
DNA - Published
NCP 1st list: Supriya Sule gets Baramati
In 2014, Supriya won from Baramati seat which used to be Pawar's bastion.
DNA - Published
Lok Sabha polls 2019: NCP announces first list of 12 candidates; Supriya Sule to contest from Baramati
It has also decided to field sitting MPs Udayanraje Bhosale and Dhananjay Mahadik from Satara and Kolhapur, respectively.
DNA - Published
Sharad Pawar's daughter Supriya Sule renominated; grand nephew missing in NCP Lok Sabha list
IndiaTimes - Published
You Might Like