South Africa 'can do something special' - Miller

Sunday, 1 October 2023
South African batter David Miller believes his team can finally succeed and create history at the World Cup in India.
💡 newsR Knowledge: Other News Mentions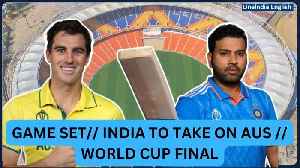 India to face Australia in ICC Cricket World Cup 2023 final| Australia beat South Afirca| Oneindia

The ICC Cricket World Cup 2023 final pits India against Australia, rekindling a rivalry dating back to the 2003 final won by Australia. India, seeking a third title, faces Australia, victors in the last encounter. The clash unfolds at Ahmedabad's Narendra Modi Stadium. Australia's semifinal win over South Africa, led by David Miller's century, sets the stage for an intense final. The world awaits the showdown, reminiscent of cricketing history and legendary clashes. #CricketWorldCup2023 #IndiaVsAustralia #FinalShowdown #CricketRivalry #WankhedeMemories #SportsExcitement #NarendraModiStadiumBattle ~HT.178~
Credit: Oneindia Duration: 01:31
Published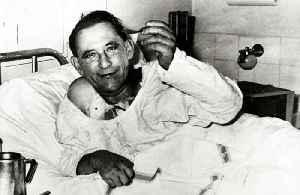 This Day in History: First Human Heart Transplant (Sunday, December 3rd)

This Day in History: , First Human Heart Transplant. December 3, 1967. Louis Washkansky, 53, received the first human heart transplant at Groote Schuur Hospital in Cape Town, South Africa. He received the transplant from Denise Darvall, a 25-year-old woman who was fatally injured in a car accident. Surgeon Christiaan Barnard performed the revolutionary medical operation. Tragically, the anti-rejection drugs given to Washkansky caused him to contract double pneumonia. He died 18 days later. By the 1970s, many of Barnard's transplant patients were living up to five years with their new hearts
Credit: Wibbitz Top Stories Duration: 00:47
Published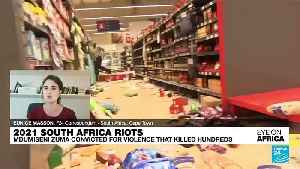 Instigator of South Africa's deadly 2021 riots sentenced to 12 years


Credit: FRANCE 24 English Duration: 01:45
Published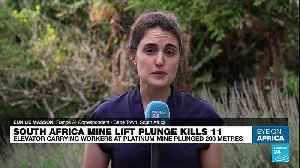 South Africa platinum mine lift plunge kills 11


Credit: FRANCE 24 English Duration: 01:44
Published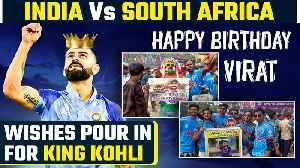 Virat Kohli Birthday: Fans wish 'King Kohli' ahead of India vs South Africa match | Oneindia News

Former captain of the Indian Cricket Team and star batsman Virat Kohli is celebrating his 35th birthday today. In the ongoing ICC Cricket World Cup 2023 tournament being played on Indian soil, 'King Kohli' is scoring a lot of runs with the bat. So far, Virat Kohli has played seven ODI World Cup 2023 matches for India in which 442 runs have come from his bat. It also includes one century and four half-centuries. Virat Kohli's die-hard fans expect a similar performance from him in India's upcoming India vs South Africa ODI World Cup 2023 match. On his 35th birthday, Virat Kohli aims to achieve a mega milestone by equalling Sachin Tendulkar's record for the most ODI centuries, a record which the former India skipper can achieve in India vs South Africa ICC Cricket World Cup 2023 match at the Eden Gardens, Kolkata. #IndiaVsSouthAfrica #India #SouthAfrica #ViratKohli #KingKohli #EdenGardens #ViratKohliBirthday #KingKohliBirthday #BirthdayViratKohli #WorldCup2023 #IndiaVsSouthAfrica2023 #FansWishViratKohli #IndiaSouthAfricaLive ~HT.178~PR.152~ED.101~GR.121~
Credit: Oneindia Duration: 04:31
Published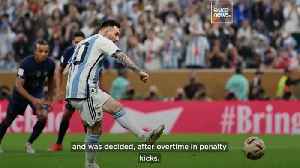 Will Messi's World Cup Final shirt break the all-time sporting auction record?

A set of six shirts that Lionel Messi wore during Argentina's victorious 2022 World Cup run will be auctioned in December, with Sotheby's estimating their value at more than $10 million (€9.2m).
Credit: euronews (in English) Duration: 01:17
Published
You Might Like