'Jadeja is on fire' - spinner takes three quick wickets

Sunday, 8 October 2023
India's Ravindra Jadeja removes Steve Smith, Marnus Labuschagne and Alex Carey in quick succession as Australia lose three wickets for nine runs in their World Cup match in Chennai.
You Might Like
💡 newsR Knowledge: Other News Mentions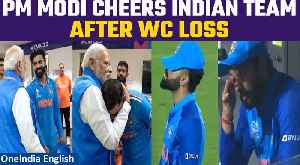 PM Modi meets Indian Cricket Team After World Cup Loss, Meets Jadeja and Shami in dressing room

Yesterday, Australia ended India's winning streak on November 19th in the WC final. PM Modi attended, presenting the trophy to Australian captain Pat Cummins. Now, Glimpses of Modi meeting the Indian cricket team have surfaced on social media, including posts by Shami and Jadeja. #India #WC #IndvsAus #Australia #RohitSharma #Narendramodi #Modi #2023worldcup #Oneindia #Oneindianews ~ED.194~GR.125~HT.96~
Credit: Oneindia Duration: 01:18
Published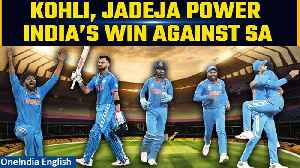 India beat South Africa, remain unbeaten in Cricket World Cup| HIGHLIGHTS| Oneindia News

The Indian cricket team showcased dominance with an emphatic 243-run victory over South Africa at Eden Gardens. Virat Kohli's century, supported by Shreyas Iyer's solid innings, propelled India to 326-5. Ravindra Jadeja's remarkable bowling performance, claiming five wickets, dismantled South Africa for 83 runs. India's stellar performance reaffirms their prowess in the World Cup. The Highlights. #INDvSA #CricketWorldCup #KohliCentury #TeamIndia #JadejaMagic ~HT.178~GR.124~
Credit: Oneindia Duration: 02:03
Published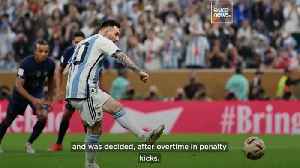 Will Messi's World Cup Final shirt break the all-time sporting auction record?

A set of six shirts that Lionel Messi wore during Argentina's victorious 2022 World Cup run will be auctioned in December, with Sotheby's estimating their value at more than $10 million (€9.2m).
Credit: euronews (in English) Duration: 01:17
Published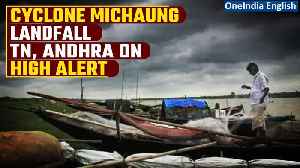 Cyclone Michaung: Cyclone to hit Andhra, Tamil Nadu coasts in 24 hours | Oneindia News

The India Meteorological Department (IMD) has issued an alert as Cyclone 'Michaung', which is brewing over the Bay of Bengal and the South Andaman Sea, is gaining strength. Cyclone Michaung, is expected to skip Chennai and make landfall between Nellore and Machilipatnam with winds that could pack speeds of up to 100 kmph on the morning of December 5. #CycloneMichaung #Michaung #IMD #CyclonicStorm #BayOfBengal #Odisha ~PR.152~ED.155~HT.98~
Credit: Oneindia Duration: 03:04
Published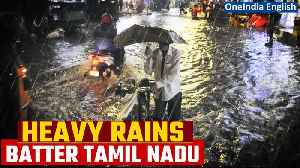 Tamil Nadu Rains: Low-lying areas inundated in Chennai; schools shut | Oneindia News

Chennai and several other districts in Tamil Nadu are bracing for intense rain, thunderstorms, and lightning today, as warned by the India Meteorological Department (IMD) in its morning forecast. #TamilNadu #TamilNaduRains #Cyclone #IMD #CycloneMichaung ~HT.178~PR.151~ED.155~GR.122~
Credit: Oneindia Duration: 02:05
Published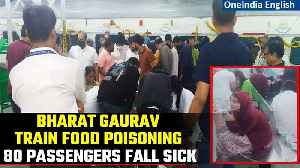 Bharat Gaurav Train: 80 passengers on the train fall ill due to food poisoning | Oneindia News

Around 80 passengers aboard a Bharat Gaurav Special train from Chennai complained of stomach infections and other complications, possibly due to food poisoning, as the train was about to reach Pune railway station late on Tuesday. #BharatGauravTrain #BharatGauravTrainFoodPoisoning #TrainFoodPoisoning #BharatGauravTrainPassengersSick #BharatGauravExpressNews #TrainFoodPoisoningNews #IndianRailways ~HT.97~PR.152~ED.194~
Credit: Oneindia Duration: 02:18
Published