Communist Party of India (Marxist)
Political party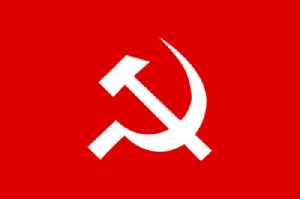 The Communist Party of India (Marxist) is the largest communist party in India. The party emerged from a split from the Communist Party of India in 1964. The CPI(M) was formed at the Seventh Congress of the Communist Party of India held in Calcutta from 31 October to 7 November 1964. As of 2018, CPI(M) is leading the state government in Kerala and having elected members in 8 state legislative assemblies including Kerala, West Bengal, Tripura, Himachal Pradesh, Maharashtra, Odisha, Jammu & Kashmir, and Rajasthan. It also leads the West Bengal Left Front. As of 2016, CPI(M) claimed to have 1,048,678 members. The highest body of the party is the Politburo.


Lok Sabha polls: CPM announces candidates in 38 seats, to wait for Congress response on alliance
The development comes a day after the Congress announced candidates for 11 constituencies which includes the two which the CPI(M) had won in 2014. The Left Front last week had announced a list of 25..
IndiaTimes - Published
Lok Sabha Election 2019: Advantage TMC, BJP as Cong-Left alliance falls apart in Bengal
With the Congress-CPI(M) proposed alliance falling apart in West Bengal, the stage is set for a four-cornered contest in which the main contenders -- the Trinamool Congress and the BJP - are in an..
DNA - Published
Congress-CPM break up paves way for polarised Bengal polls
IndiaTimes - Published
Lok Sabha Election 2019: CPI(M)-led Left Front releases list of 25 candidates in West Bengal
"In some seats, there could be candidates jointly supported by the Congress and the Left Front," he added.
DNA - Published
Rahul Gandhi launches poll campaign in Kerala, slams CPM, BJP-RSS
IndiaTimes - Published
West Bengal: Expelled TMC MP Anupam Hazra, Congress-CPM MLAs join BJP
Anupam Hazra was welcomed to the BJP by senior party leader Mukul Roy and BJP General Secretary Kailash Vijayvargiya.
DNA - Published
West Bengal: CPI(M) MP tops chart, utilises maximum MPLADS fund
Data released by the central government has shown that CPI(M) lawmaker Mohammed Salim has secured the top spot in terms of utilisation of MPLADS funds in West Bengal
DNA - Published
You Might Like