Arjun Ram Meghwal
Indian politician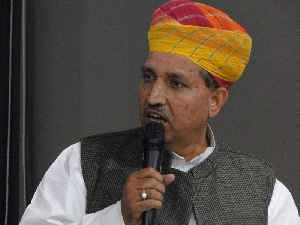 Arjun Ram Meghwal is an Indian politician belonging to the Bharatiya Janata Party and former party Chief Whip in 16th Lok Sabha. Currently, he is Union Minister of State in Ministry of Water Resources, River Development & Ganga Rejuvenation and Parliamentary Affairs in Government of India. He has been elected to the 15th and 16th Lok Sabhas from Bikaner constituency, in 2009 and 2014. He was awarded the Best Parliamentarian Award in 2013. Mr. Meghwal doesn't use the car provided by the government in commuting for work. Instead, he uses his push-bike as a local transport mode. Because of this habit of cycling, Meghwal has caught attention of people on several occasions be it cycling to the parliament or cycling for the oath taking ceremony at Rashtrapati Bhavan. However later he was restricted from using bicycle due to security concerns.


You Might Like
Sanjay Raut questions Arjun Ram Meghwal's endorsement of 'Bhabhiji Papad'
Shiv Sena MP Sanjay Raut attacked 'some Rajya Sabha MPs' for raising questions over Maharashtra government's handling of the COVID-19 pandemic. He also said that even the World Health Organisation..
DNA - Published
Nobody cured due to 'Bhabhiji papad': Sanjay Raut attacks Centre over Covid management
Taking a jibe at Union minister Arjun Ram Meghwal, who promoted 'Bhabhiji papad' to fight the coronavirus infection, the Shiv Sena MP Sanjay Raut said in Rajya Sabha on Thursday, "Maharashtra has done..
IndiaTimes - Published
Union Minister Arjun Ram Meghwal tests negative for coronavirus
Union Minister Arjun Ram Meghwal today tweeted he has tested negative for coronavirus. Meghwal had launched a papad brand named 'Bhabhi Ji papad', claiming that the consumption of that particular food..
DNA - Published
Highest 1-day tally of 65k takes India past 21.5L
India crossed the 21-lakh mark in Covid cases on Wednesday on the back of the highest single-day surge in fresh infections — crossing the 65,000-mark for the first time — even as two more Union..
IndiaTimes - Published
Govt will fulfill its duty of calling Monsoon session: Union minister Arjun Ram Meghwal
Minister of State for Parliamentary Affairs Arjun Ram Meghwal on Sunday said "it is the constitutional duty of the Centre to call the Parliament Session within six months and the government will surely..
IndiaTimes - Published
Priority should be given to passage of Union Budget: Arjun Ram Meghwal
With opposition leaders sending notices in Parliament demanding discussion on the communal riots in northeast Delhi, Union minister Arjun Ram Meghwal said the opposition should not politicise the..
IndiaTimes - Published
Govt plans to merge two UTs- Daman & Diu, Dadra & Nagar Haveli
Two Union Territories- Daman and Diu, and Dadra and Nagar Haveli- will be merged into one and a bill in this effect will be tabled in Parliament next week, Union minister Arjun Meghwal said in the Lok..
IndiaTimes - Published
Narendra Modi, Amit Shah arrive for BJP Parliamentary party meeting in Parliament
Earlier, Union Home Minister Amit Shah, Union Minister of Parliamentary Affairs Pralhad Joshi and Minister of State (MoS) for Water Resources Arjun Ram Meghwal also arrived at the Parliament ahead of..
IndiaTimes - Published
Government reaches out to opposition to push key bills in Parliament
The government on Friday reached out to the opposition leaders ahead of the Parliament session starting June 17. Parliamentary affairs minister Pralhad Joshi, along with Union ministers Narendra Singh..
IndiaTimes - Published