Republic Day (India)
Indian national holiday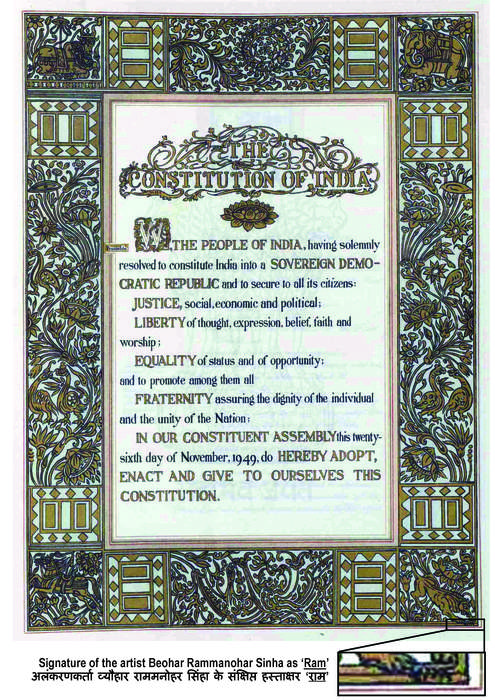 Republic Day is a national holiday in India. It honours the date on which the Constitution of India came into effect on 26 January 1950 replacing the Government of India Act (1935) as the governing document of India and thus, turning the nation into a newly formed republic.


Gujarat Municipal Polls: BJP's big win, PM Modi thanks people of Gujarat| Oneindia News

The BJP has swept the municipal polls in Gujarat with a winning performance in elections to six municipal corporations of Gujarat, winning Jamnagar, Bhavnagar, Rajkot and Surat. Disha Ravi, the..
Credit: Oneindia Duration: 02:28
Published
Watch: Lakha Sidhana, wanted for R-day violence, seen at meeting in Bathinda

Lakha Sidhana, the gangster turned activist who is wanted in connection with the violence in Delhi on Republic Day, was seen at a meeting in Punjab's Bathinda in support of the ongoing farmers'..
Credit: HT Digital Content Duration: 01:33
Published
Delhi police arrest man seen swinging swords at Red Fort on R-day

Delhi police has made another arrest in connection with the incident at Red Fort on Republic Day. Maninder Singh, who was allegedly swinging swords that 'motivated' protesters at the Red Fort, was..
Credit: HT Digital Content Duration: 01:22
Published
Watch: Rajnath Singh hands over trophies to best marching contingents from R-Day

Defence Minister Rajnath Singh on Monday handed over the trophies of best marching contingents of this year's Republic Day parade to the Jat Regimental Centre and the Delhi Police. "The Jat Regimental..
Credit: HT Digital Content Duration: 02:00
Published
Rajnath Singh presents Best Marching Contingent award of Republic Day parade 2021

Defence Minister Rajnath Singh presented the "Best Marching Contingent" award of Republic Day parade 2021 in Delhi on February 15. Chief of Defence Staff (CDS), General Bipin Rawat along with other..
Credit: ANI Duration: 02:19
Published
26 Jan violence: Accused Deep Sidhu, Iqbal Singh taken from Delhi Crime Branch

26th January violence accused Iqbal Singh and Deep Sidhu were taken from Delhi Police Crime Branch in Chanakyapuri on February 13. Actor-turned-activist Deep Sidhu was arrested by police on Feb 09..
Credit: ANI Duration: 01:19
Published
Nationwide rail-blockade on Feb 18 for 4 hours: Farmer leader

Samyukt Kisan Morcha leader Darshan Pal on February 10 announced that the protesting farmers will stage a 'rail roko' demonstration across the country on February 18 for four hours. He also informed..
Credit: ANI Duration: 01:51
Published
Red Fort violence: Iqbal Singh linked to Deep Sidhu, farm leaders? Cops clarify

A Delhi court Wednesday sent a man, arrested from Punjab, to 7-day police custody in connection with the Red Fort violence on Republic Day during farmers' tractor parade against the Centre's three new..
Credit: HT Digital Content Duration: 03:03
Published
You Might Like



Red Fort violence: Was exercising my 'fundamental right' to protest, Deep Sidhu tells court

Actor-activist Deep Sidhu, arrested in connection with the Red Fort violence on the Republic Day, Thursday told a Delhi court that he did not instigate anyone to cause violence and was only exercising..




IndiaTimes - Published





UK PM Boris Johnson to visit India in April end

Boris Johnson was expected to visit India in January for Republic Day but he could not come due to the new strain of coronavirus in his country.




DNA - Published





R-Day violence: Notices sent to 3 people based on Punjab admin info, says Delhi Police

The Delhi Police on Friday said they have sent notices to three people regarding the violence that erupted during the farmers' protest in the national capital on Republic Day based on details provided..




IndiaTimes - Published





Farmers' protest: Delhi police closes Ghazipur border hours after reopening for traffic movement

Following the violence on Republic Day, this national highway passing through the Ghazipur border was closed.




DNA - Published





Mann Ki Baat: PM Modi stresses on water conservation - Key highlights of his address

In last month's Mann Ki Baat, the Prime Minister said that the nation was shocked by the events that transpired on Republic Day at Red Fort.




DNA - Published





Wanted gangster's Facebook page disabled

The Facebook page of gangster-turned-activist Lakhbir Singh alias Lakha Sidhana, who is wanted by Delhi Police in connection with the Republic Day rioting case, has been disabled. While the page is not..




IndiaTimes - Published





Republic Day violence: 19 people arrested, 25 FIRs lodged, Centre tells HC




IndiaTimes - Published





UP farmers to observe fast, send messages to PM Modi till demands are met: Farmer leader V M Singh

The RKMS had withdrawn its support from the ongoing farmers' agitation against the three contentious central laws following the violence in Delhi on Republic Day. It joined 21 other farmer outfits on..




IndiaTimes - Published





Red Fort violence: Delhi court sends Deep Sidhu to 14-day judicial custody

A Delhi court Tuesday sent actor-activist Deep Sidhu to judicial custody for 14 days in connection with the Red Fort violence on Republic Day during farmers' tractor parade against the Centre's three..




IndiaTimes - Published




Republic-Day violence: Farmer leader among 2 arrested from Jammu by Delhi police




IndiaTimes - Published





Republic Day violence: Man who climbed Red Fort tomb arrested




IndiaTimes - Published





Know more about 80-yr-old bedridden Padma Awardee known for cremating uclaimed bodies for past 27 years

He was conferred Padma Shri by the government last year on Republic Day.




DNA - Published




Nikita Jacob accepts attending Zoom meeting with PJF; denies role in religious, political campaigns

Climate activist Nikita Jacob, who is involved in the controversial "Toolkit" document case related to farmers' protest, has admitted that there was a Zoom meeting before Republic Day, which was..




IndiaTimes - Published





'Toolkit' case: Zoom meeting held before R-Day to create Twitter storm, pro-Khalistani group involved

MO Dhaliwal, the founder of pro-Khalistani Poetic Justice Foundation contacted activist Nikita Jacob through his colleague Puneet, a Canadian citizen, to create a storm on Twitter ahead of Republic..




IndiaTimes - Published





Republic Day violence well-planned, may have got foreign funds: Police




IndiaTimes - Published





Deep Sidhu, key accused in R-Day riots case, arrested

The special cell of Delhi Police on Tuesday arrested Deep Sidhu, a Punjabi actor-activist and a key player in the Red Fort riots during the Republic Day tractor rally — ending a 13-day manhunt spread..




IndiaTimes - Published





SC protects Tharoor, Sardesai and five journalists from arrest

The Supreme Court on Tuesday shielded Congress leader Shashi Tharoor and six journalists, including Rajdeep Sardesai, from arrest in any of the 11 FIRs lodged against them in Delhi, Haryana, UP, MP and..




IndiaTimes - Published





Republic Day violence: SC stays arrest of Shashi Tharoor, journalists over tweet on farmers' protest

In a big relief to Congress leader Shashi Tharoor, senior journalist Rajdeep Sardesai and five other journalists, the Supreme Court on Tuesday stayed their arrest in multiple FIRs against them over..




IndiaTimes - Published





Delhi Police arrest Red Fort raider Deep Sidhu

The Delhi Police on Tuesday arrested Deep Sidhu in connection with January 26 Red Fort clash. The arrest was made by Delhi Police's special cell unit for Sidhu's alleged involvement in hoisting the..




IndiaTimes - Published





Deep Sidhu arrested in connection with Republic Day violence in Delhi

In a major development, Punjabi actor Deep Sidhu has been arrested by the Delhi Police in connection with the violence in Delhi that broke out on Republic Day.




DNA - Published





Main accused of Republic Day violence Sukhdev Singh arrested from Chandigarh

He was absconding since the day of the incident and has now been brought to Delhi. He will be presented in court on Monday.




DNA - Published





Nationwide 'Chakka Jam' today: Five things to know before you step out

After the Republic Day tractor rally, which saw chaotic scenes, this is the first big event being organised by the farmers.




DNA - Published





R-Day riots in mind, 50,000 forces in Delhi for 'chakka jam' today

Protesters have said the chakka jam happen only on national and state highways and nothing will take place inside Delhi. Police, however, is not taking the promises at face value and gearing up for a..




IndiaTimes - Published





BJP defends farm laws, Congress seeks their repeal

The ruling BJP on Friday defended the three new farm laws in Rajya Sabha, while the opposition Congress sought their repeal and a probe by a Supreme Court judge into the violence during the Republic..




IndiaTimes - Published





Vehicles in Priyanka's cavalcade involved in accident in UP'S Hapur, no injuries reported

Priyanka Gandhi was on way to meet the kin of Navneet Singh, who died in an accident during the tractor parade on the Republic Day near ITO in Delhi.




DNA - Published




One arrested for raising 'Nishan Sahib' at Red Fort on Republic Day amid tractor rally

One person has been arrested for raising the 'Nishan Sahib' at Red Fort last week, amid violent clashes between farmers & police during tractor rally.




DNA - Published





Farmers protest: Delhi Police registers 4 FIRs against social media accounts for spreading fake news

In a bid to check the spread of misinformation in the aftermath of the violence that broke out in Delhi on Republic Day, the Delhi Police has registered 4 FIRs against several social media accounts and..




IndiaTimes - Published





Tractor rally: SC refers to PM's statement, refuses to entertain pleas on R-Day violence

The Supreme Court Wednesday referred to Prime Minister Narendra Modi's statement that law will take its own course on the Republic Day violence here and refused to entertain pleas for time-bound probe..




IndiaTimes - Published





Supreme Court refuses to entertain pleas seeking probe into Republic Day violence in Delhi

The top court asked the three petitioners to approach the government with their pleas and make representation there.




DNA - Published





HC dismisses PIL for action against police, intelligence officials over Republic Day violence




IndiaTimes - Published





Republic Day violence: Delhi Police sends over 50 fresh notices to people including farmer leaders




IndiaTimes - Published





Republic Day violence: Team of forensic experts visits Red Fort to collect evidence




IndiaTimes - Published





Farmers' protest: Singhu turns war zone as farmers fight 'locals' seeking end to stir

Three days after the widespread violence in the capital on Republic Day, the farmers protesting against the farm laws at Singhu border clashed with a group of people on Friday.




IndiaTimes - Published





Violence at Singhu border after locals clash with farmers, cop injured

This comes three days after the violence that broke out during the farmers' tractor rally on the occasion of Republic Day.




DNA - Published





Farmers' protest: Clashes break out at Singhu border; lathi charge, tear gas used

Clashes broke out between agitating farmers and a large group of people claiming to be locals at the Singhu border on Friday as police resorted to lathicharge and used tear gas shells to disperse the..




IndiaTimes - Published





Sisodia visits Ghazipur border to review arrangements for farmers, says this about R-Day violence

The AAP leader condemned the Republic Day violence but blamed BJP for the incident.




DNA - Published





DNA Special Show #LalQuilaHamaraHai seen on social media more than a crore times

In the aftermath of the violence on the Republic Day, DNA did a special show #LalQuilaHamaraHai on January 27, which was appreciated by the audience.




DNA - Published





Editor's Guild slams FIRs against journalists over R-Day violence

The Editors Guild of India on Friday strongly condemned the filing of FIRs against senior editors and journalists for their reporting on the farmers' tractor rally and the ensuing violence here on..




IndiaTimes - Published





Parliament Budget Session: President Ram Nath Kovind condemns violence during farmers' protest on Republic Day




IndiaTimes - Published





R-Day Violence: Delhi Police issues lookout notices against farmer leaders, rioters charged under UAPA

The Special Cell is investigating the conspiracy and criminal designs behind these unfortunate events that occurred on Republic Day.




DNA - Published





Beating Retreat ceremony to feature 'Swarnim Vijay' composition marking 50 years of India's victory over Pak

The Beating Retreat ceremony at the Vijay Chowk on January 29 every year marks the culmination of the four-day-long Republic Day celebrations.




DNA - Published





Farmers' protest weakens after violent tractor rally in capital on Republic Day: Key points




IndiaTimes - Published





R-Day violence: Antiquities inside Red Fort missing, tableaux damaged, says Union minister

Union culture and tourism minister Prahlad Patel on Thursday said some antiquities inside the Red Fort are missing and tableaux showcased at the Republic Day parade damaged, two days after a section of..




IndiaTimes - Published





Farmers' agitation: Ghaziabad admin ordered to get Ghazipur protest site cleared

The orders came two days after violence during the 'Kisan Gantantra parade' on the occasion of the Republic Day at several locations in Delhi.




DNA - Published





Delhi Police issues lookout notices against farm leaders over R-Day violence

The Delhi Police on Thursday issued a Lookout Notice (LOC) against farm leaders who have been named in the FIR in connection with the violence during the tractor rally on Republic Day. Sources say, the..




IndiaTimes - Published




Uttar Pradesh's Ram Temple tableau on Republic Day bags first prize

Uttar Pradesh came second among the Republic Day tableaux in 2020, meaning it is the second consecutive year that the state is winning an award.




DNA - Published





Ten pointers on tractor rally violence aftermath, Delhi police names Deep Sidhu

Farmer unions on Wednesday also called off their proposed march to the Parliament on February 1, in view of Republic Day violence.




DNA - Published





No rioter will be spared: Delhi top cop

Delhi police commissioner S N Shrivastava on Wednesday held the farmer union leaders responsible for the violence in the capital on Republic Day. Hinting towards a pre-meditated conspiracy, the police..




IndiaTimes - Published





Farmer leaders postpone Feb 1 foot march to Parliament in wake of Jan 26 violence

Protesting farmer leaders are considering postponement their foot march to Parliament on February 1 against the three farm laws in wake of the violence in the national capital during the tractor parade..




IndiaTimes - Published





Farmers take off their tents from Chilla border after Republic Day violence - Watch

The farmers at Chilla border started retreating hours after two of the farm unions Rashtriya Kisan Mazdoor Sangathan and BKU (Bhanu) ended protest.




DNA - Published