Brihanmumbai Municipal Corporation
Civic body that governs Mumbai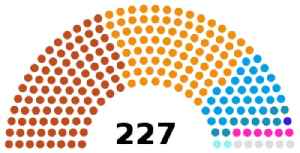 The Municipal Corporation of Greater Mumbai (MCGM), also known as Brihanmumbai Municipal Corporation (BMC), is the governing civic body of Mumbai, the capital city of Maharashtra. It is India's richest municipal corporation. The MCGM's annual budget exceeds that of some of India's smaller states. It was established under the Bombay Municipal Corporation Act 1888. MCGM is responsible for the civic infrastructure and administration of the city and some suburbs. In 2014, Trushna Vishwasrao became the first female corporator to serve as its leader.


Bombay HC quashes CRZ clearances to Rs 14,000 cr coastal road project
The court's ruling means the Brihanmumbai Municipal Corporation (BMC) cannot continue work on the 29.2 km-long project, proposed to connect Marine Drive area in south Mumbai to suburban Borivali in..
DNA - Published
Mumbai Mayor's official vehicle found in no-parking zone; traffic police issues challan
Mahadeshwar's vehicle was seen parked right under the BMC's no-parking signboard in suburban Vile Parle Saturday
DNA - Published
Mumbai: BMC offers 2,476 new parking slots
Public lots are in Mahalakshmi, Tardeo & Dadar
DNA - Published
Brihanmumbai Municipal Corporation may slash monthly parking rates
The decision will be taken on a case-to-case basis for each of the 26 public parking lots and will apply only to individuals, not commercial establishments or professionals.
DNA - Published
Mumbai: BMC puts tracker app on back burner, potholes dot roads
The civic body had a pothole tracking system, which was easy to use. But after receiving more than 15 lakh potholes complaints on the app, the civic body stopped it.
DNA - Published
Mumbai: Close to 1,000 posts of engineers vacant at BMC
Information sought under RTI shows vacancies in the last quarter of 2018
DNA - Published
Parking penalty: Citizens take potshots at civic body
As Brihanmumbai Municipal Corporation (BMC) crackdown on people who parked illegally in no-parking zones continued apace on Monday, the civic body received mixed reaction from Mumbaikars. While some..
DNA - Published
You Might Like