Sarbananda Sonowal
Former Chief Minister of Assam ,Indian politician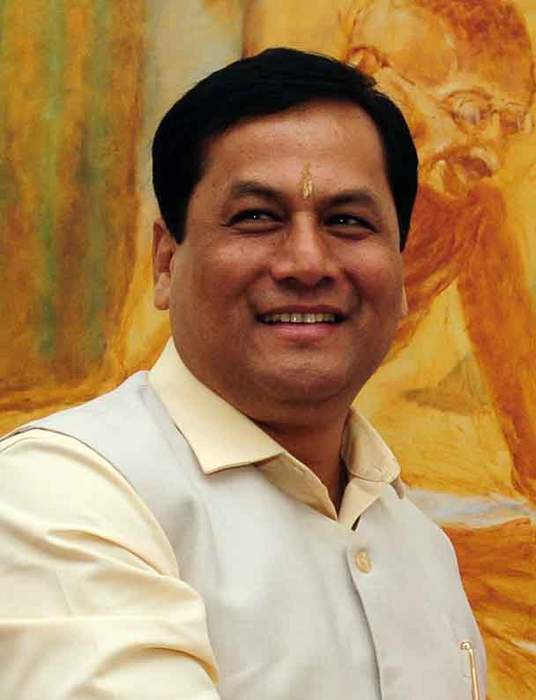 Sarbananda Sonowal is an Indian politician from Assam, belonging to Bharatiya Janata Party. Currently he is an MLA in Assam Vidhan Sabha, and he is a former Chief Minister of Assam. Sonowal also served as the Union Minister for Sports and Youth Affairs, Government of India, from 2014 to 2016. He was chosen to be the Chief Minister of Assam after the 2016 Assam Legislative Assembly election and was the first Chief Minister of the state from the Bharatiya Janata Party.


Watch: BJP ends suspense, announces Assam CM name; Himanta Sarma gets top job

A week after results of the Assam Assembly elections were announced, the Bharatiya Janata Party finally ended the suspense about who will be the new Chief Minister. Himanta Biswa Sarma, a minister in..
Credit: HT Digital Content Duration: 01:31
Published
Himanta Biswa to be Assam's new Chief Minister

After a series of meetings of BJP Legislative Party at the Legislative Assembly, Himanta Biswa Sarma was elected as the leader of the BJP legislative party in Assam and next Chief Minister. After..
Credit: ANI Duration: 01:27
Published
Delhi is short on vaccines, need 2.6 crore more doses: CM Kejriwal | Oneindia News

As Assam awaits to see who its next chief minister will be, Sarbananda Sonowal and Himanta Biswa Sarma rushed to Delhi on Saturday to hold talks with the BJP's leadership; Delhi chief minister Arvind..
Credit: Oneindia Duration: 03:00
Published
BJP forming govt in Assam: CM Sonowal

As trends indicated BJP's return to power in Assam, Chief Minister Sarbananda Sonowal said the counting of votes is still going on but it is clear that the BJP is forming government in the state...
Credit: ANI Duration: 01:23
Published
'Wait till counting ends': Sonowal confident of BJP win in Assam | Assembly polls

Assam Chief Minister Sarbananda Sonowal is confident of retaining power in the state as the trends suggest Bharatiya Janata Party leading. "As per the trends, it is clear that Bharatiya Janata Party..
Credit: HT Digital Content Duration: 01:26
Published
BJP will form government in Assam, claims CM Sonowal

As per the early trends of Assam Assembly election results, Assam Chief Minister and BJP leader Sarbananda Sonowal seemed confident that BJP will regain the majority and form the government in the..
Credit: ANI Duration: 01:03
Published
Assam earthquake: PM Modi assures full support in this hour of crisis, says CM Sonowal

An earthquake of magnitude 6.4 on the Richter scale struck parts of Assam on morning of April 28. CM Sarbananda Sonowal said, "Prime Minister Narendra Modi and Home Minister Amit Shah have expressed..
Credit: ANI Duration: 01:16
Published
Earthquake of magnitude 6.4 hits Assam

An earthquake of magnitude 6.4 on the Richter scale struck the Assam at 7:51 AM on April 28. Strong tremors were felt in parts of the northeast as well as north Bengal. Chief Minister of Assam,..
Credit: ANI Duration: 01:19
Published
You Might Like



No clarity yet on Sarbananda Sonowal's 'rehabilitation'




IndiaTimes - Published





Himanta Biswa Sarma, NEDA convenor, sworn-in as 15th chief minister of Assam

Bharatiya Janata Party (BJP) leader Himanta Biswa Sarma was sworn in as the 15th chief minister of Assam on Monday. He replaced former CM Sarbananda Sonowal.




IndiaTimes - Published





Assam: Himanta Biswa Sarma's report card of 5 years may have landed him top job

Why did BJP's central leadership pick Himanta Biswa Sarma as Assam's next CM over incumbent Sarbananda Sonowal? While there might never be an official answer, the consensus opinion is that Sarma's..




IndiaTimes - Published





Sarbananda Sonowal tenders resignation, prior to election of new Assam CM




IndiaTimes - Published





Himanta Biswa Sarma to be next Assam chief minister

Himanta Biswa Sarma is set to be the next chief minister of Assam pipping Sarbananda Sonowal to the post. The swearing-in ceremony will be held on Monday. Sonowal had resigned as chief minister of..




IndiaTimes - Published





Assam: Himanta may be CM, BJP may recall Sonowal to Delhi

Newly-elected BJP MLAs in Assam will meet on Sunday to finalise the selection of the new chief minister of the state amid likelihood of Himanta Biswa Sarma pipping incumbent Sarbananda Sonowal to the..




IndiaTimes - Published





Assam BJP leaders Sarma, Sonowal meet party chief J P Nadda, Amit Shah in Delhi

Both incumbent Assam CM Sarbananda Sonowal and Health Minister Himanta Sarma were on Friday called to New Delhi by the BJP central leadership, apparently to discuss the leadership issue of the next..




IndiaTimes - Published





Himanta Sarma, Sarbananda Sonowal to meet Nadda today, decision on CM likely

Almost a week after winning the Assam Assembly polls, Bharatiya Janata Party (BJP) is likely to decide on the name of its chief ministerial nominee today in a crucial meeting called by the central..




IndiaTimes - Published





Why did BJP spend crores on newspaper ad if it's confident of winning all Upper Assam seats: Congress

The Congress has lodged an FIR against chief minister Sarbananda Sonowal, BJP chief J P Nadda, state president Ranjit Kumar Dass and eight leading newspapers for "camouflaging an advertisement as news"..




IndiaTimes - Published





Congress most corrupt party; vote for BJP to continue to avail centre and state schemes: Smriti Irani

​​ Addressing her maiden election campaign rally in Assam, she said Prime Minister Narendra Modi and chief minister Sarbananda Sonowal have rolled out a number of schemes, benefitting the poor..




IndiaTimes - Published





Assam, Northeast neglected for decades, Delhi now not too distant from Dispur: PM Modi

Accusing the governments that ruled India for decades since Independence of neglecting Assam and the northeast, PM Modi on Monday reaffirmed his commitment to the development of the region. Modi, who..




IndiaTimes - Published





BJP will return to power in Assam as it worked for all-round development of state: Nadda

BJP national president J P Nadda on Monday asserted that his party will return to power in Assam in the upcoming elections, bagging over 100 of 126 assembly seats, as the Sarbananda Sonowal-led..




IndiaTimes - Published





BJP dumps its coalition partner in Assam, picks up new one to rule an autonomous body

The BJP on Sunday virtually dumped one of its coalition partners in Assam, the BPF, and picked up a new ally to gain majority and rule the Bodoland Territorial Council (BTC), a self-governing body in..




IndiaTimes - Published





Congress in Assam seeks 'Grand Alliance' to take on BJP-led govt in 2021 polls

The opposition Congress in Assam on Tuesday called for a 'Grand Alliance' of all non-BJP parties, including the AIUDF, to oust the Sarbananda Sonowal-led government in next year's assembly elections.




IndiaTimes - Published




Assam CM Sarbananda Sonowal inspects flood-affected areas, meets people

Assam chief minister Sarbananda Sonowal on Thursday inspected flood-affected areas and met the flood-hit people in Solmari and Rangia. According to Assam Chief Minister's Office (CMO), Sonwal took..




IndiaTimes - Published





PM Modi speaks to seven CMs on floods, Covid-19 situation

Prime Minister Narendra Modi on Sunday spoke to the chief ministers of seven states to take stock of the flood situation and also the management of the coronavirus in their respective states. Assam and..




IndiaTimes - Published





PM Modi assures to extend help to Assam: CM Sarbananda Sonowal

Prime Minister Narendra Modi has assured to extend all support to Assam which is battling floods, oil well fire and coronavirus pandemic, said chief minister Sarbananda Sonowal on Sunday following a..




IndiaTimes - Published





PM Modi speaks with Assam CM over floods

Prime Minister Narendra Modi on Friday spoke with Assam Chief Minister Sarbananda Sonowal over the flood situation in the state and assured him of all help from the Centre.




IndiaTimes - Published





Assam CM Sarbananda Sonowal flags off pumpkin consignment to Dubai




IndiaTimes - Published





Workers will help society win against coronavirus: Assam CM on May Day

"Solidarity & Support. Saluting the fighting spirit of all workers on International #LabourDay. Today, when the world faces an unprecedented crisis, it is your strength and resilience that will take us..




IndiaTimes - Published





MHA panel submits report to CM Sarbananda Sonowal




IndiaTimes - Published





PM Modi urged to withdraw heinous cases against NDFB leaders

Mohilary, who was himself a militant till 2003, made the request at an official function held here to celebrate the signing of the Bodo accord. Modi, Assam chief minister Sarbananda Sonowal and..




IndiaTimes - Published





PM Modi arrives in Guwahati ahead of Kokrajhar rally

Prime Minister Modi was welcomed by Assam Chief Minister Sarbananda Sonowal, Governor Prof. Jagdish Mukhi among others. Large numbers of locals have gathered at the rally ground, in Bodo-dominated..




IndiaTimes - Published





Ulfa (I) claims responsibility for Assam blasts

The proscribed Myanmar-based anti-talk Ulfa (I) faction led by Paresh Baruah has claimed responsibility for the four blasts in upper Assam districts on Sunday morning as the country celebrated the 71st..




IndiaTimes - Published





Five explosions hit Assam on Republic day, CM Sonowal condemns 'cowardly attempt' to create terror

The Assam police are investigating the matter.




DNA - Published





Govt to sign accord with dreaded Bodo militant group NDFB on Monday

The tripartite agreement will be signed in the presence of Union Home Minister Amit Shah and Assam Chief Minister Sarbananda Sonowal by top leadership of the four factions of the NDFB, Joint Secretary..




IndiaTimes - Published





Quit BJP, form 'anti-CAA' govt, remain CM: Cong to Sonowal

Opposition leader in Assam assembly Debabrata Saikia on Saturday asked CM Sarbananda Sonowal to quit BJP and form an alternate govt in the state with Congress support. "In view of the current situation..




IndiaTimes - Published





Protests intensify in Assam after Centre notifies CAA

"On Thursday, chief minister Sarbananda Sonowal and finance minister Himanta Biswa Sarma went to New Delhi to meet Union home minister Amit Shah and the very next day the notification was issued. This..




IndiaTimes - Published





AASU accuses Sarbananda Sonowal's govt of betraying people's mandate




IndiaTimes - Published





Congress dares PM Modi to dismiss Sarbananda Sonowal for criticising CAA

The Congress on Thursday dared Prime Minister Narendra Modi to dismiss his own chief minister for openly opposing the Citizenship Amendment Act and to declare him an "anti-national" for doing so...




IndiaTimes - Published





CAA will not affect interests of indigenous Assamese: Sarbananda Sonowal




IndiaTimes - Published





Protests against CAA across Assam

Tens of thousands of people hit the streets across Assam on Tuesday at the call of AASU, Congress and several other groups to peacefully protest against the contentious Citizenship (Amendment) Act. The..




IndiaTimes - Published





AASU accuses Modi, Shah and Sonowal of misleading people

All Assam Students Union(AASU) on Saturday accused Prime Minister Narendra Modi, Union home minister Amit Shah and chief minister Sarbananda Sonowal of misleading people that their identity, language..




IndiaTimes - Published





No one from Bangladesh will get to enter Assam by means of amended Citizenship Act: Sarbananda Sonowal

Allaying fears of the state's indigenous population, who are wary that the law would threaten their identity, Sonowal said "not a single person of Bangladesh will get to enter Assam through CAA". "Only..




IndiaTimes - Published




Anti-CAA protests in Assam: Internet restored today; no threat to 'language' or 'identity', says CM Soniwal

Meanwhile, Assam Chief Minister Sarbananda Sonowal assured the people of Assam that there will be no threat to their "language" or "identity" due to the passing of the contentious bill.




DNA - Published




Convince PM to solve ongoing crisis: 12 BJP MLAs to Sonowal




IndiaTimes - Published





Call upon all sections of society to thwart elements misleading people in Assam on CAA: Sonowal

"We are committed to protect all genuine Indian citizens and the rights of the people of Assam. I call upon all sections of the society to thwart the elements who are misleading the people on #CAA and..




IndiaTimes - Published





Negligible number of people to benefit from amended Citizenship Act: Sonowal

Assam chief minister Sarbananda Sonowal on Saturday said the number of people to be benefited by the amended Citizenship Act will be "very negligible". The exact number of those people will be..




IndiaTimes - Published





Aasu, indigenous groups not behind violence: Assam CM

Assam CM Sarbananda Sonowal on Thursday stood up for the All Assam Students' Union (Aasu) and various indigenous groups protesting against the Citizenship (Amendment) Bill, saying the spiral of..




IndiaTimes - Published





Indefinite curfew imposed in Guwahati, violent protests in Assam over Citizenship Amendment Bill

Earlier, CM Sarbananda Sonowal was left stranded at Guwahati airport for hours on Wednesday.




DNA - Published





Amid violent protests in Assam, CM Sarbananda Sonowal stranded at Guwahati airport

Sonowal, who landed at Guwahati from Tezpur, was stuck as the protesters gathered outside the airport.




DNA - Published





'Five lakh Bengali Hindu NRC rejects will get citizenship'

The remaining — over 13 lakh, including seven lakh Muslims — people will have to approach the foreigners tribunals to establish their eligibility for getting Indian citizenship. On Monday, Assam..




IndiaTimes - Published





Sarbananda Sonowal cites Bengali Hindu migrant break-up, slams 'misinformation'

Seeking to allay fears that Assam would bear the brunt of a fresh influx of immigrants from Bangladesh if and when the Citizenship (Amendment) Bill becomes a law, Sonowal said 1.5 lakh Bengali Hindu..




IndiaTimes - Published





Visitors from Assam harassed by other Northeastern states after NRC: Debabrata Saikia to Sonowal




IndiaTimes - Published





No person excluded from NRC be treated 'foreigner' till tribunal's verdict: Sarbananda Sonowal




IndiaTimes - Published





NRC: Assam CM Sarbananda Sonowal asks people not to panic; govt to provide legal aid to poor




IndiaTimes - Published





Sarbananda Sonowal condoles death of Arun Jaitley




IndiaTimes - Published





Assam CM Sarbananda Sonowal apprises Amit Shah on NRC, seeks additional forces for Assam




IndiaTimes - Published





Prime Minister speaks to Assam chief minister, takes stock of flood situation

Prime Minister Narendra Modi Monday spoke to Assam Chief Minister Sarbananda Sonowal and took stock of the flood situation in the state, where the deluge has claimed 11 lives this year while millions..




IndiaTimes - Published





Assam CM Sarbananda Sonowal meets Home Minister Amit Shah, discuss NRC

The government is updating its list of citizens of Assam as part of efforts to tackle the problem of illegal immigrants




DNA - Published