High Court of Gujarat
High Court for Indian state of Gujarat at Ahmedabad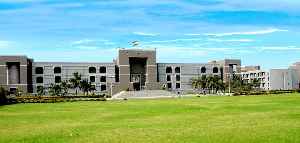 The Gujarat High Court is the High Court of the state of Gujarat. It was established on 1 May 1960 under the Bombay State Re-organisation Act, 1960 after the state of Gujarat split from Bombay State.


Gujarat High Court quashes death penalty of teen killer
HC asks trial court to verify mental condition of accused girl who killed her mother and sister two years ago
DNA - Published
Gujarat High Court quashes stay on Ex-Congress MLA Bhaga Barad's conviction
HC allows state's plea to set aside lower court order
DNA - Published
Gujarat High Court judge recuses from Hardik Patel's plea
"Not before me," Justice RP Dholaria said while recusing himself when the plea came up for hearing in his court this morning.
DNA - Published
Congress tried to influence Rajya Sabha poll: Jitu Vaghani to Gujarat High Court
Vaghani during his deposition said that he was present as the polling agent of Smriti Irani during the elections.
DNA - Published
Father moves Gujarat High Court to seek euthanasia for 23-year-old with cerebral palsy
The parents' petition states that they have approached various experts and doctors, who have been unable to provide any hope for improving Vaidehi's condition. She lives with her parents and two..
DNA - Published
Congress MLA Bhaga Barad disqualified: Gujarat HC asks state government to file reply
The now disqualified MLA had in a petition challenging his disqualification said that the Speaker had taken a decision that was outside his purview of power.
DNA - Published
Congress MLA Bhaga Barad moves Gujarat HC over disqualification
The petition has sought cancellation of both the disqualification order as well as the bypoll that have been announced for the seat which was represented by Barad.
DNA - Published
You Might Like