High Court of Gujarat
High Court for Indian state of Gujarat at Ahmedabad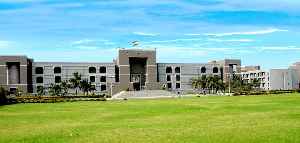 The Gujarat High Court is the High Court of the state of Gujarat. It was established on 1 May 1960 under the Bombay State Re-organisation Act, 1960 after the state of Gujarat split from Bombay State.


DPIL promoter Sumit Bhatnagar withdraws bail plea from Gujarat High Court
Sumit had moved the high court seeking a month-long bail to help his daughter, who is a special child, with her subject selection in class XI and her ongoing psychiatric treatment.
DNA - Published
Unhappy with civil courts functioning in summer vacation, lawyers move Gujarat High Court
JUSTICE DELIVERED: High Court remarks that it expects the advocates will not file such a petition seeking such prayers in future
DNA - Published
Gujarat High Court disposes PIL on acid and poison sale
The petitioners sought the court's intervention in the effective implementation of the rules so as to put an end to acid attacks.
DNA - Published
Gujarat High Court transfers probe in Ultratech violence case to CID
The investigation of the incident was so far carried out by the Datha police station in Bhavnagar, in which many protestors were seriously injured
DNA - Published
Minority school moves to Gujarat High Court against RTE admissions
The single-judge bench of Justice Biren Vaishnav issued notice to officials of the education department directing them to file their reply in the case by June 21
DNA - Published
Student fakes income docs, school finds him in a bungalow
Gujarat High Court found docs to be not genuine and asked him to seek admission afresh
DNA - Published
Man seeks help from Gujarat High Court to get back wife
Man alleged that his in-laws, who belong to the Patel community, were against the marriage as he belongs to scheduled caste
DNA - Published
Gujarat High Court asks govt to add rider as 'shrunk' applicants oppose hiring
The court has directed the authorities to clarify in each appointment order that the appointment is subject to final outcome of the petitions pending before the high court
DNA - Published
Gujarat High Court admits bail plea of DPIL promoter Sumit Bhatnagar
CBI had registered a criminal case in March 2018 against the Bhatnagar brothers Amit and Sumit and their father Suresh, all promoters of DPIL, for fraudulently availing credit facilities from a..
DNA - Published
JEE Main: Gujarat High Court seeks govt response over wrong Q&A
The petition filed by Anurag Pathak provides that he appeared for JEE (Main) for Bachelor of Engineering on April 9 in the first shift
DNA - Published
You Might Like