Aparna Sen
Indian filmmaker, script writer and actress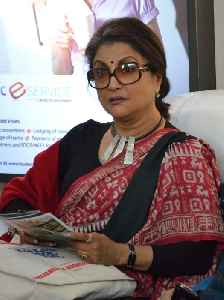 Aparna Sen is an Indian filmmaker, screenwriter and actress who is known for her work in Bengali cinema. A leading actress of the late 1960s and 1970s she has received eight BFJA Awards, five for best actress, two for best supporting actress and one for lifetime achievement. She is the winner of nine National Film Awards and nine international film festival awards for her direction in films. She was awarded the Padma Shri, the fourth highest civilian award, by the government of India in 1987.


Withdraw 'discriminatory', 'divisive' citizenship bill: Artistes, writers, ex-judges to government
About 600 artistes, writers, academicians, ex-judges and former bureaucrats have asked the government to withdraw the Citizenship (Amendment) Bill, terming it is "discriminatory, divisive", and..
IndiaTimes - Published
'Shame on us': Aparna Sen tweets to Mamata Banerjee over triple murder
IndiaTimes - Published
Row erupts over sedition FIR against 49 celebrities
The FIR on charges of sedition and other offences ordered filed by nearly 50 celebrities by the chief judicial magistrate of Muzaffarpur, Bihar, for writing a letter to the PM snowballed into a..
IndiaTimes - Published
FIR against 50 celebrities for letter to PM on mob lynching
An FIR was lodged in Bihar's Muzaffarpur district against celebrities including Bollywood actress Konkana Sen, director Maniratnam, Aparna Sen, Shayam Benegal, Ramchandra Guha and 45 others, who had..
IndiaTimes - Published
BJP rubbishes intellectuals' letter about 'rising intolerance' in nation
Their response came after 49 celebrities like Adoor Gopalkrishnan, Mani Ratnam, Anurag Kashyap, Aparna Sen and Ramachandra Guha, in a letter, sought to draw the PM's attention
DNA - Published
Chief minister, show docs 'mamata', says Aparna Sen
"Sometimes, we just need to take one small step to resolve a crisis.You are like a guardian.You are like a mother to the people of this state.Please come and talk to these young boys and girls.
IndiaTimes - Published
Prominent Kolkata personalities meet protesting doctors, urge Mamata to resolve impasse
Filmmaker Aparna Sen, actor Kaushik Sen, musician Debojyoti Mishra, along with senior doctors from diverse fields, visited the agitators at NRS Medical College and Hospital, where an attack by the..
IndiaTimes - Published
Mamata digging her own grave: Aparna Sen
IndiaTimes - Published
You Might Like