Sharad Pawar
Indian politician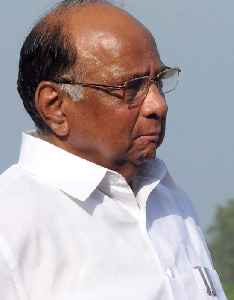 Sharad Govindrao Pawar is an Indian politician who serves as the president of the Nationalist Congress Party which he founded in 1999, after separating from the Indian National Congress. He previously served as the Chief Minister of Maharashtra on three separate occasions and held the posts of Minister of Defence and Minister of Agriculture in the Government of India. Pawar hails from the town of Baramati in the Pune district of Maharashtra. He is a member of the Rajya Sabha where he leads the NCP delegation. He holds a position of prominence in national politics as well as the regional politics of Maharashtra.


Rude jolt for Sharad Pawar in sugar belt
IndiaTimes - Published
Sharad Pawar's grand-nephew loses from Maval Lok Sabha seat
IndiaTimes - Published
Accept people's decision, but people had their doubts about EVMs: Sharad Pawar
NCP chief Sharad Pawar on Thursday said that he accepts people's decision but added that "this is also a fact that people had their doubts about EVMs".
DNA - Published
Won't blame EVMs for defeat of anti-BJP parties: Sharad Pawar
IndiaTimes - Published
After Chandrababu Naidu, it's Sharad Pawar working the phones now
IndiaTimes - Published
Regional parties request Prez Ram Nath Kovind to give them a chance
NCP leader Sharad Pawar has been trying to bring various Opposition parties together on a united front to oppose BJP
DNA - Published
Opposition plans swift response in case of split verdict
A joint opposition would petition the President that it be invited to form the government in case the Lok Sabha results throw up an unclear mandate. NCP chief Sharad Pawar and TDP's Chandrababu Naidu..
IndiaTimes - Published
Sharad Pawar playing key role in forming alternative government: NCP
IndiaTimes - Published
Exit Poll 2019: Chandrababu Naidu to meet Mamata Banerjee for post-poll alliance talks in Kolkata
Chandrababu Naidu had a marathon meeting with Gandhis, Sharad Pawar, and Sitaram Yechury on Sunday. Ms. Banerjee dubbed the exit polls as "gossip".
DNA - Published
Chandrababu Naidu anchors Opposition ship; Mayawati may call on Sonia Gandhi before results
He again met NCP chief Sharad Pawar on Sunday, two days after their first meeting
DNA - Published
N Chandrababu Naidu meets Akhilesh, Mayawati
TDP chief N Chandrababu Naidu on Saturday met SP and BSP leaders, continuing his efforts to put together a coalition to form the next government at the Centre. The separate meetings with Akhilesh Yadav..
IndiaTimes - Published
Sharad Pawar informed Uddhav Thackeray about terror threat to Matoshree in 1989: Narayan Rane
Terrorists had planned to carry out a blast at Matoshree, the abode of the Thackerays in 1989, forcing Shiv Sena patriarch Bal Thackeray to direct every member of the house to shift to a safer place..
DNA - Published
NCP chief Sharad Pawar writes to Maha CM Devendra Fadnavis underlining loopholes in drought relief work
Calling it the worse drought since 1972, Pawar pointed out that the current cattle subsidy is inadequate
DNA - Published
You Might Like