Cyprus
Island nation in the eastern Mediterranean Sea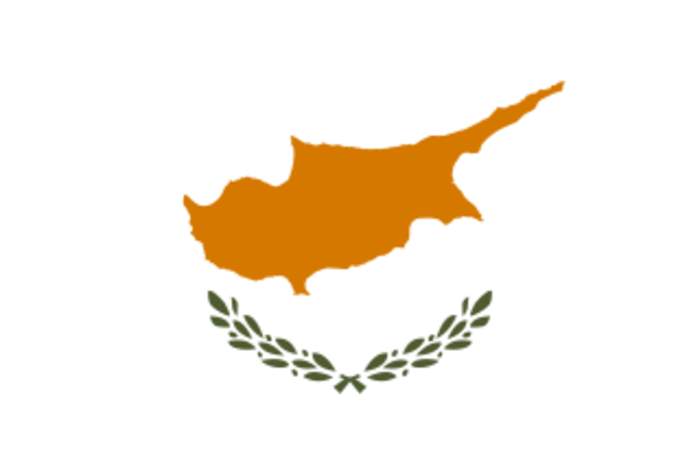 Cyprus, officially called the Republic of Cyprus, is an island country in the eastern Mediterranean Sea. It is the third largest and third most populous island in the Mediterranean, and is located south of Turkey; west of Syria; northwest of the Gaza Strip, Israel, and Lebanon; north of Egypt; and southeast of Greece. The country's capital and largest city is Nicosia.


Could halloumi be a diplomatic driving force in Cyprus?

Halloumi cheese in Cyprus is being given a Protected Designation of Origin label from the European Union, but this is causing diplomatic and economical challenges. We take a look at how this cheese may..
Credit: euronews (in English) Duration: 08:00
Published
You Might Like



British woman convicted over Cyprus gang rape claim 'anxious but upbeat' ahead of Supreme Court appeal

A British woman, who was convicted of lying about being gang raped in Cyprus, is said to be "anxious and upbeat" as her lawyers appeal her case at the Cypriot Supreme Court.




Sky News - Published




COVID outbreak aboard Royal Navy flotilla on first global tour after Cyprus stopover

Coronavirus has hit the Royal Navy's new aircraft carrier and an escorting group of warships on their first global tour, with more than 100 crew members infected.




Sky News - Published





Four bodies found as 'most destructive fire' in island's history sweeps across Cyprus

Four bodies have been found in a fire-ravaged mountain village in Cyprus during what a government minister has called "the most destructive" blaze in the island's history.




Sky News - Published




Cyprus asks EU and Israel for help as huge forest fire forces evacuations

Cyprus has approached the European Union and Israel for help as a huge forest engulfs villages on the south of the island.




Sky News - Published




Christians protest in Cyprus over 'Satanic' Eurovision song

Protesters in Cyprus are demanding the withdrawal of a Eurovision song they say promotes Satanism.




Sky News - Published




Cyprus to allow vaccinated Britons into the country without restrictions from 1 May

Cyprus will let British tourists who have had both COVID vaccination doses into the country without restrictions from 1 May.




Sky News - Published




Cyprus 0-10 Scotland: Stuart McLaren opens with high-scoring win

Erin Cuthbert is involved in five goals as Scotland women thrash Cyprus to give Stuart McLaren victory in his first match as interim head coach.




BBC Sport - Published





With healthcare in focus, Cyprus reopens for visitors

Cyprus reopened its airports on Tuesday after almost three months of lockdown, hoping its record in dealing with the coronavirus pandemic and a pledge of free medical treatment for any COVID-19 cases..




Reuters - Published





With tourism hammered by lockdown, Cyprus expects July comeback

Cyprus hopes to regain lost ground in its tourism sector from July and expects to be able to re-admit British and Russian visitors by then after weeks of lockdown.




Reuters - Published





Greece to welcome Germans, Cypriots, Israelis in first wave of visitors

Greece will allow travellers from around two dozen countries including Germany, Cyprus and Israel to visit from mid-June without having to be quarantined, government officials said, part of a gradual..




Reuters - Published





Crossing points on divided Cyprus will gradually open from June 8

Crossings used by thousands of Cypriots daily between the Turkish and Greek Cypriot sides of the divided island and sealed shut by the coronavirus lockdown will gradually start reopening from June 8,..




Reuters - Published





Cyprus to open airports again on June 9: deputy tourism minister

Cyprus will reopen its airports on June 9 as it gradually lifts restrictions imposed to stem the spread of coronavirus, the island's Deputy Tourism Minister Savvas Perdios said on Wednesday.




Reuters - Published





As coronavirus lockdown eases, Cypriots still in limbo

Deniz Birinci had just hours to stuff her and her baby daughter's belongings into suitcases and bin bags on March 16 before the two sides on the divided island of Cyprus imposed lockdowns to halt the..




Reuters - Published





Cyprus announces partial easing of lockdown from May 4

Cyprus on Wednesday announced a phased-in easing from May 4 of a broad lockdown to curb the spread of coronavirus which had brought the island to a standstill since mid-March.




Reuters - Published





Cyprus extends coronavirus flight ban to May 17

Cyprus extended a ban on commercial air traffic until May 17 on Friday to curb the spread of coronavirus.




Reuters - Published





Coronavirus keeps relics of Jesus's friend Lazarus behind closed doors

Eight days before Orthodox Easter each year, a casket containing remains of Jesus's friend Lazarus is carried through the streets of the Cypriot town of Larnaca, believed by many Christians to be the..




Reuters - Published





Cyprus extends flight ban for another two weeks

Cyprus extended a ban on commercial air links with 28 countries for another two weeks on Thursday to curb the spread of coronavirus.




Reuters - Published





Cyprus imposes night-time curfew, extending coronavirus lockdown

Cyprus imposed a curfew on Monday to contain the spread of coronavirus, extending a broad lockdown introduced two weeks ago after a weekend surge in recorded cases.




Reuters - Published




Cyprus announces lockdown on coronavirus until April 13

Cyprus on Monday announced a lockdown on the island until April 13 to fight of the spread of coronavirus, saying the movement of people was banned until then unless absolutely necessary.




Reuters - Published





Cyprus bans flights from 28 countries from March 21

Cyprus on Tuesday announced a two-week ban on flights from 28 countries, including Britain and Greece, to curb the coronavirus outbreak.




Reuters - Published





UK's Prince Charles cancels tour of Bosnia, Cyprus and Jordan over coronavirus

Prince Charles and his wife Camilla have canceled their tour of Bosnia, Cyprus and Jordan after being advised to do so by the British government, a spokesman for the royal couple said on Friday.




Reuters - Published





Cyprus' largest hospital suspends admissions after heart surgeon diagnosed with coronavirus

Cyprus' largest medical facility suspended admissions on Tuesday after a heart surgeon tested positive for coronavirus.




Reuters - Published




Cyprus announces first two coronavirus cases, including health professional

Cyprus on Monday reported its first two confirmed cases of coronavirus, including a public health professional who had contact with medical patients before he reported his symptoms to authorities.




Reuters - Published





Protesters, police scuffle at Cyprus checkpoint closed over coronavirus

Greek Cypriot police fired pepper spray on Saturday when skirmishes broke out with protesters angry that a checkpoint on the ethnically split island was closed in what authorities have said was a..




Reuters - Published





Cyprus to temporarily shut four checkpoints as coronovirus precaution - Cypriot media

Cyprus will shut four checkpoints linking the two sides of the ethnically-split island for seven days as a precaution against the spread of coronovirus, Cypriot media reported on Friday.




Reuters - Published





France stands by Greece over tensions in Aegean Sea: French defense minister

France will stand by Greece and Cyprus, supporting both in their disputes with Turkey over maritime zones in the Mediterranean, French Defence Minister Florence Parly was quoted saying in a Greek..




Reuters - Published





Turkey looking to re-open northern Cyprus ghost town after 46 years

Turkish and northern Cypriot officials met on Saturday in an abandoned town wrecked by war to discuss potentially re-opening the area after 46 years, a move that Ankara said was a "historic"..




Reuters - Published





Cyprus, Portugal among states rebuked by EU over delays in money-laundering reforms

The European Commission has sent legal warnings to Cyprus, Portugal, the Netherlands and five other EU states over their delays in applying new anti-money laundering rules adopted at European Union..




Reuters - Published





Cyprus 'golden passports' scheme a laundering risk, says watchdog

A European money laundering watchdog has cautioned that a secretive investment-for-passports program run by Cyprus was vulnerable to money laundering and fraught with risk.




Reuters - Published





Cyprus' plan to strip citizenship stalls in legal vacuum

A legal technicality has led Cyprus to temporarily halt a process to strip citizenship from 26 individuals who benefited from a secretive passports-for-investment scheme, lawmakers said on Monday.




Reuters - Published





Cyprus accused of blocking new Russia sanctions amid Turkey spat

Cyprus is blocking new European Union sanctions against several officials from Russia-annexed Crimea in a bid to secure EU backing for tougher action against Turkey in a separate row over drilling for..




Reuters - Published





Key Vadra aide Thampi in custody, ED to unravel Cyprus transactions




IndiaTimes - Published





Turkey spars with EU over fresh drilling off Cyprus

Turkey called on Sunday for the European Union to end what it said was the bloc's prejudice against Turkish Cypriots, defending its launch of a fresh round of hydrocarbons drilling off the..




Reuters - Published





As arrivals rise, Cyprus intercepts boat with 101 on board

Cyprus intercepted a vessel carrying 101 Syrians off its coast on Tuesday, police said, one of the largest arrivals of refugees from the neighboring country in recent months.




Reuters - Published





British teen to appeal Cyprus conviction over gang rape allegation

A British teenager will appeal against her conviction in Cyprus over a withdrawn allegation of gang rape, her lawyers said on Tuesday, as the British government said it had raised numerous concerns..




Reuters - Published





UK PM Johnson welcomes Cyprus court ruling to release British teen

Prime Minister Boris Johnson welcomed the decision by a court in Cyprus to hand a suspended sentence to a British teenager accused of faking a gang rape allegation, allowing the 19-year-old to return..




Reuters - Published





British teen in rape trial gets suspended jail term in Cyprus

A British teenager who says she was coerced into retracting an accusation she was gang-raped was given a suspended jail sentence by a Cyprus court on Tuesday.




Reuters - Published





UK's Raab raises concerns with Cyprus about Briton found guilty of gang rape lie

British foreign minister Dominic Raab said on Sunday he had raised concerns with his Cypriot counterpart about the treatment of a British woman found guilty by a court in Cyprus of lying about being..




Reuters - Published





Greece, Israel and Cyprus call Turkey's planned Libya deployment 'dangerous escalation'

Turkey's bill allowing troop deployment in Libya marks a dangerous escalation in the North African country's civil war and severely threatens stability in the region, a joint statement by Greece,..




Reuters - Published





Mother of Briton jailed for alleging gang rape backs boycott of Cyprus

Holidaymakers should boycott Cyprus after a court found a British woman guilty of lying about being gang-raped by a group of Israeli youths, the woman's mother said on Thursday.




Reuters - Published





Cyprus court finds Briton guilty of lying about gang-rape

A Cyprus court on Monday found a British woman guilty of lying about being gang-raped by Israeli youths six months ago.




Reuters - Published




Cyprus court rules 'gang rape' Briton guilty of lying

A Cyprus court on Monday found a British woman guilty of lying about being gang raped by Israeli youths six months ago.




Reuters - Published





Turkish drone lands on Turkish Cyprus for energy exploration: official

A Turkish drone meant to help seek hydrocarbons in the eastern Mediterranean landed at an airport on the divided island of Cyprus on Monday, a Turkish official said, in a move that could further stoke..




Reuters - Published




Cyprus petitions The Hague to safeguard offshore rights

Cyprus has petitioned the International Court of Justice at The Hague to safeguard its offshore mineral rights, its president said on Thursday, as neighbor Turkey disputes its claims.




Reuters - Published