ASEAN
International organisation of South East Asian countries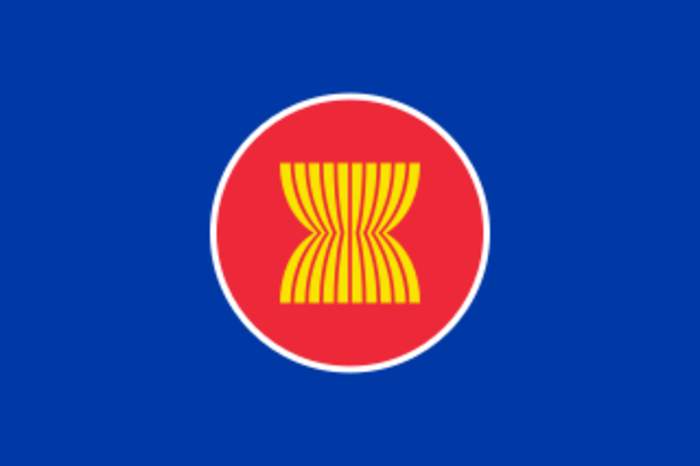 ASEAN, officially the Association of Southeast Asian Nations, is an economic union comprising 10 member states in Southeast Asia, which promotes intergovernmental cooperation and facilitates economic, political, security, military, educational, and sociocultural integration between its members and other countries in Asia. ASEAN's primary objective was to accelerate economic growth and through that social progress and cultural development. A secondary objective was to promote regional peace and stability based on the rule of law and the principle of United Nations charter. With some of the fastest growing economies in the world, ASEAN has broadened its objective beyond the economic and social spheres. In 2003, ASEAN moved along the path of the European Union by agreeing to establish an ASEAN community comprising three pillars: the ASEAN security community, the ASEAN economic community, and the ASEAN socio-cultural community. The ten stalks of rice in the ASEAN flag and insignia represent the ten southeast Asian countries bound together in solidarity.


Chinese artist questions why his country needs CCTV cameras

Public security or public control? A Chinese artist questions why his country needs CCTV cameras on every street. And anger in Myanmar over ASEAN's perceived failure in helping restore normalcy in the..
Credit: Oneindia Duration: 13:07
Published
You Might Like



Space diplomacy: India building ground station for Asean countries in Vietnam




IndiaTimes - Published





Defence Minister Rajnath Singh extends support to freedom of navigation in South China Sea

Rajnath Singh has extended freedom of navigation in the South China Sea at the ASEAN Defence Ministers' Meeting Plus (ADMM-Plus).




DNA - Published





Rajnath to speak at regional security meet on Wednesday

Defence minister Rajnath Singh will virtually address a meeting of a grouping comprising 10-nation ASEAN and some of its dialogue partners on Wednesday.




IndiaTimes - Published





Rajnath Singh to address ASEAN Defence Ministers' Meeting Plus on Wednesday

The meet will see the Singh sharing the virtual stage with the Defence ministers of China, Japan, Russia and the US Defence secretary.




DNA - Published

Also reported by •IndiaTimes


India approves Asean effort to resolve Myanmar crisis




IndiaTimes - Published





UK invites India to in-person G7 meet of foreign ministers in May

The UK has invited India, along with Australia, South Korea, South Africa, and the Chair and Secretary-General of ASEAN.




DNA - Published





India's vision of Indo-Pacific as free, open, inclusive region premised upon ASEAN centrality: EAM




IndiaTimes - Published





India takes to Buddha's path on Asean, offers a 3-day course




IndiaTimes - Published





ASEAN-India Hackathon is well aligned with vision of APASTI 2016-2025: Pokhriyal




IndiaTimes - Published





Jayant Khobragade appointed India's next Ambassador to ASEAN Secretariat




IndiaTimes - Published





PM Modi to hold virtual summit with Vietnamese counterpart Nguyen Xuan Phuc on Monday

Vietnam is the chair of the ASEAN grouping this year and this will be the first such virtual summit of PM Modi with an ASEAN country.




DNA - Published





East Asia Summit: India stresses on respecting territorial integrity

In an oblique message to China, India on Saturday expressed concern over "actions and incidents" that "erode" trust in the South China Sea, and underlined the importance of adhering to..




IndiaTimes - Published





Modi and Asean call for adherence to international law in SCS

Amid efforts to finalise a code of conduct for the contested South China Sea (SCS) waters, where several Asean nations remain embroiled in maritime boundary disputes with China, India joined Asean on..




IndiaTimes - Published





PM Modi at virtual summit: ASEAN always has been core of India's Act East Policy

Prime Minister Narendra Modi on Thursday asserted that the strategic partnership between India and ASEAN is based on shared historical, geographical, and cultural heritage and it has always been the..




DNA - Published





ASEAN Chair Vietnam says India an important partner, calls for co-operation in phrama, connectivity sectors

Vietnam's envoy to India, Pham Sanh Chau slammed China, saying, "We call for all countries to abide by international law, to try to abide by the principle of peaceful negotiation of dispute".




DNA - Published





Asean always been core of our Act East Policy, says PM Modi at virtual summit




IndiaTimes - Published




PM Modi to co-chair virtual India-ASEAN summit today, Indo-Pacific key focus of discussion

The summit also comes amid Chinese aggression in the disputed South China Sea and in eastern Ladakh.




DNA - Published





PM Modi to co-chair virtual India-ASEAN summit on Thursday

The Ministry of External Affairs (MEA) said the summit will review the status of ASEAN-India strategic partnership and take stock of progress made in key areas such as connectivity, maritime..




IndiaTimes - Published





Vietnam invites India for 37th ASEAN virtual summit in November

Vietnam has invited India to take part in the ASEAN virtual summit that will take place from November 13-15.




DNA - Published





With eye on China, MEA brings Indo-Pacific, Asean policies under one unit

Keeping China in focus, India is bringing together its Indo-Pacific and Asean policies under a single unit, with the ministry of external affairs creating a new vertical, which includes a new Oceania..




IndiaTimes - Published





India, ASEAN review strategic ties; adopt new five-year plan of action




IndiaTimes - Published





India, Asean adopt plan of action for next five years




IndiaTimes - Published





MoS MEA Muraleedharan participates in 27th ASEAN regional forum




IndiaTimes - Published





India, ASEAN together to shape Asia and world: Jaishankar

India and the Association of Southeast Asian Nations (ASEAN) is not only proximate to each other but together help shape Asia and the world, External Affairs Minister S Jaishankar said on Thursday..




IndiaTimes - Published





Asean nations, West Asia now our 'neighbours'

PM Modi redefined the meaning of neighbours on Saturday, saying one didn't have to share boundaries to be so, describing such ties as encompassing an extended neighbourhood.




IndiaTimes - Published





PM Narendra Modi's 2018 Singapore visit enhanced India's presence in Asean: Indian diplomat




IndiaTimes - Published





UK seeks to boost post-Brexit ties with ASEAN partnership

Britain has applied to become a dialogue partner of the Association of Southeast Asian Nations (ASEAN), the government said on Friday, as it seeks to boost post-Brexit ties in the region.




Reuters - Published





No discussion on RCEP during India-Australia virtual summit: MEA

The RCEP is a proposed free trade agreement in the Asia-Pacific region between the ten member states of the Association of Southeast Asian Nations (ASEAN) namely, Brunei, Cambodia, Indonesia, Laos,..




IndiaTimes - Published





ASEAN ministers to hold special video meeting on coronavirus next Tuesday

Southeast Asian ministers will hold a special video conference on April 14 to discuss how to combat the coronavirus pandemic, Vietnam's foreign ministry said on Thursday.




Reuters - Published




ASEAN summit in Vietnam postponed until end-June over coronavirus

A summit of Southeast Asian and other international leaders scheduled in Vietnam early next month has been postponed until end-June due to worries about coronavirus, Vietnam's Ministry of Foreign..




Reuters - Published





Vietnam to quarantine all U.S., European, ASEAN arrivals: government

Vietnam will introduce mandatory quarantine for all visitors from the United States, Europe and ASEAN countries to curb the spread of coronavirus, the government said on Tuesday.




Reuters - Published





U.S. postpones summit with ASEAN leaders amid coronavirus fears: sources

The United States has decided to postpone a meeting with leaders of Southeast Asian countries it had planned to host on March 14 due to worries about the coronavirus outbreak, two U.S. officials..




Reuters - Published




15 foreign diplomats to visit Jammu and Kashmir on Thursday, EU envoys in next batch

Envoys of Latin America, ASEAN and Africa will be part of the group, while envoys of the European Union are expected to go on a later date.




DNA - Published





India expands Indo-Pacific policy

India is increasing the area covered by its Indo-Pacific policy to include the western Indian ocean and Arabian Sea. This means that Asean is not only the heart of the Indo-Pacific, but includes the..




IndiaTimes - Published





North Korea says 'pointless' for Kim to attend South Korea ASEAN summit

North Korea rejected an invitation for leader Kim Jong Un to attend a planned summit in South Korea next week with Southeast Asian nations, saying it would be "pointless" due to strained ties, North..




Reuters - Published




Eliminate terror havens, funding, says Rajnath at Asean-Plus




IndiaTimes - Published





Rajnath holds bilateral meetings with US, Japan, Australia, New Zealand counterparts

Defence minister Rajnath Singh on Sunday held a series of bilateral meetings with his counterparts from the US, Japan, Australia and New Zealand with a focus on deepening ties. The bilateral meetings..




IndiaTimes - Published





PM Modi, Myanmar's State Counsellor Aung San Suu Kyi discuss operationalising Sittwe Port, border demarcation

During the meeting, the leaders talked about improving bilateral ties between India and Myanmar, exchange of high-level visits, continued constructive assistance from India, and ASEAN-India..




DNA - Published





PM Modi meets Japanese counterpart Shinzo Abe on sidelines of 35th ASEAN summit in Bangkok

Prime Minister Narendra Modi on Monday met Japanese Prime Minister Shinzo Abe on the sidelines of the 35th ASEAN Summit in Thailand.




DNA - Published





PM Modi discusses sustainable development with Asean leaders

Earlier, Modi met his Japanese counterpart Shinzo Abe on the sidelines of the ASEAN Summit and held a delegation-level meeting where they welcomed the increase in economic engagement between the two..




IndiaTimes - Published





Bangkok: PM Modi to attend RCEP Summit today

RCEP is a proposed free trade agreement among 10 ASEAN countries, namely Brunei, Cambodia, Indonesia, Malaysia, Myanmar, Singapore, Thailand, the Philippines, Laos and Vietnam and their six FTA..




IndiaTimes - Published




A vibrant Asean is in India's interest: PM

"India's Act East policy is an important part of our Indo-Pacific vision and Asean lies at the core of it. Integrated & economically vibrant Asean is in the interest of India," PM Modi told Asean..




IndiaTimes - Published





Asean backs India's rising role in Indo-Pacific region

In a significant indication of India's rising profile, the 10-nation Asean clearly appreciated New Delhi's growing role in the Indo-Pacific region as the two sides, with a combined GDP of $5 trillion,..




IndiaTimes - Published





PM Modi meets Indonesian President Joko Widodo at Asean summit

The two leaders met on the sidelines of the Asean summit held in Thailand. Noting that India and Indonesia are close maritime neighbours, both leaders reiterated their commitment to work together for..




IndiaTimes - Published





PM Modi favours expansion of ties between India and Asean

In his opening address at the India-Asean summit, the prime minister said enhancing surface, air and maritime connectivity between India and 10 nations of the bloc will significantly boost regional..




IndiaTimes - Published





China says ready to work with ASEAN for South China Sea peace

China is ready to work with Southeast Asian countries for long term peace and stability in the South China Sea, Chinese premier Li Keqiang said on Sunday after meeting leaders from the Association of..




Reuters - Published





'India beacon of stability, prosperity, peace in times of global uncertainties,' says Modi as he begins Thailand visit

Prime Minister Modi talked about India's growing security and economic links with the Association of Southeast Asian Nations (ASEAN), BIMSTEC, RCEP and other key issues related to India's role globally..




DNA - Published





PM Modi arrives in Bangkok on three-day visit amid focus on RCEP negotiations

The prime minister will attend 16th ASEAN-India Summit, the 14th East Asia Summit and the third summit meeting of Regional Comprehensive Economic Partnership (RCEP) which is negotiating the trade deal...




IndiaTimes - Published





PM Modi to embark on a 3-day Thailand visit today for Asean-related summits

The Prime Minister's engagements on the first day include his address to the Indian community living in the country and the release of a commemorative coin marking the 550th birth anniversary of Guru..




IndiaTimes - Published