Pondicherry
City in Puducherry, India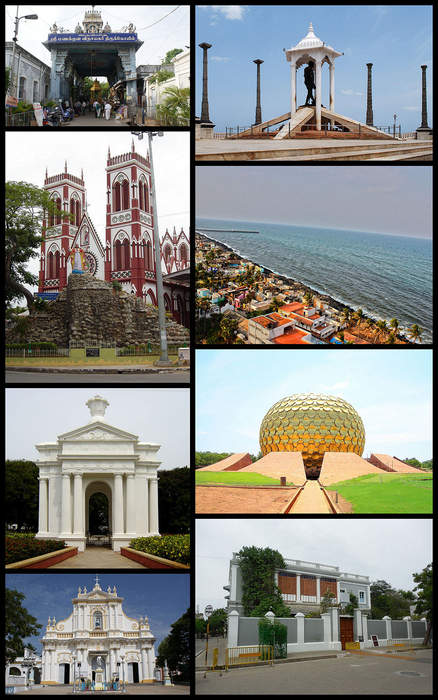 Pondicherry, officially known as Puducherry, is the capital and the most-populous city of the Indian union territory of Puducherry. The city is in the Puducherry district on the southeast coast of India and is surrounded by the state of Tamil Nadu, with which it shares most of its culture and language.


Puducherry CM threatens to intensify protest against Kiran Bedi

Puducherry Chief Minister V Narayanaswamy's agitation demanding Centre for the removal of Kiran Bedi as Lieutenant Governor of the union territory entered 3rd day on January 10. Narayanaswamy along..
Credit: ANI Duration: 01:49
Published
Kiran Bedi should go back as she ignoring elected govt: CM Narayanasamy

Puducherry Chief Minister V Narayanasamy continued his sit-in protest for the third day. The protest was launched by Congress-led Secular Democratic Alliance near Raj Nivas for the third day on January..
Credit: ANI Duration: 01:44
Published
Chennai rains: Shutters of Chembarambakkam reservoirs opened after downpour

Heavy rains lashed Chennai and its suburbs since early Tuesday, prompting authorities to gear up for releasing surplus water from the Chembarambakkam Reservoir here and alert people living on the banks..
Credit: HT Digital Content Duration: 01:16
Published
Schools reopen in Bihar, Maharashtra, Puducherry after over 9 months

Schools for higher classes opened in several states on January 04 after a break of more than nine months due to the COVID-19 pandemic. Bihar reopened schools for students of classes 9-12th. However,..
Credit: ANI Duration: 01:51
Published
'Those teaching democracy lessons should…': PM Modi slams Rahul Gandhi

The DDC polls in Jammu and Kashmir have written a new chapter in the region, Prime Minister Narendra Modi asserted on Saturday, and cited the transparent election process and enthusiastic participation..
Credit: HT Digital Content Duration: 04:22
Published
PM Modi hits back at Rahul Gandhi over 'no democracy in India' remark

Those who are ruling Puducherry, even after Supreme Court directions are not conducting local body elections and preaching lessons on democracy, said Prime Minister Narendra Modi on December 26. "Even..
Credit: ANI Duration: 02:22
Published
President under pressure as he didn't entertain meeting request of 4 CMs: Ashok Gehlot

Chief Ministers of Punjab, Rajasthan, Chhattisgarh and Puducherry had requested to meet the President Ram Nath Kovind over farmer's agitations, but President couldn't meet them, because he must be..
Credit: ANI Duration: 01:28
Published
Puducherry-based shopkeeper pays tribute to late singer Balasubrahmanyam on Christmas

A Puducherry-based shopkeeper made 339 kg cake of late singer SP Balasubrahmanyam to pay the legendary artist tribute on occasion of the Christmas. The large cake statue of the singer attracted the..
Credit: ANI Duration: 01:25
Published
1-day hunger strike: Puducherry CM demands govt to withdraw 3 'black farm laws'

While speaking to ANI on December 18, Puducherry Chief Minister, V Narayanasamy spoke on farm laws. He said, "Today, in Puducherry on behalf United Progressive Alliance, the leaders of the Congress..
Credit: ANI Duration: 01:45
Published
Cyclone Burevi: Orange alert issued for four districts in Kerala for Dec 6

Cyclone Burevi remained practically stationary for 30 hrs over Tamil Nadu's Rameswaram. Severe waterlogging was witnessed in Rameswaram & Puducherry following heavy rainfall. Residents of Rameswaram..
Credit: HT Digital Content Duration: 01:31
Published
Cyclone Burevi: Heavy rains cause waterlogging in Puducherry, TN

Severe waterlogging was seen in various parts of Rameswaram following heavy rainfall in the region. Locals are facing problems due to continuous showers. Cyclone Burevi, which had weakened to Deep..
Credit: ANI Duration: 01:18
Published
Cyclone Burevi to further weaken into depression during next 12 hrs: IMD

IMD Director General Mrutyunjay Mohapatra while updating on Cyclone Burevi informed that storm is expected to weaken into depression while moving westward across south Tamil Nadu in next 12 hours...
Credit: ANI Duration: 02:10
Published
Cyclone Burevi close to Tamil Nadu coast, red alert for 4 Kerala districts

Cyclonic storm Burevi nears Tamil Nadu coast and is likely to make landfall in Kerala by December 4. IMD said that Burevi is expected to move west-northwestwards and emerge into Gulf of Mannar. It is..
Credit: HT Digital Content Duration: 01:22
Published
You Might Like



IMD predicts heavy rainfall over these states for next 3 days - Details here

According to IMD, fairly widespread to widespread rainfall with isolated heavy falls is very likely over Tamil Nadu, Kerala and Puducherry.




DNA - Published





Don't deploy officials charged with lapses in previous elections: EC to poll-bound states

In an advisory to the chief secretaries of Assam, Kerala, West Bengal, Tamil Nadu and Puducherry, the Election Commission has also said that officers against whom it had recommended disciplinary action..




IndiaTimes - Published





Some try to give us lessons in democracy: PM Modi

PM Narendra Modi on Saturday congratulated the people of Jammu & Kashmir and credited the leadership of LG Manoj Sinha for the conduct of violence-free, fair and free DDC polls despite biting cold..




IndiaTimes - Published





Amit Shah speaks to CMs of TN and Puducherry on post-Cyclone relief measures, IMD's 'perfect forecast' appreciated

Even as the Cyclone 'Nivar' weakened into a depression after making landfall near Puducherry on early Thursday morning, the India Meteorological Department (IMD) said the system was under..




IndiaTimes - Published





Cyclone Nivar crosses coast near Puducherry, weakens into severe cyclonic storm

According to the weather department, Nivar crossed the coasts between 11.30 pm on November 25 and 2.30 am on November 26.




DNA - Published





Cyclone Nivar: Flash flood alerts in coastal TN, Puducherry

In view of persisting high rainfall due to the influence of Cyclone 'Nivar', the Central Water Commission (CWC) on Wednesday issued flash flood alerts for several watershed areas of coastal..




IndiaTimes - Published





Cyclone Nivar makes landfall, impact likely till afternoon in TN

Cyclonic storm Nivar commenced landfall 30km north of Puducherry and 115km south of Chennai around 11.15pm on Wednesday. The core of the storm which hit close to Marakkanam is expected to take three..




IndiaTimes - Published





Cyclone Nivar set to hit Tamil Nadu, Andhra Pradesh & Puducherry witness heavy rains: Latest developments




IndiaTimes - Published




Cyclone Nivar to intensify into 'very severe storm', heavy rains lash Chennai

The IMD has said Cyclone Nivar is set to cross the coasts of Tamil Nadu and Puducherry as a "very severe cyclonic storm" late on Wednesday.




DNA - Published





'Very severe cyclonic storm' to hit TN, Pondi & Andhra today

With the India Meteorological Department (IMD) upgrading its alert on Cyclone Nivar, which will made landfall as a 'very severe cyclonic storm' between Karaikal and Mamallapuram late on Wednesday..




IndiaTimes - Published





Cyclone Nivar: Tamil Nadu declares public holiday on Nov 25, Sec 144 in Puducherry; more details here

Six special trains of the Thiruvananthapuram division of the Southern Railways have been cancelled on November 25 in view of cyclone Nivar.




DNA - Published





Cyclone Nivar: NDRF teams in action, Section 144 in Puducherry




IndiaTimes - Published





Cyclone Nivar: Indian Navy, Coast Guard assets ready for rescue ops in Tamil Nadu, Puducherry

The Indian Navy has deployed INS Parundu, a vessel from Vishakapatnam with HADR bricks and diving teams to render assistance.




DNA - Published





Cyclone 'Nivar' to hit Tamil Nadu, Puducherry coast soon; NDRF issues 'dos and don'ts' guidelines

Met sources said the depression is very likely to intensify into a cyclonic storm 'Nivar' during the next 24 hours and will move north-westwards.




DNA - Published





Centre reviews preparedness as Cyclone Nivar approaches TN-Puducherry coast




IndiaTimes - Published





Cyclone Nivar likely to make landfall in Tamil Nadu on Wednesday, heavy rains to lash coastal areas today

During November 24 and 25 extremely heavy rainfall is expected at North coastal districts and delta districts of Tamil Nadu and Puducherry.




DNA - Published





IMD warns of cyclonic storm approaching Tamil Nadu-Puducherry coast; six NDRF teams deployed

A cyclonic storm is expected on the Tamil Nadu-Puducherry coast in the next 24 hours, the IMD had informed earlier on Monday.




DNA - Published





Cyclonic storm likely to sweep across Tamil Nadu and Puducherry on Nov 25, to bring heavy rains along coastal areas

The cyclonic storm will bring heavy rains in Tamil Nadu, Puducherry, and Karikkal regions.




DNA - Published





Cyclonic storm likely to cross over Tamil Nadu, Puducherry on Nov 25

The low pressure area over Bay of Bengal has become well marked and is likely to concentrate into a depression and intensify into a cyclonic storm and cross Tamil Nadu and Puducherry coasts on November..




IndiaTimes - Published





Cyclone of lower intensity may hit Tamil Nadu-Puducherry coast on Nov 25, says IMD




IndiaTimes - Published





Southwest monsoon withdraws, 13 days after normal schedule

Like this year, the withdrawal date in 2016 was also October 28 while 2000 and 2017 had seen it on October 25. Predicting weather conditions during next few days, the IMD said, "Scattered rainfall..




IndiaTimes - Published





Goa worst hit in cases/m, Puducherry in deaths/m




IndiaTimes - Published





Goa to be 100% 'Har Ghar Jal' state by 2021; Bihar, Telangana and Puducherry too aim for this target next year




IndiaTimes - Published





Puducherry has highest number of Covid-19 patients per one lakh population in country




IndiaTimes - Published





Coronavirus: Complete lockdown in Puducherry on Tuesdays; here are guidelines on what's open, what's not

Puducherry Chief Minister Narayanasamy on Monday announced total lockdown on a trial basis in the Union Territory tomorrow (August 18) in order to contain the spread of COVID-19.




DNA - Published





Lockdown 5 likely to have relaxations for tourism and hospitality industry, Union Govt considers states' suggestions

The economies of States and Union Territories such as Puducherry, Kerala, Goa, etc and some North-eastern states are heavily dependent on tourism and hospitality, which is yet to get relaxation from..




IndiaTimes - Published





Covid-19: Congress CMs blame Centre for not giving any financial assistance to states

The chief ministers of Punjab, Rajasthan, Chhattisgarh and Puducherry, demanded a financial package for the states to deal with the Covid-19 pandemic. CM Ashok Gehlot said unless Centre comes forward..




IndiaTimes - Published





ICMR study finds presence of 'bat coronavirus' in two Indian bat species

As the world grapples with the coronavirus pandemic, researchers have found the presence of a different kind of coronavirus — bat coronavirus (BtCoV) — in two bat species from Kerala, Himachal..




IndiaTimes - Published





400 COVID-19 cases with linkage to Tablighi Jamaat found: Health Ministry

"Till now, maximum cases of 173 were found in Tamil Nadu. 11 cases in Rajasthan, 9 cases from Andaman and Nicobar, 47 cases in Delhi, 2 cases in Puducherry, 22 cases in Jammu and Kashmir, 33 cases in..




IndiaTimes - Published





Coronavirus lockdown: Students promoted to next class as Puducherry, Maharashtra, Gujarat, UP cancel home exams

As of now, India has recorded 562 positive cases.




DNA - Published





Puducherry becomes first UT to adopt assembly resolution against CAA-NPR-NRC

Earlier, assemblies in Rajasthan, Punjab, Chhattisgarh, Kerala and West Bengal passed resolutions against the controversial CAA.




DNA - Published





Delhi elections: BJP loses sixth state election in 2 years

The Congress is in power in Maharashtra, Rajasthan, Madhya Pradesh, Chhattisgarh, Punjab, and Puducherry either on its own or as part of an alliance. After forming the government in Jharkhand after the..




IndiaTimes - Published





From Pondicherry to Oxford, protests across campuses against violence in JNU

From Pondicherry University to Oxford University in London, anger over the violence in JNU resonated in varsities across the country and even abroad as students protested against the attack on students..




IndiaTimes - Published




President to attend Pondicherry varsity convocation amid students' boycott call




IndiaTimes - Published





Sonia Gandhi writes to Congress CMs to pay Rs 6,000 to pregnant, lactating mothers under NFSA Act

The letter was sent to Punjab Chief Minister Amarinder Singh, Rajasthan Chief Minister Ashok Gehlot, Madhya Pradesh Chief Minister Kamal Nath, Chhattisgarh Chief Minister Bhupesh Baghel and Puducherry..




DNA - Published





Police-lawyer standoff in Delhi: Cops performing their duty must be protected, Kiran Bedi says

Puducherry lieutenant governor Kiran Bedi, who handled a standoff between police and lawyers in Delhi when she served as the deputy commissioner of police, said senior police officials must protect..




IndiaTimes - Published





Delhi police should take stand, remain firm on it come what may: Kiran Bedi

Puducherry lieutenant governor Kiran Bedi advised Delhi police to remain firm on its stand on Saturday's police lawyers clash at Tis Hazari. In 1988 during police-lawyers clashes at Tis Hazari demands..




IndiaTimes - Published





Coastal Karnataka, Tamil Nadu to receive heavy rainfall today: IMD

Thunderstorm accompanied with lightning very likely at isolated places over Kanataka, Kerala, Mahe, Lakshadweep and Tamil Nadu, Puducherry and Karaikal




DNA - Published





Heavy rain predicted in Kerala, Karnataka today

The weather forecast agency further predicted that Tamil Nadu, Puducherry and Karaikal are also likely to witness heavy downpour throughout the day




DNA - Published





Denmark on the Coromandel

Malavika Bhattacharya skips Puducherry and drives over to a quiet fishing village with a 400-year-old Danish connection




DNA - Published





Congress declares candidates for Assam, Puducherry, Chhattisgarh bypolls

The Indian National Congress (INC) has released its list of candidates for the Assam, Puducherry and Chhattisgarh by-elections.




DNA - Published





IMD predicts heavy rainfall in Maharashtra, Andhra Pradesh and Madhya Pradesh today

The weather forecasting agency also predicted that isolated places over Vidarbha, Konkan, Goa, Telangana, Interior Karnataka and Tamil Nadu, Puducherry and Karaikal are expected to receive heavy..




DNA - Published





'Plogging' 50 Indian cities in 50 days; all for a cleaner India

CLEAN INDIA MISSION: He has so far covered Madurai, Salem, Coimbatore, Puducherry and Chennai




DNA - Published





New Traffic Fines: From Bengal to Maharashtra, states where Motor Vehicles Act has hit a hurdle

Various BJP and non-BJP states have not backed the Centre's move including Gujarat, Maharashtra, Odisha, Punjab, Tamil Nadu, Telangana, Rajasthan, Karnataka, Chhattisgarh, Puducherry, Madhya Pradesh..




DNA - Published





CPI-ML calls Centre's Kashmir move a 'constitutional coup'

CPI-ML central committee member and Puducherry state secretary S Balasubramanian described the presidential order doing away with the special status of Jammu and Kashmir under Article 370 and..




IndiaTimes - Published





Government medical colleges are 'selling' seats now

Some state governments have joined the bandwagon of commercializing medical education in the name of making their colleges self-financed. So, 3%-15% seats are set aside for NRIs and some even have..




IndiaTimes - Published





Manmohan Singh meets MP, Rajasthan, Puducherry and Karnataka chief ministers




IndiaTimes - Published





SC puts bar on Puducherry government on decisions tied to finance till June 21




IndiaTimes - Published





Supreme Court issues notice to Puducherry CM in power tussle matter

A vacation bench comprising Justices Indu Malhotra and M R Shah also directed that any decision having financial implication, which could be taken in the cabinet meeting of June 7 in Puducherry, shall..




IndiaTimes - Published





Puducherry CM holds meeting to decide next assembly speaker

Puducherry Chief Minister V Narayanaswamy led the cabinet meeting to decide the next assembly speaker on Sunday.




DNA - Published