Delhi Government refers Rs 850 cr land acquisition scam involving Chief Secretary to CBI

Thursday, 16 November 2023 ()
The matter was referred to CBI and ED after the go-ahead from Chief Minister Arvind Kejriwal.
💡 newsR Knowledge: Other News Mentions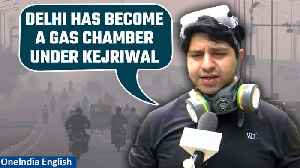 Delhi-NCR Air Pollution: BJP's Shehzad Poonawalla blames Kejriwal-led AAP | Watch | Oneindia News

On air pollution in Delhi, BJP leader Shehzad Poonawalla says, "...Delhi has become a gas chamber under Arvind Kejriwal... He has ensured that AQI levels are at their highest in the last four to five years. He has done nothing to tackle pollution; he used to blame stubble burning in Punjab. Now you have a government in Punjab... But incidences of stubble burning have increased in Punjab...His government will blame the centre, Uttar Pradesh, and Haryana... People of Delhi today, if they breathe this air, it is hazardous..." Watch the full video here. #Delhi #DelhiAirPollution #ShehzadPoonawalla #GasChamber #ArvindKejriwal #AAP #AQI #AirQuality #AirQualityIndex #DelhiAQI #DelhiAQIVeryPoor #StubbleBurning #HaryanaStubbleBurning #AirPollution ~HT.98~PR.152~ED.101~GR.122~
Credit: Oneindia Duration: 02:07
Published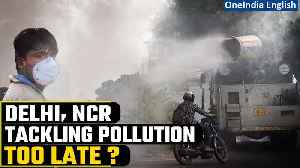 "Air Quality Crisis Grips Delhi-NCR: Emergency Measures amid Rising Pollution | Oneindia News

Delhi-NCR faces an air emergency as pollution soars due to increased stubble burning. Chief Minister Arvind Kejriwal closes schools, bans non-essential construction, and restricts certain vehicles. Section 144 in Gurugram, GRAP III in Noida. Delhi Metro adds trains, while the government intensifies road cleaning and water-sprinkling to combat the alarming pollution levels. watch. #DelhiPollution #AirQualityCrisis #StubbleBurning #DelhiSmog #PollutionEmergency ~HT.98~GR.122~ED.101~
Credit: Oneindia Duration: 03:19
Published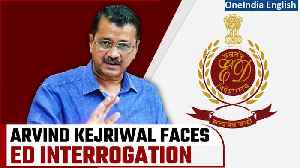 Arvind Kejriwal Faces ED Interrogation in Excise Policy Case| What is AAP's strategy | Oneindia News

Delhi CM Arvind Kejriwal faces Enforcement Directorate questioning in the Delhi excise policy case, with potential arrest fueling political tension. AAP alleges BJP-driven conspiracy, anticipating further arrests. Protests in West Bengal and Delhi precede Kejriwal's appearance. The investigation centers on a money laundering angle linked to the excise policy scam, echoing earlier CBI scrutiny. #KejriwalEDProbe #DelhiExciseCase #AAPvsBJP #PoliticalControversy #EnforcementDirectorate ~PR.152~ED.102~
Credit: Oneindia Duration: 02:38
Published
Dussehra Celebrations| 'Ravan Dahan' Attended by PM Modi, Sonia Gandhi, Arvind Kejriwal | Oneindia

In a festive celebration of Dussehra, 'Ravan Dahan' rituals unfolded in Delhi with various prominent figures in attendance. Prime Minister Narendra Modi witnessed the event at Dwarka Sector 10 Ram Leela, while Congress Parliamentary Party Chairperson Sonia Gandhi participated in the 'Ravan Dahan' organized by Navshri Dharmik Ramleela committee at Red Fort Grounds. Delhi Chief Minister Arvind Kejriwal performed the ritual at the Red Fort as part of the celebrations organized by Luv Kush Ramleela Committee. The burning of the effigy symbolizes the triumph of good over evil, marking the culmination of the Navratri festival. Watch. #Dussehra, #RavanDahan, #DelhiCelebrations ~HT.98~GR.122~ED.101~
Credit: Oneindia Duration: 07:32
Published
ED, CBI now likely to step on the gas
PM Narendra Modi backs Centre's anti-corruption drive, claiming voters' support; warning to parties involved in corruption; ED and other agencies to continue..
IndiaTimes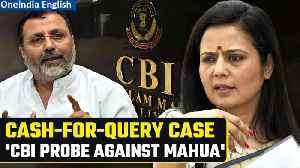 Cash-for-Query Case: Nishikant Dubey says CBI Inquiry Against Ordered Against TMC's Mahua Moitra

The anti-corruption body Lokpal has taken significant action by directing a thorough investigation through the Central Bureau of Investigation (CBI) into corruption allegations involving Trinamool Congress MP Mahua Moitra. BJP's Nishikant Dubey disclosed this development on X (formerly Twitter), stating that his complaint prompted the Lokpal's decision. Dubey's concerns revolve around Moitra allegedly accepting cash from businessman Darshan Hiranandani to pose specific questions in Parliament, targeting Prime Minister Narendra Modi and the Adani Group. #mahuamoitra #mahuamoitraexposed #mahuamoitrascandal #cbiinquiry #loksabhapanel #cashforqueryrow #tmc #tmcnews #tmcvsbjp #tmcscam #tmcmp #mahuamoitraviralvideo #mahuamoitranews #bjp #latestnews #breakingnews #oneindianews. ~HT.178~ED.102~GR.121~
Credit: Oneindia Duration: 05:35
Published
You Might Like
Related news from verified sources