ECI reports seven-fold rise in seized election freebies compared to 2018

Monday, 20 November 2023 ()
The Election Commission of India has reported a seven-fold increase in the value of seizures of cash, liquor, drugs, and other potential inducements in the five poll-going states, reaching Rs 1760 crore. Rajasthan and Telangana account for nearly three-fourths of the total value of seizures, with Telangana leading the way with seizures worth Rs 659 crore. The figures are expected to increase further as polling in these states is yet to take place. The Election Commission attributes the increase in seizures to its commitment to ensuring free and fair elections.
💡 newsR Knowledge: Other News Mentions
You Might Like
Related videos from verified sources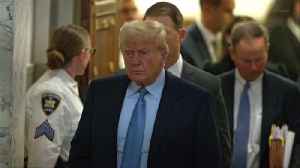 Minnesota and Colorado Seek to Bar Trump From 2024 Ballot

Minnesota and Colorado , Seek to Bar Trump From 2024 Ballot. The Minnesota trial to remove former President Donald Trump from the 2024 ballot has begun at the state's Supreme Court. The Minnesota..
Credit: Wibbitz Top Stories Duration: 01:30
Published
Related news from verified sources