Shillong
City and state capital of Meghalaya, India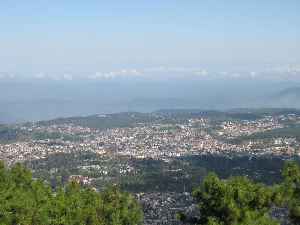 Shillong (;) is a hill station in the northeastern part of India and the capital of Meghalaya, which means "The Abode of Clouds". It is the headquarters of the East Khasi Hills district. Shillong is the 330th most populous city in India with a population of 143,229 according to the 2011 census. It is said that the rolling hills around the town reminded the British of Scotland. Hence, they would also refer to it as the "Scotland of the East".


You Might Like
Internet suspended, night curfew imposed in Meghalaya's Shillong following violent anti-CAA clashes; one dead
This apart SMS services have been restricted to only 5 SMS per day in Shillong for the next 48 hours.
DNA - Published
Curfew relaxed in Shillong from 6am to 7pm
IndiaTimes - Published
Amit Shah scraps visit to Shillong amid protests over Citizenship (Amendment) Act
Amit Shah was supposed to visit the North-Eastern Police Academy (NEPA) on Sunday
DNA - Published
Indefinite curfew, Net ban in arson-hit Shillong now
IndiaTimes - Published
Bringing ILP for Manipur, 3 NE states will be out of CAB
Three other states — Nagaland, barring Dimapur where ILP is not applicable; Meghalaya, barring Shillong, and Tripura, barring non-tribal areas not covered by Sixth Schedule of the Constitution —..
IndiaTimes - Published
IAF launches fighter operations from six civilian airfields
The Shillong-based Eastern Air Command on Wednesday said Sukhoi-30MKI "air dominance" fighters and the Hawk advanced jet trainers will operate from Kolkata, Pasighat, Andal, Dimapur, Imphal and..
IndiaTimes - Published
Prime Minister condoles death of Archbishop of Shillong
"Anguished by the passing away of Most Rev. Dominic Jala, the Archbishop of Shillong. He will be remembered for his impeccable service to society and passion towards Meghalaya's progress. May his soul..
IndiaTimes - Published
Biggest EVM-VVPAT mismatch was 34 votes
The largest difference in VVPAT and EVM count in the eight cases of mismatch found in the recent general elections was in Shillong parliamentary constituency of Meghalaya. Two polling stations for..
IndiaTimes - Published
Set up a Presidential retreat in North East: CM Conard Sangma to PM Narendra Modi
Meghalaya chief minister Conrad Sangma Monday requested Prime Minister Narendra Modi to set up a Presidential retreat in the north-east to send a message of inclusiveness and importance for the NE..
IndiaTimes - Published