Jabalpur
Metropolis in Madhya Pradesh, India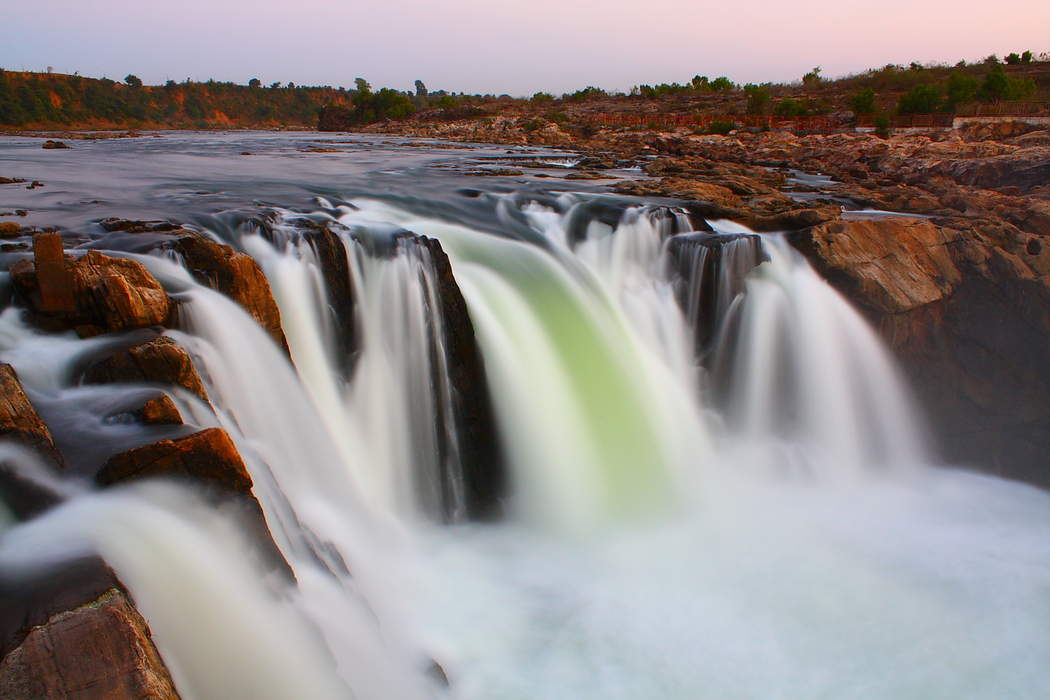 Jabalpur is a tier 2 city in the Indian state of Madhya Pradesh. It is one of the major cities of Madhya Pradesh. According to the 2011 census, it is the third-largest urban agglomeration in Madhya Pradesh and the country's 38th-largest urban agglomeration. It is known for the Dhuandhar Falls and the white Marble Rocks at Bhedaghat. It is generally accepted that the game of Snooker originated here. Jabalpur is one of the 100 smart cities of India.


You Might Like
In Bhopal, Covid vaccine arrives to celeb's welcome
The first batch of Covid vaccine arrived to a celeb's welcome in Madhya Pradesh on Wednesday, three days ahead of the nationwide rollout. Over 2.7 lakh vaccine doses arrived in Bhopal, Indore and..
IndiaTimes - Published
Policeman walks for 450 km from Kanpur to Jabalpur to join duty amid COVID-19 Lockdown
In these tough times, healthcare professionals, police personnel have been the frontline soldiers in the war against COVID-19.
DNA - Published
12 passengers tested positive for Covid-19: Indian Railways
Twelve people, who have travelled by two different trains recently, have been tested positive for coronavirus, said the Railway Ministry on Saturday. While eight of the 12 passengers had travelled from..
IndiaTimes - Published
Coronavirus: 12 passengers who undertook train journeys tested positive, 2 with quarantine stamp on Rajdhani deboarded
While four of them with a travel history to Dubai were travelling on Godan Express from Mumbai to Jabalpur on March 16, eight passengers travelled on AP Sampark Kranti Express from Delhi to Ramagundam..
DNA - Published
6 of 15 post-Godhra riot convicts reach Indore after SC order
These 15 convicts were sentenced to life imprisonment for a massacre in Ode town in Gujarat's Anand district in which 23 people were burnt alive. The apex court had granted bail to the 15 on January 28..
IndiaTimes - Published
SC grants bail to 17 convicts in 2002 Sardarpura post-Godhra riots case
A bench comprising Chief Justice S A Bobde and justices B R Gavai and Surya Kant divided the convicts in two groups and said one group would move out of Gujarat and stay at Indore in Madhya Pradesh...
IndiaTimes - Published
Each oppressed Pak refugee will get Indian citizenship: Amit Shah
Union home minister Amit Shah on Sunday said the government "will not rest" until each oppressed Pakistani refugee is given Indian citizenship. "The Hindu, Sikh, Buddhist and Christian refugees from..
IndiaTimes - Published
Cops seek undertaking from Zomato customer who cancelled order
The Jabalpur police in Madhya Pradesh on Thursday sought an undertaking from Zomato customer and local resident Amit Shukla that he would not spread religious hatred. Shukla had tweeted about..
IndiaTimes - Published
Air cheer: PM10 level dipping in Delhi
Analysis of data for 50 metropolitan cities for 2016, 2017 and 2018 showed a declining trend in Delhi, Varanasi, Ranchi, Raipur, Vijayawada and Bengaluru, among others, whereas the level of PM10 rose..
IndiaTimes - Published
This retired Jabalpur official could be worth Rs 400 crore
Sources says Upadhyay owns a fleet of high-end cars, a palatial bungalow, cash and several kilograms of gold and silver. His family also owns 70 acres of land
DNA - Published