World Health Organization
Specialized agency of the United Nations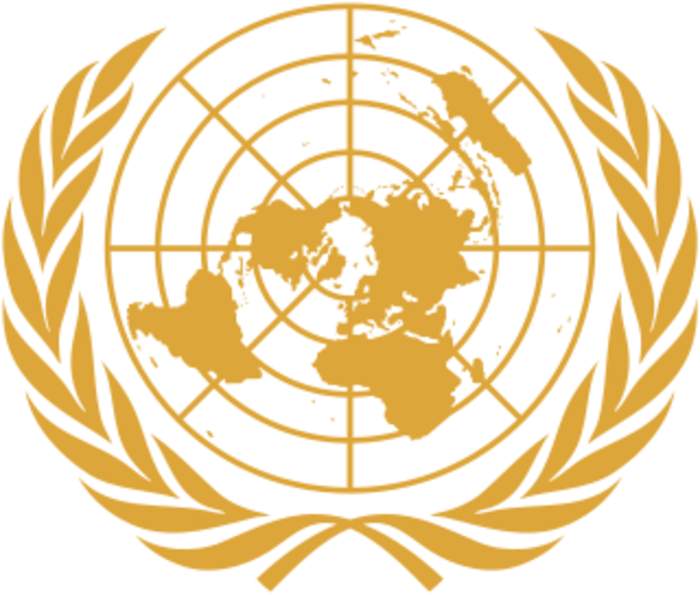 The World Health Organization (WHO) is a specialized agency of the United Nations responsible for international public health. The WHO Constitution, which establishes the agency's governing structure and principles, states its main objective as "the attainment by all peoples of the highest possible level of health". It is headquartered in Geneva, Switzerland, with six semi-autonomous regional offices and 150 field offices worldwide.


COVID-19 variants to be labeled as Greek letters, WHO says

The World Health Organization is announcing a new nomenclature for the COVID-19 variants that were previously — and somewhat uncomfortably — known either by their technical letter-number codes or..
Credit: ABC Action News Duration: 00:23
Published
WHO chief: Monumental error to think Covid-19 danger has passed

World Health Organization Director-General Tedros Adhanom Ghebreyesus said it would be a "monumental error" to think that the danger from the Covid-19 pandemic has passed and urged countries to..
Credit: Bleacher Report AOL Duration: 02:11
Published
WHO must be 'allowed to conduct its investigation unencumbered', says vaccines minister

The World Health Organisation (WHO) must be allowed to fully investigate the origins of the Covid pandemic, the UK's vaccines minister has said.Nadhim Zahawi's comments come after the Sunday Times..
Credit: PA - Press Association STUDIO Duration: 01:32
Published
China's embassy in US slams WHO investigation on Covid origin, says it's politicised | Oneindia News

As the World Health Organization prepares for the second phase of studies into the origins of COVID-19, China's U.S. embassy claims that its origin is being politicised. This, they believe, will..
Credit: Oneindia Duration: 01:41
Published
Cyclone Yaas: Lakhs evacuated in odisha, bengal as cyclone yaas makes landfall| Oneindia News

Cyclonic storm batters Odisha-Bengal coasts, may move to Jharkhand by midnight. The landfall process of cyclonic storm Yaas completed in Odisha. Landfall of cyclone Yaas began at 9 am near Dhamra port..
Credit: Oneindia Duration: 02:40
Published
Fauci, U.S. officials call for COVID origin probe

Dr. Anthony Fauci, the nation's top infectious disease official, said he and many experts felt it was more likely that COVID-19 was a "natural occurrence" but couldn't know the origin for sure, and..
Credit: Reuters - Politics Duration: 02:47
Published
WSJ report fuels debate over COVID-19 origin

The White House said on Monday the United States could not confirm a Wall Street Journal report on the origins of COVID-19. But U.S. intelligence agencies are examining reports that researchers at a..
Credit: Reuters - Politics Duration: 02:42
Published
WHO head slams unequal Covid-19 vaccine distribution on UN agency annual assembly


Credit: FRANCE 24 English Duration: 02:42
Published
WHO Europe: We remain on track to assign this pandemic to history

WHO regional director for Europe Hans Kluge holds a virtual media briefing on Covid-19, giving an update on the status of the pandemic in Europe.
Credit: PA - Press Association STUDIO Duration: 01:24
Published
WHO urges rich countries to delay child COVID vaccinations and donate doses

The WHO Director-General warned on Friday that the second year of the pandemic could be deadlier than the first and said vaccinating at-risk groups worldwide should be the priority.
Credit: euronews (in English) Duration: 01:30
Published
Ivermectin divides experts | Goa approves drug for all | Explained | Oneindia News

Ivermectin is being talked about widely in India after Goa approved the drug for general use for all adults against the Covid 19 disease. However, the World Health Organisation warned against its use..
Credit: Oneindia Duration: 02:15
Published
Countries in Africa fear they could become the next India

Some countries in Africa have been relying on a vaccine-sharing initiative to help vaccinate the population. However, supplies are beginning to run out and the World Health Organization says it could..
Credit: Bleacher Report AOL Duration: 09:10
Published
Biden to back WTO COVID vaccine patent waiver

President Joe Biden on Wednesday threw his support behind waiving intellectual property rights for COVID-19 vaccines, bowing to mounting pressure from Democratic lawmakers and more than 100 other..
Credit: Reuters - Politics Duration: 01:57
Published
Cape Verde: Children with disabilities linked to Zika virus still suffering

In 2015, the virus swept through Brazil and the Americas reaching the islands of Cape Verde, causing severe birth defects, and the World Health Organization declared it a public health emergency.
Credit: Al Jazeera STUDIO Duration: 02:41
Published
Greta Thunberg: Vaccine nationalism is "completely unethical"

Greta Thunberg has criticised rich nations, like the UK and US, for vaccinating young and healthy people in their own countries, at expense of vulnerable in poor nations. Speaking at a World Health..
Credit: PA - Press Association STUDIO Duration: 02:05
Published
World health boss warns of escalating rate of coronavirus infection across the world

The head of the World Health Organisation said coronavirus cases are continuing to rise globally at "worrying" rates and noted that the number of new cases confirmed per week has nearly doubled..
Credit: PA - Press Association STUDIO Duration: 01:58
Published
European countries express interest in purchasing Denmark's AstraZeneca vaccines

The World Health Organization said that Denmark was considering sharing unused vaccine doses with poorer countries.
Credit: euronews (in English) Duration: 02:11
Published
You Might Like



WHO blames India's 2nd wave on premature opening up, social mixing

The World Health Organization (WHO) has, at the G7 summit in the UK, blamed the second wave of the Covid-19 pandemic in India on the "premature" opening up of the society and relaxation of public..




IndiaTimes - Published





G7 leaders discuss COVID origins - as WHO keeps Wuhan lab leak theory 'open'

G7 leaders have discussed the origins of the coronavirus outbreak as the World Health Organisation confirmed all hypotheses continue to be considered - including the Wuhan lab leak theory.




Sky News - Published




Waiting for Covaxin's approval by WHO, says Vietnam envoy

Vietnam's envoy to India Pham Sanh Chau has said that his country is waiting for the World Health Organisation (WHO) to approve the Indian COVID-19 vaccine Covaxin even as they are sourcing more..




DNA - Published





DCGI waiver likely to bring foreign vaccines like Pfizer, Moderna a step closer

​In a letter, DCGI Chief VG Somani letter said that this will be applicable for vaccines that have already been approved for restricted use by the US FDA, EMA, UK MHRA, PMDA Japan or listed for..




IndiaTimes - Published





Covid strain first detected in India to be called 'Delta' variant: WHO

The World Health Organization (WHO) on Monday announced Greek alphabetical labels to identify different strains of Covid-19 that have emerged across the world.The global health body said that the Covid..




IndiaTimes - Published





Vietnam imposes flight ban as Indian-British COVID variant 'combination' blamed for rising cases

Vietnam has imposed tougher restrictions in its major cities as the World Health Organisation (WHO) confirmed a "combination" of the Indian and British variants of COVID-19 had been found in the..




Sky News - Published




Bharat Biotech applies for WHO approval, pre-submission meeting soon

It will have to now go through 3 more stages--pre-submission meeting, dossier accepted for review and the final status of assessment.




DNA - Published





COVID-19: Paediatric trials of Covaxin may begin in June, Bharat Biotech positive on getting WHO approval soon

Dr Ella also said Bharat Biotech will be ramping up the manufacturing capacity of Covaxin to 700 million doses by the end of this year.




DNA - Published





Government steps in to expedite WHO approval for Covaxin

ToI has learnt that foreign secretary Harsh Shringla will hold a meeting with Bharat Biotech, the manufacturer of Covaxin, on Monday to expedite the process of WHO approval for the indigenously..




IndiaTimes - Published





Indians' global trips may be hit as Covaxin not on WHO vaccine list




IndiaTimes - Published





WHO reminds Serum Institute of its Covax commitments amidst devastating Covid-19 outbreak, soaring demand in India

WHO chief Tedros Adhanom Ghebreyesus has said that once the devastating Covid-19 outbreak in India recedes, the Serum Institute of India will need to "get back on track and catch up" on its delivery..




IndiaTimes - Published





Speed kills, limit vehicle speed to 30 kmph in urban centres where people 'live, walk & Play': UN campaign

The World Health Organisation (WHO) on Monday evening launched a week-long "Street for Life" campaign across countries to pursue policy makers to limit traffic speed in cities to 30 kmph where..




IndiaTimes - Published





After WHO, NITI Aayog praises Uttar Pradesh CM Yogi Adityanath over COVID-19 management

Even during the first wave of COVID, WHO cited UP Chief Minister Yogi Adityanath's contact tracing formula should be emulated by other states.




DNA - Published





India's Covid situation hugely concerning, says WHO chief Tedros Adhanom Ghebreyesus

India's Covid-19 situation remains hugely concerning, with several states continuing to see a worrying number of cases, hospitalisations and deaths, WHO chief Tedros Adhanom Ghebreyesus said on Friday,..




IndiaTimes - Published




COVID-19: India reports 3.62 lakh fresh cases, 4,120 deaths in a single day

As per the WHO report, since May 10 fresh COVID-19 cases reported from India have remained over 50% of the world's total cases.




DNA - Published





WHO warns variant in India could be highly contagious




IndiaTimes - Published





WHO should have declared global COVID emergency earlier to prevent pandemic spread - panel

The World Health Organisation should have declared a global emergency earlier than 30 January 2020 and recommended travel restrictions to prevent the outbreak of the COVID pandemic, a panel has said.




Sky News - Published




WHO has not associated 'Indian Variant' with B.1.617 strain of COVID-19: Centre

Several media reports have covered the news of WHO classifying the B.1.617 as a variant of global concern.




DNA - Published





Covid: Using term 'Indian variant' for B.1.617 strain has no basis, says health ministry

The Centre on Wednesday clarified that the World Health Organisation (WHO) has not associated the term "Indian Variant" with the B.1.617 variant of the coronavirus. The ministry of health and..




IndiaTimes - Published





Indian Covid-19 variant found in 44 countries: WHO

The World Health Organization said Wednesday that a variant of Covid-19 behind the acceleration of India's explosive outbreak has been found in dozens of countries all over the world. The UN health..




IndiaTimes - Published





WHO warns against use of ivermectin as preventive med




IndiaTimes - Published

Also reported by •DNA


Vaccines, therapeutics and diagnostics continue to be effective against Indian variant of Covid-19: WHO




IndiaTimes - Published





WHO designates India variant as being of global concern

The World Health Organziation said on Monday that the B.1.617 variant first identified in India was being classified as a variant of global concern.




IndiaTimes - Published





US backing intellectual property rights waiver on COVID vaccine is 'monumental moment'

The head of the World Health Organization says the US backing of a proposed waiver of intellectual property rights for COVID vaccines is a "monumental moment" in the fight against the virus.




Sky News - Published





US move on vaccine intellectual property is a 'monumental moment' in COVID-19 fight

The head of the World Health Organization says the US backing of a proposed waiver of intellectual property rights for COVID vaccines is a "monumental moment" in the fight against the virus.




Sky News - Published





India had nearly half of worldwide coronavirus cases last week

India accounted for nearly half of the coronavirus cases reported worldwide last week and one in four of the deaths, the World Health Organisation has said.




Sky News - Published




Covid-19: WHO reserves judgement on Indian coronavirus variant

A WHO spokeswoman said that it was not clear at this point to what extent the variant was responsible for the rapid increase in cases in India in recent months. There are many factors that could have..




IndiaTimes - Published





Covid-19 situation in India 'beyond heartbreaking': WHO chief




IndiaTimes - Published





India a 'devastating reminder' of damage Covid can wreak, says WHO chief




IndiaTimes - Published





Indian vaccine maker asks US to ease export curbs

Ramping up the production of this shot could also help India. Novavax has applied for emergency use of the vaccine to regulators in Europe, the US, and the World Health Organization.




IndiaTimes - Published





Whistleblower claims WHO tried to force him to change report about Italy's pandemic protocols

Prosecutors in Italy are urging the World Health Organisation to assist them in their investigations into Italy's response to the COVID-19 pandemic.




Sky News - Published




WHO calls for ban on sale of live wild animals in food markets

The sale of live wild animals at food markets should be suspended as an emergency measure, the World Health Organisation has said.




Sky News - Published




'Shocking imbalance': WHO chief hits out at lack of vaccine doses for poorer countries

There remains a "shocking imbalance" in the global distribution of coronavirus vaccines, the head of the World Health Organisation has said.




Sky News - Published




WHO chief appreciates PM Modi for spreading awareness to curb Covid-19 transmission




IndiaTimes - Published





Europe's vaccine rollout 'unacceptably slow' and prolonging pandemic, says WHO

Europe's vaccination rollout has been "unacceptably" slow and is prolonging the pandemic, the World Health Organisation (WHO) has said.




Sky News - Published




WHO report into COVID origin criticised over 'lack of access' amid calls for more studies

The international community has criticised a World Health Organisation (WHO) report into the origin of the coronavirus, claiming it is "lacking crucial information, access and transparency" and should..




Sky News - Published




Will we ever find COVID origin? The unanswered questions in WHO investigation

The World Health Organisation has recommended further investigation into the source of the coronavirus outbreak, leaving the big question unanswered - where did COVID come from?




Sky News - Published




'All hypotheses remain on the table' in search for source of COVID-19, says WHO

The head of the World Health Organisation says "all hypotheses remain on the table" in the search for the origin of COVID-19.




Sky News - Published




COVID 'likely' transmitted from bats to humans via unknown animal, WHO report says

The most likely origin for coronavirus was transmission from a bat to humans via an unidentified intermediate animal species, according to a long-awaited World Health Organisation (WHO) report due to..




Sky News - Published




WHO reassures Europe over Oxford jab as experts look into blood clot claims

The World Health Organization (WHO) is urging countries to continue using the Oxford-AstraZeneca COVID-19 vaccine - as global medical experts meet to discuss reports of blood clots.




Sky News - Published