'PM ka baap': Congress' Mallikarjun Kharge takes dig at PM Modi, Telangana CM K Chandrashekar Rao

Saturday, 18 November 2023 ()
Pointing out that the Telangana government is economically bankrupt, Kharge said, "When KCR was not in power Telangana revenues were in surplus. But today due to KCR's there is a debt of Rs 5,60,000 crore. He doesn't have the money to fulfil the promises."
💡 newsR Knowledge: Other News Mentions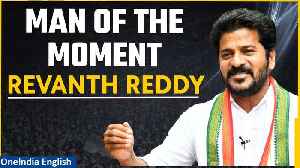 Telangana Elections 2023: Revanth Reddy to Swear-In as Chief Minister | Oneindia News

Revanth Reddy's eight-year quest to dethrone KCR in Telangana culminated in a historic win for Congress, securing 64 seats against KCR's BRS in the recent elections. This victory positions Revanth as Telangana's probable next CM, marking an incredible comeback from 2015's legal turmoil and political setbacks. #RevantReddy #KCR #Telangana #BRS #Congress #Electionresults #Oneindia #Oneindianews ~HT.99~ED.155~
Credit: Oneindia Duration: 02:10
Published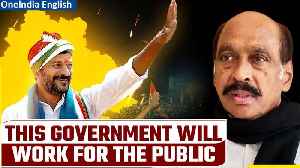 Revanth Reddy takes oath as Telangana CM: Manikrao Thakare on the new government | Oneindia

Hyderabad, Telangana Congress Incharge Manikrao Thakare says, "Telangana CM Revanth Reddy has started working from today only, he has called the Cabinet today and after that, we'll discuss the six guarantees and then he'll further assign the departments to the ministers...Revanth Reddy said that this government will work for the public..." #RevanthReddy #RevanthReddyTelanganaCM #ManikraoThakare #TelanganaCMManikraoThakare #Telangana #TelanganaCM #RevanthReddyTelanganaCMOath #NewTelanganaCM #RevanthReddyToTakeOath #RevanthReddyNews #TelanganaNews #TelanganaElections #TelanganaAssemblyElection #TelanganaElectionResults ~HT.178~PR.152~ED.194~
Credit: Oneindia Duration: 01:20
Published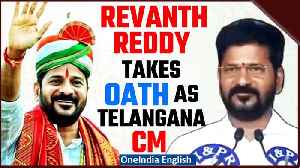 Congress Leader Revanth Reddy takes oath as Telangana Chief Minister at Hyderabad's LB Stadium

In a captivating ceremony at Hyderabad's LB Stadium, Congress leader Revanth Reddy becomes Telangana's Chief Minister. The oath of office, a moment of historical significance, is skillfully administered by the esteemed Governor, Tamilisai Soundararajan, adding a touch of grandeur to the unfolding political spectacle.Have a look at this historic event. #cmrevanthreddy #telanganacm #congress #hyderabad #revanthreddytelanganacm #revanthreddyoathceremony #revanthreddyoathceremonylive ~HT.178~ED.102~GR.125~
Credit: Oneindia Duration: 03:00
Published
You Might Like
Related videos from verified sources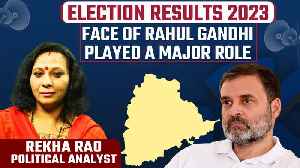 Election Results 2023 | Telangana Results Out | Rekha Rao says people wanted change | Oneindia News

Election Results of 2023 assembly polls in Telangana, MP, Rajasthan, and Chhattisgarh unfold. Follow OneIndia English for real-time coverage. Congress Widens lead in Telangana, BRS Trails. Political..
Credit: Oneindia Duration: 03:33
Published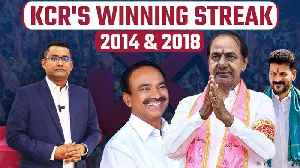 Telangana Assembly Election 2023: A look at how CM KCR performed in 2014 and 2018 | Oneindia

As Telangana approaches its polling date on November 30, with counting scheduled for December 3, the ruling Bharat Rashtra Samithi (BRS), led by Chief Minister Kalvakuntla Chandrasekhar Rao (KCR),..
Credit: Oneindia Duration: 09:04
Published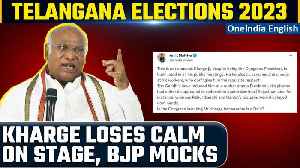 Telangana Elections: BJP Slams Mallikarjun Kharge: 'Rubber Stamp President' | Oneindia News

In a fiery turn of events, senior Congress leader Mallikarjun Kharge lost his composure at a poll rally, leading to mockery from the BJP. Join us as we delve into the heated moment, exploring the..
Credit: Oneindia Duration: 01:32
Published
Related news from verified sources