Jyotiraditya Scindia
Indian politician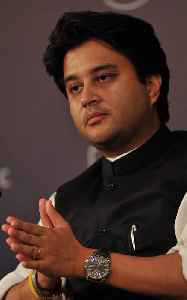 Jyotiraditya Madhavrao Scindia is an Indian politician. He belongs to the House of Scindia that once ruled in Gwalior and a Member of Parliament in the Rajya Sabha representing Madhya Pradesh. He is a former Member of Parliament in the Lok Sabha, representing the Guna constituency in the state of Madhya Pradesh until his defeat in the 2019 Indian general election. He is a former member of the Indian National Congress and presently a member of the Bharatiya Janata Party.


MP cabinet expansion: Kamal Nath calls BJP govt a result of 'deals'

While speaking to ANI in Bhopal on July 03, former chief minister of Madhya Pradesh, Kamal Nath, spoke on Jyotiraditya Scindia's "tiger abhi zinda hai" remark following cabinet expansion in the state...
Credit: ANI Duration: 01:46
Published
Congress bothered about getting back to power: Scindia on Digvijaya Singh's remark

BJP leader Jyotiraditya Scindia on Congress leader Digvijaya Singh's tweet said that Congress is just worried as they have lost power. "I don't give counter reaction to every reaction. Congress is not..
Credit: ANI Duration: 01:28
Published
'Tiger abhi zinda hai', says Scindia to Congress after MP cabinet expansion

BJP leader Jyotiraditya M. Scindia on July 2 said that he does not need any certificate from Congress' Digvijaya Singh and Kamal Nath. He slammed them by saying, "The facts are before the people how..
Credit: ANI Duration: 01:06
Published
MP cabinet will work for prosperity and development of people: Jyotiraditya Scindia

28 MLAs took oath as ministers under Madhya Pradesh Chief Minister Shivraj Chouhan on July 02. BJP leader, Jyotiraditya Scindia said, "This is not someone's team; it's the team of people of the state...
Credit: ANI Duration: 01:35
Published
MP Cabinet expansion: Gopal Bhargava, Yashodhara Raje Scindia take oath as ministers

Oath taking ceremony of State, Cabinet Ministers took place on July 02 in Bhopal. BJP senior leaders Gopal Bhargava, Yashodhara Raje Scindia were among the leaders who took oath in MP cabinet...
Credit: ANI Duration: 01:20
Published
You Might Like



Chambal Expressway to fulfill dream of my father late Madhavrao Scindia, says Jyotiraditya




IndiaTimes - Published





MP: Scindia's 12 in Shivraj's expanded cabinet of 28




IndiaTimes - Published





28 new ministers join Shivraj Chouhan cabinet; Scindia camp wins big




IndiaTimes - Published





'Tiger abhi zinda hai': Jyotiraditya Scindia's message for Digvijaya Singh and Kamal Nath

"Tiger abhi zinda hai," said BJP leader Jyotiraditya Scindia on Thursday as he launched an attack on Congress leaders Digvijaya Singh and Kamal Nath and accused them of going back on promises to people..




IndiaTimes - Published





Madhya Pradesh cabinet expanded: 28 ministers take oath

The Shivraj Singh Chouhan-led Madhya Pradesh cabinet was expanded on Thursday with induction of 28 ministers, including a dozen loyalists of BJP MP Jyotiraditya Scindia, whose exit from the Congress in..




IndiaTimes - Published





Congress' Digvijaya, BJP's Scindia and Solanki win Rajya Sabha polls




IndiaTimes - Published





Scindia, Digvijaya set to enter Rajya Sabha from MP




IndiaTimes - Published





Conspiracy that toppled my govt has been exposed: Kamal Nath

There are 24 assembly segments in the state due for bypolls after the death of two sitting legislators and resignations by 22 Congress MLAs who switched loyalties to the BJP in March bringing down the..




IndiaTimes - Published





Jyotiraditya Scindia, mother admitted with suspected coronavirus symptoms in Delhi

BJP leader Jyotiraditya Scindia and his mother Madhavi Raje have been admitted to a Covid-19 dedicated private hospital in South Delhi's Saket area, disclosed sources on Tuesday. Jyotiraditya Scindia..




IndiaTimes - Published





Jyotiraditya Scindia tests positive for Covid-19, hospitalised

BJP leader Jyotiraditya Scindia has tested positive for Covid-19 and admitted to a private hospital here, sources said on Tuesday.He was admitted to Max Hospital, Saket on Monday, they said."He has..




IndiaTimes - Published





BJP leader Jyotiraditya Scindia, mother admitted to Delhi hospital




IndiaTimes - Published





Madhya Pradesh: BJP leader Balendu Shukla joins Congress

Senior BJP leader and former state minister Balendu Shukla on Friday returned to the Congress as the opposition party in Madhya Pradesh seeks to strengthen itself in the Gwalior region after..




IndiaTimes - Published





BJP expels former Lok Sabha MP Premchand Borasi

The ruling BJP in Madhya Pradesh on Wednesday expelled former Lok Sabha MP Premchand Borasi "Guddu" from the primary membership of the party on charges of "indiscipline" after he criticised ex-Union..




IndiaTimes - Published





Jyotiraditya Scindia to be face of BJP in upcoming by-polls in MP, claims Jaswant Jatav




IndiaTimes - Published





Jyotiraditya Scindia hails revival of Chambal Expressway, CM assures to begin work soon




IndiaTimes - Published





Kamal Nath's 'hit the street then' remark at Scindia led to our exit: Ex-Congress MLAs

Congress leader Kamal Nath's remark that Jyotiraditya Scindia 'can hit the streets if he wants to' rankled with the MLAs who were loyal to the latter and led to their exit from the party, some of them..




IndiaTimes - Published





Jyotiraditya Scindia quit as he wanted to become Union minister: Digvijaya

Senior Congress leader Digvijaya Singh on Tuesday hit out at Jyotiraditya Scindia, saying that he 'auctioned' Madhya Pradesh's mandate, and also refuted the claims that Scindia was denied ticket for..




IndiaTimes - Published





After his BJP entry, forgery case against Scindia closed

The Madhya Pradesh Economic Offences Wing has closed a case against former Union minister Jyotiraditya Scindia and his family members, where they were accused of falsifying a property document while..




IndiaTimes - Published





22 rebel Madhya Pradesh Congress MLAs meet BJP chief in Scindia's presence




IndiaTimes - Published





MP govt falls as Nath quits before floor test

After two weeks of electrifying political drama, triggered by the shock defection of Jyotiraditya Scindia which eventually led to the collapse of the Congress government, Kamal Nath handed in his..




IndiaTimes - Published





People's victory in MP: Jyotiraditya Scindia on Kamal Nath resignation

The former Congress MP, whose exit from that party led to the fall of the Kamal Nath government, said he has always believed that politics should be a medium of serving people.




IndiaTimes - Published





Supreme Court orders floor test in Madhya Pradesh Assembly on Friday

The BJP had filed a petition in the top court for immediate floor test after 22 rebel Congress MLAs loyal to Jyotiraditya Scindia resigned from the Assembly.




DNA - Published





Jyotiraditya Scindia omitted details of pending cases in RS papers: Congress

Returning officer A P Singh on Monday asked representatives of two Rajya Sabha nominees of the BJP, including Jyotiraditya Scindia, to give replies on Tuesday to written objections submitted against..




IndiaTimes - Published





MP political crisis: Congress minister holds 'havan', MLAs visit temples

With the Congress government in Madhya Pradesh on the verge of collapse, state minister PC Sharma on Saturday performed a 'havan' (fire ritual) at the famous Baglamukhi Temple in Agar Malwa district...




IndiaTimes - Published





No 'brain drain', young leaders will be given responsible positions: Congress after Scindia exit

Days after Jyotiraditya Scindia's shocking move to the BJP, the Congress on Friday asserted that no "brain drain" was happening in the party . Dismissing suggestions that there could be more leaders..




IndiaTimes - Published





Most of 19 MP Congress MLAs to reach Bhopal from Bengaluru

Most of the 19 rebel Congress MLAs from Madhya Pradesh, including six ministers, who have been camping in Bengaluru, are expected to reach Bhopal on Friday evening, party sources said. After former..




IndiaTimes - Published





Madhya Pradesh EOW reopens six-year-old forgery case against Jyotiraditya Scindia

This development comes two days after Scindia was formally inducted into the BJP fold




DNA - Published





Jyotiraditya meets Shah, Rajnath before filing RS papers




IndiaTimes - Published





MP: BJP eyes immediate floor test, Cong says it will have to wait

BJP on Friday said it will seek a floor test on March 16 - the opening day of the budget session. With 22 Congress MLAs breaking away with Jyotiraditya Scindia, the Kamal Nath government is in deep..




IndiaTimes - Published





Jyotiraditya won't get respect or satisfaction in BJP, says Rahul

Rahul Gandhi told reporters, "Scindia became apprehensive about his political future, he abandoned his ideology and went with the RSS. But the reality is that he will neither get respect nor..




IndiaTimes - Published





Knew him in college, Jyotiraditya Scindia was worried over political future, abandoned ideology: Rahul Gandhi

"This is a fight of ideologies. On one side is Congress and on the other side is BJP-RSS," Rahul Gandhi said.




DNA - Published





Fortunate that BJP opened doors for me: Jyotiraditya Scindia

Former Congress leader Jyotiraditya Scindia on Thursday said he considers himself fortunate that the BJP accepted him in the party and assured party workers that he will work wholeheartedly for them...




IndiaTimes - Published





BJP seeks floor test on March 16 to prove majority in MP

Amid political turmoil in Madhya Pradesh, the BJP will seek a floor test on March 16, the first day of the state's budget session. The move comes in the wake of 22 Congress MLAs, siding with..




IndiaTimes - Published





Jyotiraditya Scindia quits Congress: Rahul Gandhi ex-aide releases movie teaser 'Love you Pappu'

A Congress functionary has made a documentary on former party president Rahul Gandhi's alleged habit of not meeting leaders. The movie is to be released in April-end but its teaser is already out...




IndiaTimes - Published





Scindia abandoned his ideology as he was apprehensive about his political future: Rahul Gandhi

Congress leader Rahul Gandhi on Thursday said Jyotiraditya Scindia forgot his ideology as he was apprehensive about his political future. Rahul also claimed that Scindia would not get respect in the..




IndiaTimes - Published





A day after joining BJP, Jyotiraditya Scindia meets Amit Shah, Rajnath Singh




IndiaTimes - Published





Digvijaya Singh takes pot shot at Scindia, prays for his safety in BJP

Meanwhile, preparations are underway at BJP's Bhopal office to welcome Scindia. Posters, banners and a red carpet have been arranged to welcome Scindia to the party.




IndiaTimes - Published





Unfortunate to see Scindia leave Congress: Rajasthan Deputy CM Sachin Pilot

The rebel Congress leader ended his association with the grand old party and was formally inducted into BJP.




DNA - Published





BJP toppling govts led by rival parties, says Cong

Rahul also dismissed queries that he refused to meet Scindia when the latter had sought time from him."He is only person who could walk into my house any time.




IndiaTimes - Published





Congress feels 13 Scindia loyalists will return, DK Shivakumar on rescue op

Congress, which is in office in MP, moved 85 MLAs - including three independents - to Jaipur on Wednesday as a clear indication that CM Kamal Nath is determined to battle it out. The state Congress on..




IndiaTimes - Published





Scindia joins BJP, say India's future safe in Modi's hands

Jyotiraditya Scindia formally joined BJP on Wednesday, welcomed by party president Jagat Prakash Nadda. Scindia said that Congress had lost the capacity to assess and analyse ground realities. Scindia..




IndiaTimes - Published





Moments after joining BJP, Jyotiraditya Scindia named Rajya Sabha candidate from Madhya Pradesh

This came moments after Scindia ended his 18-year-long association with the grand old party and was formally inducted into the saffron camp.




DNA - Published

Also reported by •IndiaTimes


Opportunist like Scindia should have left Congress much earlier: Ashok Gehlot

Speaking to reporters at the airport here, Gehlot said: "Such opportunists should have left the party much earlier. Congress party gave him so much for 18 years. He has been a Member of Parliament and..




IndiaTimes - Published





Top News of the Day | Mar 11, 2020: Jyotiraditya Scindia joins BJP, Shivakumar appointed Karnataka Congress chief & more

In top news of the day on Wednesday, March 11, 2020, veteran Congress leader Jyotiraditya Scindia formally joined the BJP. Congress central leadership on Wednesday appointed disputed veteran leader DK..




DNA - Published





Now, posters of Jyotiraditya Scindia with PM Modi, Amit Shah in Bhind

"Son of Bharat Mata, Jyotiraditya Scindia who supported the Modi government's decision to abrogate Article 370 is welcomed on his first visit in Bhind district," the poster read.




IndiaTimes - Published





Scindia only chap in Congress who could walk into my house anytime: Rahul Gandhi

Dismissing reports that the former Congress leader tried to reach out to Sonia Gandhi and him before leaving the party but was not given time, Rahul told media: "He was the only chap in the Congress..




IndiaTimes - Published





Good to be on the same team: Raje welcomes Jyotiraditya to BJP

BJP national vice president and former Rajasthan chief minister, Vasundhara Raje, on Wednesday welcomed her nephew Jyotiraditya Scindia's decision to join the BJP, saying he has followed the high..




IndiaTimes - Published





Congress not the same as it used to be, far removed from realty: Jyotiraditya Scindia




IndiaTimes - Published





Jyotiraditya Scindia joins BJP in presence of JP Nadda

According to sources, the BJP is likely to name him as one of its candidates for the Rajya Sabha polls in Madhya Pradesh and is also confident of forming the government in the state with his help as 22..




IndiaTimes - Published





We did not anticipate Jyotiraditya Scindia will quit Congress, that was a mistake: Digvijaya Singh

Digvijaya Singh said Scindia was offered the post of Madhya Pradesh deputy CM but wanted his nominee. However, Kamal Nath refused to accept a "chela", he said. Scindia, Singh said, could have been a..




IndiaTimes - Published