2 dead, 7 injured as Telangana convention centre roof falls

Tuesday, 21 November 2023 ()
Two construction workers were killed and seven others injured when the roof of a convention centre being built in Moinabad, Telangana, collapsed. The workers were attempting to lay a high roof without pillars when it caved in, causing severe head injuries to two workers who fell from the roof. The injured workers are said to be out of danger. The victims were identified as migrant workers from West Bengal and Bihar. The bodies were recovered.
You Might Like
💡 newsR Knowledge: Other News Mentions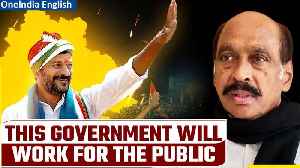 Revanth Reddy takes oath as Telangana CM: Manikrao Thakare on the new government | Oneindia

Hyderabad, Telangana Congress Incharge Manikrao Thakare says, "Telangana CM Revanth Reddy has started working from today only, he has called the Cabinet today and after that, we'll discuss the six guarantees and then he'll further assign the departments to the ministers...Revanth Reddy said that this government will work for the public..." #RevanthReddy #RevanthReddyTelanganaCM #ManikraoThakare #TelanganaCMManikraoThakare #Telangana #TelanganaCM #RevanthReddyTelanganaCMOath #NewTelanganaCM #RevanthReddyToTakeOath #RevanthReddyNews #TelanganaNews #TelanganaElections #TelanganaAssemblyElection #TelanganaElectionResults ~HT.178~PR.152~ED.194~
Credit: Oneindia Duration: 01:20
Published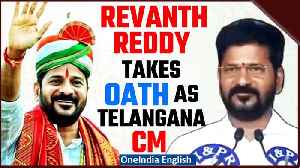 Congress Leader Revanth Reddy takes oath as Telangana Chief Minister at Hyderabad's LB Stadium

In a captivating ceremony at Hyderabad's LB Stadium, Congress leader Revanth Reddy becomes Telangana's Chief Minister. The oath of office, a moment of historical significance, is skillfully administered by the esteemed Governor, Tamilisai Soundararajan, adding a touch of grandeur to the unfolding political spectacle.Have a look at this historic event. #cmrevanthreddy #telanganacm #congress #hyderabad #revanthreddytelanganacm #revanthreddyoathceremony #revanthreddyoathceremonylive ~HT.178~ED.102~GR.125~
Credit: Oneindia Duration: 03:00
Published
V-B gets new plaque with Tagore name
Two large steel and glass frames housing Unesco's World Heritage Site certification and acknowledging Rabindranath Tagore as the founder and guiding light of the..
IndiaTimes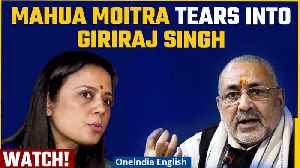 Watch! Mahua Moitra Condemns Giriraj Singh's Remarks on West bengal CM Mamata Banerjee| Oneindia

TMC's Mahua Moitra strongly criticizes BJP's Giriraj Singh, denouncing him as a "shameful misogynist." Moitra confronts Singh, accusing him of daring to dictate to Mamata Banerjee, referring to the concept of "uchit" (appropriate). She condemns Singh for allegedly withholding MNREGA wages and housing funds from millions of impoverished citizens. Moitra dismisses Singh's comments as coming from a "twisted sick mind" and advises him to "get a life" amidst a heated exchange between the political figures. #MahuaMoitra #GirirajSingh #MamataBanerjee #PoliticalClash #UchitControversy #IndianPolitics #TMCvsBJP ~HT.178~ED.103~GR.125~
Credit: Oneindia Duration: 01:23
Published
Related videos from verified sources